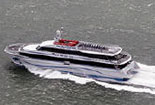 Get away from your day-to-day life by taking a relaxing trip to America's Caribbean Paradise aboard the Key West Express. This tropical getaway will take you on a same day, roundtrip from Fort Meyers to Key Not only is this the fastest way to get to Key West from Florida's west coast, it is also one of the most fun and exciting ways to travel there. The Key West Express is a great ad-on to any Florida vacation.
Your day vacation will begin long before you dock in Key West. The fun and excitement starts immediately upon boarding the ferry. All guests are treated to a full galley and bar while aboard the Key West Express. You can choose to relax inside your cabin or enjoy the view of the Gulf of Mexico while sitting on the sundeck.
Key West is full of history, culture, recreational activities and fine dining cuisine. There is something for everyone in the family to do in Key West.
Pack a beach bag before boarding the Key West Express with everything you will need for enjoying a day on the sandy beaches overlooking the turquoise waters. No need to dress formally here, everyone is laid back and relaxed.
Looking forward to a tour of one of the historical sites or maybe you want to spend even more time out on the water aboard a fishing charter boat. Make your plans and reservations for these type of activities ahead of time to ensure availability upon your arrival.
Don't waste any time and make your reservations to cruise aboard the Key West Express for a day of fun-in-the-sun and excitement in a tropical paradise. Tickets can be purchased from Trusted Tours online at https://store.trustedtours.com/fort-myers-to-key-west-ferry-same-day-roundtrip. Check out the website today for current prices and any available discounts.