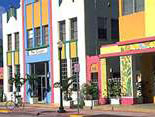 Miami is a city of extremes and culture clashes, and the opulence and glamour of South Beach exists practically side-by-side with culturally diverse, urban spots such as Little Havana. The good news for residents and visitors who want to explore the city on a budget is that there is a wide range of activities and locations to see for free that will help you to better understand the rich cultural milieu that makes up Miami.
Centre Gallery: The downtown campus of Miami Dade College is also home to one of the best art galleries in Miami. The Centre Gallery is open to the public and features a permanent display of art with a focus on modern works from the Americas, Western Europe and Africa that highlight the cultural diversity of Miami's population. Rotating exhibitions showcase the work of leading artists in Miami along with internationally-acclaimed figures. Special events such as book readings and performances also take place at the gallery.
Bakehouse Art Complex: Another free option for art lovers who want to stay current with Miami's emerging art scene is the Bakehouse Art Complex. The large site in Coconut Grove gives more than 65 working artists a place to work and display their art. In addition to browsing artwork for free, visitors can also take part in frequent free programs that encourage them to knit, draw and explore other activities.
Biltmore Hotel: Anyone who wants to get a glimpse of Miami's glitzy side and exotic history can check out the Biltmore Hotel in Coral Gables. This National Historic Landmark was built in 1926 and has served as one of the signature locations for visiting celebrities and millionaires for decades. You don't have to stay at the hotel in order to stroll through the grounds and check out the stunning Spanish Revival architecture. Free tours are available during the weekends that showcase the hotel's rich history.
Holocaust Museum: First opened to visitors in 1990, the Holocaust Museum on Miami Beach serves as a tribute to more than six million Jewish victims of the Nazi regime during World War II. Visitors can learn about the Holocaust through exhibits including a large, photographic mural of events from concentration camps and Jewish ghettos. A memorial wall lists the names of victims of the Holocaust.
Bacardi Museum: Sipping a tropical drink like a Mojito is a symbol of Miami, and the Bacardi brand is perhaps the most well-known rum brand in the world. Guests can tour the facilities, which have been in operations since 1862.