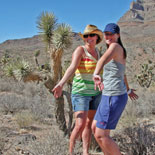 Las Vegas is known for its world-class shopping, dining and attractions. When visiting the "City that Never Sleeps," consider these top 10 family friendly destinations.
Stratosphere Tower 
The Stratosphere Tower soars over 1,100 feet into the air. At the top are four adrenaline-pumping thrill rides and two observation decks that provide sweeping views of the surrounding area. One of the rides is a teeter-totter that extends over the edge of the building. Families can also dine in the tower's revolving restaurant.
Adventuredome 
A five-acre indoor theme park, this attraction features rides, arcade games, laser tag and 4D films that feature Dora, Diego and SpongeBob. There is a corkscrew roller coaster, bumper cars, a swinging pirate ship and a miniature train ride. Other popular attractions include an 18-hole miniature golf course and a climbing wall.
Las Vegas Natural History Museum
Located downtown in the area known as the Cultural Corridor, the facility has interactive exhibits that enable children to explore prehistoric dinosaurs and the mysteries of ancient Egypt. Gallery exhibits present the ecosystems of the ocean, Africa and Nevada.
Wet 'n' Wild
This attraction offers a variety of water slides, chutes and rides. You can slip and slide in corkscrew turns up to 18 mph, surf 3-foot swells or drift leisurely on a waterway. The Hoover Half Pipe provides a class 5 whitewater experience in the heart of Vegas. There are multi-level structures for smaller children.
Grand Canyon West Rim Jeep Tour
This tour includes a brief stop at the Hoover Dam and Lake Mead on the way to one of the world's greatest natural wonders. From the west rim, you can experience the majesty of the Grand Canyon. A glass-floored skywalk extends out over the edge for a unique vertical view down the wall of the chasm.
Fremont Street Experience
Visit this vibrant pedestrian mall for an entertaining shopping experience. As the sun sets, the 1,500-foot-long canopy over the mall becomes a projection screen for an amazing laser, light and sound display. Magicians, jugglers, artists and musicians entertain the visitors between the shows. The venue also hosts free concerts.
Fountains of Bellagio
These are no ordinary fountains, they're an aquatic-themed light and sound show. The choreographed extravaganza is so popular that large crowds gather to watch. The music includes operatic arias, Broadway show tunes and classics by Sinatra and Elvis as well as contemporary artists like Faith Hill. The free show delights children of all ages.
Discovery Children's Museum
This museum has a large variety of interactive exhibits. Children will have fun while they learn about electricity, rivers and deserts. They can also create their own animated stories. There is a puppet theater, construction zone and miniature grocery store.