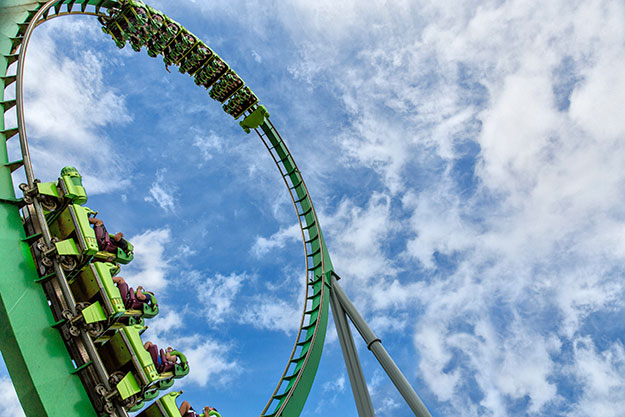 Los Angeles has incredible scenery, thrilling attractions and a Mediterranean climate. When visiting the City of Angels, consider these top 10 fun family things to do.
Disneyland
A popular destination since the mid-1950s, children can see their favorite movie and story time characters come alive. The thrill rides, live shows and high-tech attractions will please the entire family. Enjoy roller coasters, boat rides, animatronic shows and a petting zoo.
Knott's Berry Farm
This attraction is America's oldest theme park. There are several roller coasters, water chutes and free-fall thrill rides. Family and children rides include bumper cars, a wave swinger, carousels and flying airplanes. There are several live shows as well as a variety of shopping and dining options.
California Science Center
The California Science Center is filled with interactive, hands-on exhibits where children can learn to build earthquake-proof buildings, explore the inner workings of the human body and create their own musical soundtrack. The center has a helicopter flight simulator and is the permanent home of the space shuttle Endeavor.
La Brea Tar Pits
Children will experience primeval times in the middle of a modern city at this Los Angeles attraction. The sticky goo has revealed numerous fossils, including ground sloths, woolly mammoths and dire wolves. A small museum displays many of the artifacts recovered from the site. Children love tumbling down the large hill that is adjacent to the museum.
Griffith Park
Encompassing over 4,000 acres in the Santa Monica Mountains, the park has a swimming pool, golf courses, hiking trails and campsites. Families can explore the Bronson Canyon, which has served as the setting for movies and televisions shows. Children will enjoy the merry-go-round, the miniature train and pony rides.
Aquarium of the Pacific
Discover the mysteries of the world's largest sea at the aquarium. The fish tanks and exhibits display the marine life that inhabits the Pacific Ocean. These include harbor seals, sharks, sea otters, tropical fish and multicolored coral. The aquarium also features animal encounters with laughing Kookaburra, lorikeets, rays and sea urchins.
Santa Monica Pier
This seaside amusement park offers activities for the entire family to enjoy. Visitors enjoy various rides, including a roller coaster, Ferris wheel, bumper cars and a historic carousel. There are numerous midway-style arcade games as well. Skaters and cyclists can use the boardwalk that stretches for miles.
Aidan's Place
Children of all sizes and abilities will have fun at this large, open playground. The fully accessible park has swings, a climbing apparatus and multiple slides. There are four different play areas, including sites with sand and water. Children have almost one acre of space to enjoy themselves.
Autry National Center
The center is dedicated to preserving and sharing authentic and fictionalized accounts of cowboys and the American West. There are replicas of a homestead, general store and restaurant as well as art and memorabilia from real life and the movies. The museum documents the story of Native Americans, European settlers and Chinese immigrants who played a role in shaping California.
Los Angeles Zoo
This zoo houses over 1,000 animals from more than 250 species, with nearly 40 percent of the animals on display being classified as threatened or endangered. The zoological park is home to armadillos, giraffes, gorillas and vipers. Special programs include the elephant training demonstrations and encounters with Indian rhinos and Nigerian dwarf goats.