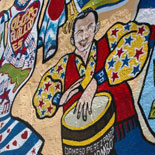 Miami combines sun, nature and attractions with a Caribbean flair. When traveling to Miami on holiday, consider these top 10 family friendly destinations.

Metrozoo
This attraction displays thousands of animal species from Asia, Africa and South America on 300 acres. The open-air tram, monorail and family surrey are great ways to visit the exhibits. You can view the animals in settings that are similar to their natural habitats. Children enjoy the petting zoo, carousel and playground.
Children's Museum
This family friendly Miami museum lives up to its motto "Play, Live, Imagine, Create." Permanent exhibits introduce children to the everglades, the ocean and art. Visitors can enjoy cruise ship activities, operate port equipment, visit a recording studio and work in a construction zone. Interactive displays excite and entertain the entire family.
Jungle Island
Located on Watson Island, this interactive zoological park and Everglades Habitat displays the flora and fauna that live in the tropical wetland. Children will also see tigers, penguins, lemurs and a wide array of free-flight birds from across the globe. The whole family will be amazed and entertained by the animal shows and displays.
Miami Seaquarium
Kids and family alike will enjoy this 35-acre marine park. It is home to the Dolphin Encounter and an 8,000-pound killer whale. Guests can tour various aquatic exhibits and enjoy elaborate shows. Popular exhibits include the shark channel, manatees, and tropical reef as well as the seal and sea lion tanks.
Bill Baggs State Park
Looking for a relaxing day at the beach? Be transported back in time to an era of undeveloped beaches at this state park. The scenery includes sand dunes, seagulls and palm trees. Bike rentals enable you to cruise along the seashore. Enjoy the view as a guided tour takes you to the top of the historic lighthouse constructed in 1846.
Everglades
Be sure to check out one of the world's natural wonders while on vacation in South Florida. Children of ages love the thrilling airboat ride across the river of grass. The biodiverse habitat includes hardrock hammock trees, alligators, sea turtles, shore birds and panthers. Nature walks and a variety of shows provide a glimpse into this incredible environment.
Biscayne National Park
Guests can snorkel, scuba dive or ride in a glass-bottom boat to view colorful coral reefs. Children will see a variety of marine wildlife, such as tropical fish, sea turtles, sharks and dolphins. The nature trail reveals aquatic birds and multi-colored butterflies.
Miami Science Museum
Whether you're truly a kid or just a kid at heart, you'll enjoy this engaging hands-on exhibits. Children can explore the amazing world around them through displays, such as catapults, spinning machines and static electricity generators. The Space-Transit Planetarium hosts several star projector shows. The museum enables children to explore the universe and the mysterious realms on our planet.
Monkey Jungle
Designed to study and protect endangered monkeys, this 30-acre wildlife preserve is unlike other zoological parks. In the Monkey Jungle, the 400 animals roam freely as park's visitors tour the habitat while walking through a series of tunnel cages.
Miami Duck Tour
Explore the city of Miami via land and sea on this unique and exciting tour. The amphibious vehicle tour travels past Millionaires' Row and homes of well-known celebrities before it splashes into Biscayne Bay. During the 90-minute ride, your captain will regale you with an interesting narrative about the area.
Zoo Miami
With more than 3,000 animals,1,200 plants and trees and numerous exhibits and interactive activities, Zoo Miami offers something for every member of the family. Travel the globe from Africa and Asia to the Amazon and Australia, discover different animal species native to these areas and meet the zookeepers who care for them. Animal lovers can get up close to giraffes, parrots and a rhino while feeding them treats. The list of animals doesn't stop there; Zoo Miami is also home to jaguars, lions, tigers, orangutans, elephants, birds, gorillas, chimps, tree kangaroos, frogs, snakes, meerkats and more! Nature lovers will enjoy the Amazon and Beyond exhibit where they can stroll through a rainforest, complete with rare frogs, harpy eagles and a 48,000-gallon aquarium. Entertain the young visitors at Playworld Playground, a half jungle, half water park, full on fun experience.