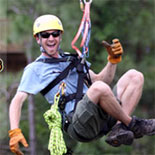 Orlando is one of the most popular tourist destinations in the world. When traveling to Central Florida, consider these top 10 family attractions.
Disney World is the most visited theme park in the world. Experience thrill rides and the sight of your favorite Disney movies and characters coming to life. Visitors can explore Main Street USA aboard horseless carriages, horse-drawn trolleys and fire engines. With a wide variety of age appropriate rides, shows and activities, the Magic Kingdom has something for everyone in the family.
EPCOT is the Experimental Prototype City of Tomorrow. You can experience the culture of 11 countries in one location. There are numerous country-themed rides as well as an aquarium and nighttime laser light show. Additional specialty tours are available.
Universal's Islands of Adventure boasts numerous innovative theme rides, interactive attractions and live shows. Children will be amazed as their favorite storybook and movie characters come alive. Leave your homeport to experience seven islands of adventure. Families can enjoy roller coasters, water slides and 3D adventures.
SeaWorld is a popular oceanarium. It features aquatic themed exhibits, rides and shows. The park is home to killer whales, bottlenose dolphins, polar bears, walruses and penguins. Families can explore aquatic habitats from around the world through the exhibits and animal encounters.
Disney's Animal Kingdom has more than 1,500 animals and various attractions in a magnificent 580-acre wilderness setting. Families can see Nile crocodiles, cheetahs and gazelles in the Africa habitat, and golden pheasants, Komodo dragons in the Asia section. Children can dig for fossils and enjoy interactive exhibits. There is a petting zoo for younger children.
The Orlando Science Center is a 50,000-square-foot facility with interactive, hands-on exhibits. The center has a domed theater for planetarium shows and science stations that explore corrosion and weather. Families can learn about dinosaurs, Egyptian mummies and space travel. Popular attractions include the Blue Man Group and Adventures with Clifford.
Gatorland is a unique protected habitat. Situated on 110 acres, the theme park is known as the Alligator Capital of the World. There is an observatory and aviary as well as one-of-a-kind thrill rides and shows. In addition to the petting zoo, children can take a swamp tour.
WonderWorks is a collection of more than 100 educational and entertaining exhibits. The museum is designed to provide a unique perspective. This begins with the fact that the building appears to be upside down. Enter the building and pass through the inversion tunnel to begin your journey of adventure.
Blizzard Beach Water Park looks like snow-capped peaks left after a severe winter storm. The 66 acres of thrill rides and interactive playground equipment will provide a fun-filled day of excitement for the entire family. Float on the lazy river or feel the thrill of a heart-stopping plunge from a mountain summit. The park has rides designed especially for younger children.