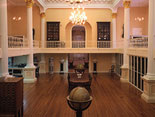 Salem is a vibrant community with a beautiful waterfront and a fascinating history. When traveling to the home of the witch trials, consider these top 9 family friendly attractions.
Peabody Essex Museum was established by Salem's prosperous ship captains. As the skippers sailed around the world, they collected exquisite works of art. They founded the renowned museum to share their treasures with the public. Housed in 24 historic buildings, the museum is rated as one of the best children's art museums in the country.
The Corwin House is Salem's only remaining structure with a connection to the witch trials. The magistrate who lived in the residence sentenced 19 of the "witches" to die. Visitors can see period furnishings and learn what life was like in the late 17th century. The tour describes the local culture and attitudes during this tumultuous period.
The New England Pirate Museum commemorates the buccaneer tradition. Visitors will hear about the exploits of Captain Kidd, Blackbeard and other infamous pirates who plundered the coast. During the tour, you will see a pirate ship and a cave used as a hideaway. You will also hear legends about treasure buried on the offshore islands.
Salem Trolley takes passengers on a sightseeing trip around the historic seaport. The narrated tour takes approximately one hour. You will be regaled with the history and little known facts of Salem. The eight-mile route includes the waterfront, the House of the Seven Gables, the Salem Witch Museum and other local landmarks.
The Witch Dungeon Museum re-creates the conditions, which the prisoners experienced during the notorious trials. Actors use dialogue from actual trial transcripts to re-create pivotal scenes. You can view Gallows Hill as it would have appeared in 1692. The museum also sponsors several educational programs.
Salem Maritime National Historic Site pays tribute to the seafarers who helped build the nation's economy. The nine-acre park includes the wharves, a customs house and a reconstructed tall ship. You can hear the tales of the spice trade, pirates and Revolutionary War privateers. The museum hosts junior ranger badge activities.
The House of the Seven Gables was built in 1668. Visits to the home, inspired Nathaniel Hawthorne to use it as the setting for his famous 1851 novel. Guides take you on a tour of this historic mansion. Highlights include gardens, numerous artifacts and outbuildings. One unusual architectural feature is a secret stairway.
Pioneer Village is the nation's first living history museum. There are several hands-on exhibits and live demonstrations depicting 1630s Puritan life. Led by costumed interpreters, the tour takes approximately 1.5 hours. Children can play colonial era games and take turns in the stocks.
The Salem Wax Museum uses life-like figures arranged in various scenes to depict historical moments in the city's past. In addition to various multimedia presentations and guided tours, the museum has interactive programs for children. Interesting activities include making wax figures and working in Frankenstein's Laboratory.