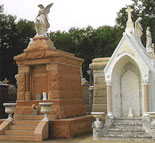 New Orleans is the home of jazz, Mardi Gras and the best Gumbo that the country will ever churn out. When it comes to visiting this famous flavorful city in Louisiana with your family, there are many places to visit that are free or very low priced. Don't miss out on these five great, cheap experience that will entertain not just you, but the entire family:
Garden District. Looking for a place to walk around, enjoy the view and soak up the local color of New Orleans? There are numerous beautiful historic homes to see here, adorned with lovely gardens. If you are staying in this district of the city, be sure to take the St. Charles streetcar to the end of its line, then turn around and come back. You can enjoy the stunning antebellum homes, large, majestic oak trees covered in Spanish moss, Loyola and Tulane Universities and Audabon Park, the former of where the city zoo is located. Don't miss out on walking up Magazine Street. It's a lovely area; just make sure you take a walking map with you so you don't get lost! Remember to bring your camera, too.
Preservation Hall. The home of jazz might be a good nickname for New Orleans. Preservation Hall is an extremely inexpensive place to visit and view some of the best jazz bands in the region. Yes, the building is very old and it does not have any air conditioning. It can become very crowded. But the acoustics are great and the music is live and real. The performances are what draw hundreds of people here at a time. You can't afford to miss out on a fantastic musical venue like this. It really gives you a taste of New Orleans as a living museum. Kids will love the loud music, too.
St. Louis Cathedral. As the oldest continuously active cathedral in the United States of America, this stunning piece of architecture is a must-see. You don't have to pay the small fee to view the interior if you'd rather just view the amazing edifice from the outside. You can attend mass there on Sundays or peek inside during their annual Christmas service. You may want to pay the fee to see inside during tourist season. It is truly a magnificent piece of religious architecture. It is said that Walt Disney designed the Sleeping Beauty Castle at Disneyland after this cathedral's architectural overview. It is located in the French Quarter.
Lafayette Cemetery. This is a cemetery that was built for those who lived in the Garden District. Some of the crypts and headstones are extremely old. The grounds are well preserved. This was the same cemetery that was used in the move, Interview with a Vampire, with Brad Pitt.
City Park. Horseback riding, golfing and tennis are all prominent activities in this beautiful park. Kids will love the sprawling grounds and the horses.
Planning a vacation to New Orleans? Check out www.TrustedTours.com for New Orleans tours and attractions discount tickets.
Comments Off on Five Free Things to Do and See in New Orleans for Families