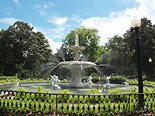 Savannah, Georgia is easily one of the most historic and entertaining cities in America. With an abundance of markets, parks, and museums, it really is one of the South's must-see tourist destinations. Fortunately, Savannah offers a wide variety of free attractions just waiting to be discovered by its guests. With so many free things to see and do, it's easy to see what makes Savannah such a popular family vacation destination.
City Street Market, located near the waterfront in Savannah's Historic District
Originally created in the 19th century as a place for locals to buy and trade goods
This eclectic and charming corner of the Historic District features approximately 19,000 square feet of artists studios
Four-block, pedestrian-only area in which no cars are allowed
Full of unique shops and innovative restaurants and cafes, all situated in historic warehouses and stores
The Cathedral of St. John the Baptist, located near Lafayette Square in Savannah's Historic District
Originally constructed in the late 18th century by French colonists, many of whom had fled the French Revolution
Features breathtaking stained-glass windows, an Italian marble altar, and 24 stunningly hand-painted murals
Recently painstakingly restored to reflect the building's original grace and awe-inspiring beauty
Located just minutes from Savannah's historic Colonial Park Cemetery
Forsyth Park, located in Savannah's Historic District
This 30-acre park is the perfect place to relax and take in all of Savannah's charm
The park features a beautiful white fountain built in 1858 and the stunning Fragrant Garden for the Blind
A small pool and playground area is available to children with adult supervision
Contains plenty of walking paths and shaded areas, perfect for a family picnic
Bonaventure Cemetery, located near the eastern suburbs of Savannah
Almost 160 quiet, beautiful acres overlooking the Wilmington River
The final resting place of some of Savannah's most distinguished residents since 1846
Home to beautifully ornate sculptures ordaining the graves of historical figures such as famed poet Conrad Aiken and songwriter Johnny Mercer
Featured in numerous movies and books due to its hauntingly beautiful landscape
Savannah National Wildlife Refuge, located just north of Savannah
Conveniently located six miles north of the downtown area
More than 29,000 acres of freshwater rivers, creeks, and marshes
Home to a wide variety of animals, including alligators and the endangered manatee
Stop by the visitor center Monday through Saturday during normal business hours before touring the rest of the refuge
With so much to do, it's hard not to fall in love with Savannah's unique history and southern charm. But doing so without having to break the bank just makes the romance that much sweeter! For more information, and to buy discounted tickets to other great attractions in and around Savannah, visit www.trustedtours.com.
Comments Off on Five Free Things To Do and See While Visiting Savannah For Families