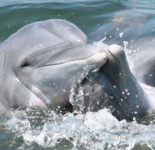 The Florida Aquarium reveals the beauty and mysteries of the aquatic world. Located at 701 Channelside Drive on the shore of Tampa Bay, the award-winning, 250,000-square-foot aquarium hosts almost one million visitors each year. Over 20,000 marine animals and plants from fresh and saltwater habitats live at the aquatic facility.
Save a total of $2.50 when you buy your tickets here: Florida Aquarium Discount Tickets AND use Coupon Code: TPAQ50 at checkout.
The Wetlands Trail exhibit takes guests on a fascinating voyage down the famous Suwannee River. Rustic signs guide you through the unique environment of Florida's watershed. Otters, herons, spoonbills and the invasive Burmese python are just some of the fresh water animals inside the glass, domed, multi-story enclosure. The Bays and Beaches Gallery explores the salt and brackish water habitats that lie just off shore. The exhibit re-creates the sandy beaches and grass seabeds that are home to turtles, grouper and stingrays. The At the Beaches exhibit depicts a cross section of a Florida beach.
The 500,000-gallon Coral Reef Exhibit focuses on a colorful Caribbean Reef ecosystem. This tank displays a menagerie of plants and sea creatures that inhabit this diverse habitat. Many of these species are indigenous to the Sunshine State. As the sharks and rays glide above and beside the acrylic glass tunnel, guests will feel as though they are in the water with the animals. Ocean Commotion is a multimedia show that entertains and educates visitors about the world's oceans. An interactive program enables guests to follow an animated character that explains the mysterious world of various sea creatures who inhabit the deep.
You can watch adorable African Black-footed penguins swim, dive and play at Penguin Point, which re-creates their South African beach habitat. During the daily Penguin Promenade Show, an experienced marine biologist shares information about these endangered animals. Guests will get an up-close view of these flightless birds during their red carpet appearance. The Sting Ray Beach, Horseshoe Crab Lagoon and No Bones touch tanks have stingrays, several species of shark and horseshoe crabs. Resident invertebrates include anemones, sea cucumbers, mollusks and sea stars.
The water fun zone includes a two-acre, Caribbean-themed outdoor play area called Explore A Shore for older children and Shipwreck Shore for toddlers. The play areas feature slides, pools, spray fountains, sandboxes and a 20-foot-tall pirate ship. Premium backstage tours enable guests to dive with sharks and swim with the fish. Ranked as one of the best kid-friendly aquariums in the country, the Florida Aquarium is open to the public year round.
Comments Off on Florida Aquarium Coupons