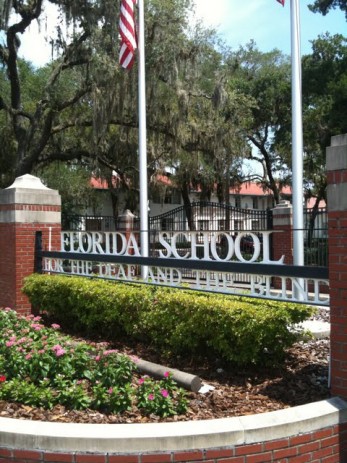 The Florida School for the Deaf and Blind is a state-supported residential school for deaf and blind children established in 1885, in St. Augustine. In 1882, Thomas Hines Coleman, a young deaf man, was preparing to graduate from Gallaudet University in Washington, D.C., the only college for the deaf in the world at that time. He had previously graduated from the South Carolina School for the Deaf and the Blind and knew he wanted to make education for children his life's work. Florida was one of the few states that had not yet made provision for the education of children who were deaf/hard-of-hearing, or who had visual impairments. Coleman wrote Governor William D. Bloxham of Florida and found he was favorable toward the establishment of such a school. As their correspondence continued, the sum of $20,000 was reached as a minimum appropriation to start the School. In 1883, Florida´s legislature established an institution for the blind and deaf children for two years at $20,000. They requested bids from various towns in the state for the location to build the School. The City of St. Augustine offered the best bid with $1,000 cash and 5 acres of land, the land donated by Captain Edward E. Vaill, a pioneer of the City. Contractor William A. MacDuff erected the original first three wooden buildings at $12,749 and they were completed in December 1884. The first graduating class was 62 students in 1892 and the first graduation ceremony was held in 1898. Notable alumni include Ray Charles and Ashley Fiolek.
Telephone: 904-827-2200
Web: https://www.fsdb.k12.fl.us/
Address: 207 San Marco Avenue, St Augustine, FL 32084
Directions from Current Location
Text copy partially provided by Wikipedia available under a Creative Commons Attribution-ShareAlike License. Click here for original source.
Comments Off on Florida School for the Deaf and Blind