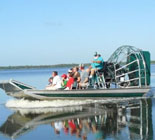 The Florida Everglades, a vast network of ecosystems, preserves, and waterways is home to numerous exotic species of wildlife. Fish, birds, and a colorful array of different flora and fauna constitute this wild and untamed section of southern Florida. The Sawgrass prairies, mangrove estuaries, cypress swamps and Savannahs are all part of what makes the Everglades unique to visit. In order not to harm these fragile ecosystems, taking an Eco-tour is the best way to experience the Everglades. The Everglades Day Safari-West Coast is a socially aware and environmentally conscious tour company. A tour of the Everglades by knowledgeable guides and naturalists will not only educate you about this lush and verdant landscape, but also provide adventure and entertainment for the entire family.
The Everglades Day Safari-West Coast is broken down into different itineraries. Your day will begin with an airboat ride across a 1500-acre inland lake. The lake is home to more alligators per acre than anywhere else in the world. Be sure to keep those arms inside the boat, kids. After the airboat excursion, you will take a scenic wildlife drive through the Big Cypress Reserve. It is lunch after that. The Seafood Depot, a Spanish-style stucco restaurant, will be where you recharge and refuel. After lunch it is off on another boat ride. This time you will begin a 90-minute adventure in the Everglades National Park and wind your way through the 10,000 Islands. The Everglades Day Safari concludes with a leisurely nature walk.
If you have an interest in nature and wildlife, then the Everglades provide a once in a lifetime chance to see a landscape that remains verdantly exotic and prehistoric. Furthermore, the Everglades Day Safari-West Coast is narrated by scientists and naturalists who are passionate about the environment.
Purchase Discount Tickets for the Everglades Safari