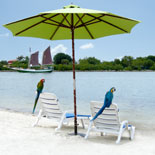 Vacationing in Miami is a great choice for a family. Whatever the ages or interests your crew will be able to find fun in this sun-filled city. Along with time spent playing at the beach you will want to look at some of the free, or inexpensive, options for sight-seeing.
Marjory Stoneman Douglas Biscayne Nature Center – Marjory Stoneman Douglas Biscayne Nature Center offers a variety of indoor exhibits including a new one which shows living trees and the animals that inhabit the Mangrove environment. There are child friendly interactive stations displaying sea shells, dried sponges, and turtle shells. For bird lovers you can birdwatch to your heart's content at the observatory. The whole family should be able to find enjoyment here, either on the beach, in the art gallery, or taking part in special programs, available for a fee. It is located at 6767 Crandon Blvd Crandon Park.
Haitian Heritage Museum – Many different cultures make Miami what it is. If you want to learn about the contributions of Haitians, make sure the Haitian Heritage Museum is on your list of places to visit. It can be found at 4141 NE 2 Ave. # 105C, and is open Tuesday – Friday. There are wonderful exhibits of colorful and bold Haitian paintings as well as displays of artifacts.
HistoryMiami – Formerly known as the Historical Museum of Southern Florida, HistoryMiami, provides visitors with a look at the history of Miami and southern Florida. There is an entry fee, but the second Saturday of each month is a free day. Lots of fun for the whole family with craft projects and guided tours.
Miami's Children's Museum – Miami Children's Museum has a bunch of stimulating activities for children of all ages, including walking through a six-foot piggy bank, and learning how to earn and spend money. Many of the displays relate to life in Miami, such as the workings of a cruise ship, and what goes through the Port of Miami. Get physical by climbing the rock wall, Mt. MiChiMu. Located between downtown Miami and South Beach at 980 Macarthur Causeway, there is an admission fee.
Gold Coast Railroad Museum – You can find almost any type of train in the exhibits of the Gold Coast Railroad Museum at Coral Reef Dr. Kids will enjoy the play tables at the display of a model railroad. To experience what train travel was once like, you can tour the Silver Crescent for an additional charge. The first Saturday is free day while there is an admission charge on other days.
If thoughts of fun in the sun brought you to Miami, then you want to be sure and explore all of your options. There is no better tour company to deal with than Trusted Tours and Attractions, https://store.trustedtours.com/miami. Their site is filled with a variety of places to see in Miami, and at discounted prices. Be sure and check out the Everglades Tour, Jungle Island, or a sightseeing cruise.