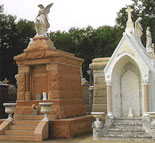 New Orleans is one of the oldest cities in the country and as such, has a rich and wonderful history to it. It's also the home some of the best food, music and art in the country as well. As with many tourist destinations, many of the attractions in New Orleans come with a price tag attached but there are a surprising number of activities in this historic city that are free.
– Each Wednesday during the spring months of April to June, there are free concerts held between 5:00 to 7:30 PM in Lafayette Square. Many local musicians play during this season-long festival including The Boogie Men and Kermit Ruffins & The Barbecue Swingers.
– Visit the famed St. Louis Cathedral, the oldest continually in use Catholic cathedral in the country. The church is easily one of the most recognizable attractions in New Orleans, having been featured on numerous postcards and in many tourism books on the city. Visitors can attend mass, tour the church or attend the free classical concerts that are hosted at the church.
– Any trip to New Orleans must include a visit to the French Quarter. The National Park Service, located at 419 Decatur Street, offers free guided tours of the Quarter beginning at 9:30 AM. The free tickets are given out at 9:00, so be sure to be on time!
– After the morning tour of the Quarter, visit the famed St. Louis Cemetary #1 where famous VooDoo priestess Marie Laveau is believed to be interred in the Glapion family crypt. Beyond the famous inhabitants of the cemetary, the architecture used in the tombs and other structures are truly impressive.
– While strolling through the French Quarter, make sure to stop at famed restaurant, Arnaud's. While this classic Creole restaurant unfortunately isn't giving away their food for free, the upper floor of the restaurant holds the Mardi Gras Museum which offers free admission seven days a week. The museum has over two dozen amazing Mardi Gras costumes on display as well as classic photographs, ornate Carnival masks and various other odds and ends from years past.
– The New Orleans Museum of Art is home to an impressive mix of artwork and traveling exhibitions. The museum honors the varied culture of New Orleans by showcasing European, African, and Louisianan art and the five acre sculpture garden is a sight to behold. Admission is free to all visitors each Wednesday.
More information about discount tickets on New Orleans tours and attractions.
Learn about how Kids Go Free On Select Tours by visiting our Special Offers Page.
Comments Off on Some of the Best Things To Do in New Orleans Are Free