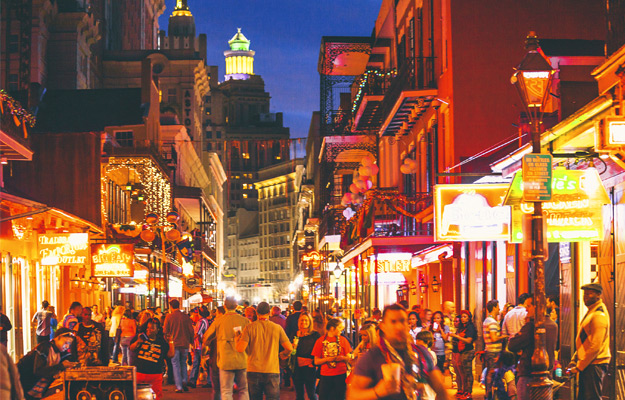 The French Quarter, an ancient yet ageless 13-block long neighborhood is the heart of a fascinating city, New Orleans. A place of myth and mystique, which has seen everything and survived much, it packs in more sensory experiences than any other city in America. A place that never sleeps, Vieux Carré reveals much behind her glittery mask. Cracked stucco walls, overhanging balconies, hidden gardens, secret courtyards hint of times past. Her unique dichotomy is felt in the sweet scent of flowers mixed with the smell of stale booze The Quarter is a place of the exotic, rich flavors of Cajun/Creole cuisine. Jazz, rooted deep in her soul, comes from open windows and shuttered doors at all hours of day and night. Down long-traveled streets: art galleries; antiques and more antiques; unique museums and attractions; eclectic shopping; Voodoo shops and temples.
CULINARY EXPERIENCES
New Orleans is all about food. As one of the finest dining centers in the world, New Orleans is not the place to count calories, it's a place to savor the flavors, enjoy the tastes, sample different things. No matter where you go, restaurants large and small have one thing in common – a distinctly New Orleans flavor. Great chefs, home-grown or from all over the world, are drawn here for the rich sea catch, fresh regional ingredients, the wonderful range of spices firmly grounded in the area's global history. With endless choices, deciding where to eat can be baffling. Things to know:
In a city that never sleeps, breakfast is a big deal – so is late night dinning
Cajun flavors lace through everything, plain and fancy
Creole cuisine has a French flair
Seafood is king
Elegant, traditional, pricey old guard French Creole restaurants still hold court
Coffee shops, cafes, delis and reasonable New Orleans Cajun restaurants rule the daytime scene from beignets to po-boys.
Bars are more than places to drink, mingle and meet. Most offer great Bar/Pub Food, morning, noon and night.
Old Guard Gems
Old World elegance, beautiful surroundings, classic Creole cuisine, impeccable service at fine dining restaurants which have been around for decades and where jackets are often required: Brennan's on Royal; Antoines on St. Louis since 1840; Arneaud's on Bienville; Broussards on Conti, Galatoire's on Bourbon St; Tuyague's on Decatur.
Coffee Shops, Delis & Traditional Cajun Restaurants
Many are open breakfast and lunch; some for dinner too. Many serve breakfast all day. Most have Cajun specialties. Here's a taste of the diversity: Café Beignet on Royal; Café at the Square on Charles; The Old Coffeepot on St. Peter; Café du Monde on Decatur, a tradition since 1862; Café Conti on Conti; Killer Po-boys on Conti. Quirky Clover Grill on Bourbon has great burgers; Café Maspero on Decatur boasts the biggest sandwich in New Orleans; Café Rose Nicaud on Frenchman is history plus great food; CC's Community Coffee House on Royal is about great coffee and conversation. Central Grocery on Decatur is the home of Muffaletta; Croissants D'Or Patisserie on Decatur has savory soups and sandwiches; Johnny's Po Boys on St. Louis had over 45 varieties of Po Boys; Frank's Deli on Decatur has an Italian twist. Casual Creole at La Bayou on Bourbon is a New Orleans traditional; so is casual, classy, family-friendly Remoulade; Huck Finn's Café's menu has recipes passed down through generations.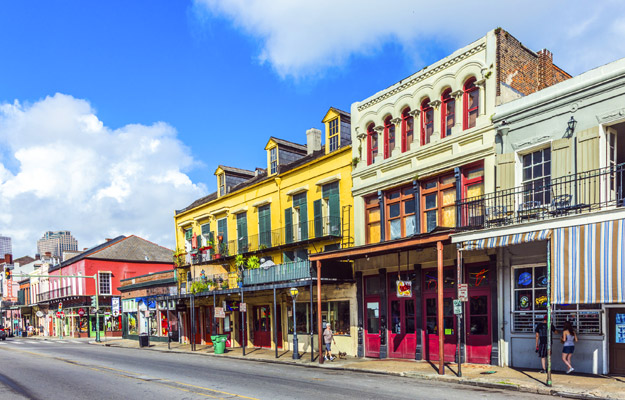 Bars with Pub Food
In the French Quarter, bars are more than just a nighttime scene. Many are great casual places to go for really good food – often for breakfast, lunch and dinner. Some are plain; others fancy. Some are more sophisticated where the dress is business casual; others come as you are. While there are the usual dives, most are in really great spaces with ambience. Many have live music. Most tourists find their way to busy Pat O'Brian's on Bourbon Street to try their famous Hurricane and outdoor pub dining. Check out some of these: Attiki Bar& Grill on Decatur; Backspace Bar & Kitchen on Chartres; Bombay Club on Conti. House of Blues on Decatur is a big live music venue. Napoleon House on Chartres is a European style café in a 1797 historic building; Old; SoBou on Chartres has great drinks plus small plates. Chartres House offers quick bites and cocktails in landmark building; Coop's place on Decatur is a friendly neighborhood place; DejaVu on Dauphine is all day mufalettas, burgers, po-boys and gumbo. Corner Oyster Bar & Grill's TVs draw sports fans; Crescent City Brewhouse on Decatur pulls in microbrew fans.
Seafood Rules
New Orleans bayous and coastal Gulf waters yield oysters, crab, shrimp, and many fish species, making seafood the key ingredient in regional cooking – both Creole and Cajun. It's fair to say that all restaurants feature seafood. Some are all about seafood: Acme Oyster and Seafood House on Iberville has been a fave for 100 years; Bourbon House Seafood & Oyster Bar is classic New Orleans Creole and seafood all the way. Ocean Grill is on Conti; Bubba Jump Shrimp Co on Decatur has a great kids' menu and family atmosphere; GW Fins is seafood +fine dining; Red Fish Grill offers seafood and Cajun specialties in a kid friendly, funky atmosphere. Pier 424 Seafood Market Restaurant on Bourbon St boasts a huge oyster bar; Marti's on Daumaine an impressive raw bar; Felix Steak and Oyster Bar on Iberville has served freshly sourced food for 70 years.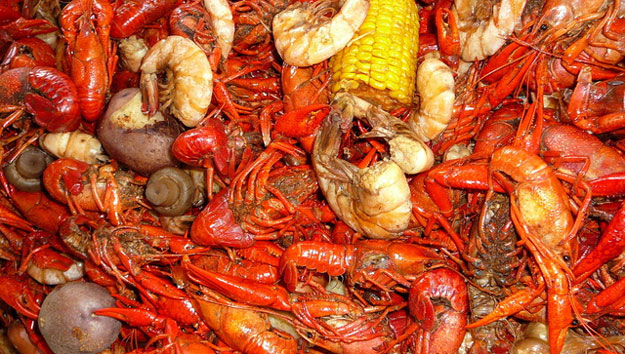 Steaks, Steaks
Not everyone is into seafood. Or, they just want a great piece of meat as a change up from seafood. Here's where to find it: Galatoire's "33" Bar/Steak House on Bourbon St has traditional steakhouse fare plus fine cocktails; Doris Metropolitan on Chartres is an upscale chophouse in a contemporary setting; Dickie Brennan's Steak House on Iberville has been serving great steaks with a Creole twist for 60 years; Mr. John's Steakhouse has great meat choices in an elegant but relaxed setting on St. Charles.
Famous Chefs
Chefs whose TV appearances have put culinary New Orleans on the map of course have restaurants in the city which launched their careers: Paul Prudhomme's K-Paul's Louisiana Kitchen is on Chartres; Emeril's eclectic NOLA on St. Louis and Emeril's Delmonico on St. Charles is another good place for meat cravers.
Continental/Contemporary/Trendy
New chefs on the scene experiment with the fresh seafood and exotic flavorings of New Orleans to create non-traditional, yet distinctly New Orleans cuisine. Bayona is in a romantic 150 year old Creole cottage on Dauphine; Tableau on St. Peter offers classic creole dishes with modern twists; Kingfish Kitchen & Cocktails on Chartres is upscale, casual Cajun/Creole fare; Palace Café on Canal St. offers modern Creole cooking with both opulent indoor or sidewalk seating.
Sunday Brunch
Despite the fact that breakfast is served in many French Quarter restaurants seven days a week, Sunday Brunch is New Orleans tradition. There are many versions of brunch in multiple places. Notables include Court of Two Sisters whose cornucopia Sunday Brunch buffet, largest outdoor dining courtyard in French Quarter, and strolling jazz musicians draw crowds. Arnaud's on Bienville and Mr. B's Bistro on Royal both serve Sunday brunch along with live jazz. House of Blues on Decatur has a rousing Gospel brunch. Antoine's on St. Louis and Brennan's on Royal are old world, elegant brunch experiences. Even in places serving breakfast daily, Sunday breakfast turns into something special. For a great breakfast that may as well be a brunch 7 days a week, Stanley's on Jackson Square is upscale, sumptuous and affordable. Or, get out on the Mississippi river on the authentic New Orleans Steamboat Natchez Creole Lunch Cruise. On Sundays their menu expands into brunch and includes jazz.
International Cuisine
Not every restaurant in the French Quarter is Creole/Cajun influenced. Criollo Restaurant & Lounge on Royal flavors their menu with a touch of Spain, Italy, Caribbean and African influences; Tony Moran's on Bourbon had great northern Italian cuisine. Go to El Gato Negro in French Market for authentic Mexican food; El Libre on Daumaine for Cuban food; Felipe's Taqueria on Peters for tasty tacos; Fiorella's in French Market for Soul food. Galvez on N. Peters has authentic Spanish food; Bernachin is New Orleans influenced African Cuisine; La Divina Gelateria is known for lovely gelato.
French Market area
Visitors flock to French Market, the oldest public market in the country, founded in 1791. Now an open- air area of shops, dining and music, pick-up food choices are easy to find. So are sit-down restaurants. Continental Provisions on Peter St has great sandwiches; Gumbo Shop serves traditional and contemporary Creole food in a 1794 cottage. Louisiana Pizza Kitchen's gourmet pizzas get rave reviews; meals from Heart Café are organic and freshly prepared. Stanley's on Decatur has tasty casual breakfast and lunch choices; The Market Café on Decatur is Cajun food + jazz. Palm Court Jazz Café on Decatur is a dinner club serving up traditional jazz and British/Creole food.
ATTRACTIONS AND MUSEUMS
There's a lot of history in Vieux Carre, the oldest neighborhood in an old city, and there are many places to experience it.
French Quarter Tours
For a good overview of the French Quarter sights, see it on a bus, Segway or wtlking Tour. Grayline's 2 hour bus tour travels through the French Quarter and on to the Garden District, with a stop at a cemetery thrown in. A fun way to see the French Quarter is to literally glide down its streets and squares on a narrated City Segway Tour 3 hour, 2 hour or night tour. There are several walking tours through the French Quarter. All are narrated and pass by all the important sights; many include a cemetery visit. Grayline offers a 2 hour narrated French Quarter walking tour; Free Tours by Foot is engaging, entertaining, and insightful. 2 Chicks Walking Tours, New Orleans Legendary Walking Tours, Nola Tour Guide and Celebration Tours all offer narrated walks through the French Quarter.
House Museums
The ancient quality of the oldest neighborhood in New Orleans stems in part from the many historic buildings that have been preserved and restored. Several architecturally distinctive historic homes from different eras have been preserved and are open as house museums, giving visitors a glimpse into life as it once was. The 1850 House on St. Ann St. has a collection of furniture, art and decorative arts that might have belonged to a prosperous middle class family in the 1850s. Beauregard-Keys House on Chartres, built in 1826, was the residence of Confederate General Pierre Gustave Toutant Beauregard who ordered the first shots of the Civil War fired on Fort Sumter in 1861, and over 100 years later became the home of noted author Frances Parkinson Keyes. One French Quarter gem, the Gallier House on Royal St., was designed by two of the most significant architects of their time, a father and son whose name the house bears. Beautifully restored, the Herman-Grima House on St. Louis built in 1831, one of the finest examples of American Federal style architecture in the area, is the place to see the gracious lifestyle of a wealthy Creole family from 1830-1860. A collection of 7 architectural treasures on Royal Street comprises Historic New Orleans Collection. Madame John's Legacy, built in 1789, is one of the finest 18th century building complexes in Louisiana.
Historic Buildings
Historic Jackson Square treasures: historically significant Cabildo, built between 1795 and 1799 as the seat of government in New Orleans during the Spanish Colonial period, was where the Louisiana Purchase was signed in 1803. Beautiful St. Louis Cathedral, originally built in 1724, rebuilt twice, and dedicated as it is today in 1794, is the oldest continuously active Roman Catholic Cathedral in the United States. The Presbytére is the place to find out everything Mardi Gras through interactive exhibits and a fabulous collection of Mardi Gras artifacts and memorabilia.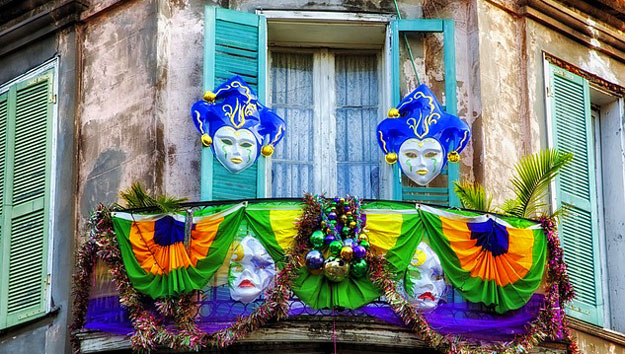 Museums
The Old US Mint dating to 1835, and the only building in America to have served both as a United States and Confederate Mint, exhibits a permanent collection of instruments played by significant jazz musicians and other memorabilia which tell the story of New Orleans jazz.  Old Ursuline Convent, an architectural gem constructed between 1748 and 1752, and considered to be the finest surviving example of French Colonial architecture in America. is open for self-guided tours. The Pharmacy Museum, once an 1893 apothecary shop, has the largest pharmaceutical collection in America. The Historic Voodoo Museum is the place to learn all about the mysteries and myths of Voodoo, whose impact is still felt in New Orleans culture. Over 200 years of Irish history in New Orleans is told through exhibits and films in the Irish Cultural Museum of New Orleans. Exhibits at the Laura C. Hudson Visitor Center focus on the impact of the surrounding bayous, swamps and the Mississippi River on the development of New Orleans. Self-guided tours of the Musee Conti Wax Museum are walks through the history of New Orleans through encounters with life-size wax models of historical figures.
MUSIC
In the birthplace of jazz, live music is all over New Orleans – jazz, blues, funk, roots, rock, R&B. It permeates everything and is heard everywhere, by day, night and into the wee hours, in bars, restaurants, on riverboats. Music Clubs, Jazz Clubs, Dance Clubs; Burlesque and Cabaret Clubs are big in New Orleans. The fact that music is everywhere and is a fluid happening, it defies a comprehensive list. However, some tips and highlights may help visitors tune in.
As all visitors know, clubs and bars with music are lined up, one after the other up and down Bourbon Street. Choices are all across the board, from traditional jazz to raunchy Blues to provocative Burlesque. That is only the beginning. Here's a diverse sampling of the music scene around the French Quarter: a merry-go-round bar makes Carousel Bar and Lounge in Hotel Monteleone unique; Balcony showcases up and coming musical talent; Opera House is all about live, local music. The Famous Door is R&B and show dance bands; Krazy Corner is all R&B. For traditional jazz: Fritzel's European Jazz Band, Palm Court Jazz Café in a French Market Warehouse, Irwin Mayfields Jazz Playhouse in Royal Sonesta. Maison Bourbon Jazz Club combines traditional jazz and Dixieland sound. House of Music is known for great live music and a restaurant. Neither a club nor a bar, Preservation Hall is all about, and only about (no drinks here), authentic New Orleans jazz. Get there early, there's always a line. And, there is no AC.
Look for much more live music outside of the French Quarter, especially in neighboring Faubourg Marigny/Bywater which has the largest number of bars with music and clubs in the city, with Frenchmen Street known as the best place to experience authentic, live music.
BARS
New Orleans has bars, reportedly more bars per capita than any other city in the US. The French Quarter has a huge share. According to a recent Times Picayune survey, there are Classic French Quarter Bars like Arnauds, Carousel, Cats Meow, Napoleon House, Pat O'Brien's and Tujaque; Cocktail Bars such as Bombay, Silvain, Bar Tonique, Empire. Gay Bars in the Quarter include Bourbon Pub and Parade, Café Lafitte in Exile, Good Friends Bar. Golden Lantern. Neighborhood bars are plentiful are a nice change and too numerous to list in a meaningful way. Search them out; check them out. Late night dive bars line Chartres Street.
SHOPPING
Best description of French Quarter shopping: eclectic, interesting with something for everyone. Art galleries are plentiful and varied, as are fabulous antique stores, many of which are on Royal. Women's clothing boutiques have everything from contemporary to vintage to wearable art; men's clothing stores go from trendy to conservative to sports. Jewelry covers the gamut – gemstone, handmade, silver, gold, beads. Collectibles cover everything from Limoges boxes to Gothic. There are shops with fine cigars, pipes, tobacco; others with porcelain, art pottery, crystal chandeliers and hand-crafted copper New Orleans lamps. Herbs, potions and mysterious items are in Voodoo shops and appointments can be made with Tea Leaves and Tarot readers. Creole and Cajun food products and cookbooks are popular. So are books, posters and stationery; perfume, herbs and aromatherapy and detox products; fine linens and lace; hats and home furnishings. Fun to take home: glittery masks and New Orleans Saints merchandise.
With so many choices, no one leaves the Vieux Carre empty-handed; most leave a few pounds heavier; all leave completely taken in by her magic spell of "laissez les bon temps rouler!"