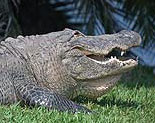 Visitors looking for a one-of-a-kind experience will find just what they seek on the Gatorland tour. World-renowned as the Alligator Capital of the World, this 110-acre nature conservatory and theme park offers adventure around every corner. Situated in Central Florida in the midst of the Florida Everglades, Gatorland is an experience not to be missed.
Planning a visit to Orlando's Gatorland? Use the following coupon code for an additional $1 off.
Coupon Code: ORGL1
Purchase Tickets Here: https://store.trustedtours.com/gatorland
Gatorland dates back to 1949 when it began as a simple roadside attraction. For more than 50 years, Gatorland has provided unforgettable vacation memories. Today, Gatorland continues to offer a natural and unique alternative to other more expansive theme parks.
This 110-acre wildlife preserve and theme park effortlessly blends Old Florida charm with adventurous and new forms of entertainment and exhibits. Known throughout the world as the "Alligator Capital of the World", the theme park provides a low-tech, natural option for adventure.
When you visit Gatorland, you simply never know what type of animal you might encounter during the Upclose Encounters Show. Get up close and personal with some of the most fascinating creatures on the face of the planet along with Florida's own native wildlife. You will even get the chance to meet some of the most dangerous snakes in the world.
The latest addition to Gatorland is the Screaming' Gator Zip Line. This unique ride will take you on a thrilling journey some 1,200 feet above Gatorland. Reaching heights up to 70 feet and nearly 30 miles per hour, this ride is certain to be one you won't soon forget and will certainly bring out your adventurous side.
Chills and thrills are the order of the day at the Gator Jumparoo Show. See some of the largest alligators around jump up to five feet from the water just to retrieve a bite of food. You won't find this show anywhere else!
Gatorland is also home to a one-of-a-kind alligator wrestling presentation. The show takes place in shaded stadium with a seating capacity for 800. Adventurous gator wranglers catch alligators up to eight feet in length strictly by hand. Watch them climb on top of the animal's back while it's still snapping. The wranglers then point out crucial survival features-just in case you should ever find yourself in a similar situation. After performing some of the bravest stunts you will see anywhere, the alligators are rolled over for a nap and then awakened with a tickle.
Promo Code: ORGL1
Purchase Tickets Here: https://store.trustedtours.com/gatorland