Gettysburg was a serene hamlet in southern Pennsylvania until two armies clashed in and around the town in July 1863. When visiting this historic location, consider these top 10 family friendly attractions.
Battlefield Licensed Guided Bus Tour
A two-hour excursion that takes passengers back in time. The scenic vista includes wisteria and towering oak trees. You will visit well-known locations, such as Little Round Top a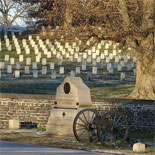 nd Devil's Den. Your knowledgeable guide provides insights into this epic battle and the legendary figures who led the opposing forces.
Comments Off on Family Things to Do in Gettysburg