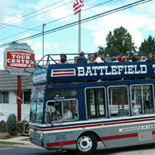 As you plan your trip to historic Gettysburg, be sure to book a tour on the Gettysburg Dramatized Audio Bus Tour. Departing at 10:00 AM, this two hour tour draws you into the history of Gettysburg, with highlights including views of Little Round Top, Gettysburg National Cemetery, Picketts Charge, Wheatfield, Peach Orchard and other views of the battlefield. The Battle at Gettysburg was a pinnacle in the Civil War, lasting only three days. While the battle was not long, the casualties have been noted as the worst on North American soil, numbering between 46,000 and 51,000 lost between both sides. As cannons blast and rifles crack, you will get to experience the sights and sounds of July 1863 with this open air tour.
On November 19, 1963, President Abraham Lincoln dedicated the battlefield as a military cemetery with his famous "Gettysburg Address". These words have defined our government today. On this audio tour, you will be able to envision this speech and take part in the events that permeate our history.
As you tour the battlefield and surrounding area on this Double Decker Bus, an audio tour will guide you through the attractions. With two stops along the way to utilize the restrooms, this tour will also stop for ten minutes at Little Round Top. Take your camera and capture a glimpse of history. If the weather is inclement, an enclosed bus will be used. Tickets can be purchased online at https://store.trustedtours.com/gettysburg-dramatized-audio-bus-tour – look for special offers as well. Don't miss out on this fantastic open air tour of the sights and sounds of the Battle of Gettysburg, which includes a dramatized audio tour as well.