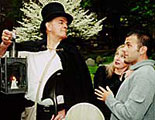 Halloween is approaching rapidly, and all of us like to do something a little scarier than usual for this holiday. For those that want to travel over the holiday the Ghosts and Gravestones Tour of Boston will fit well into your holiday travel plans. The Ghosts and Gravestones tour of Boston is so sure that they can scare the pants off anyone; they offer a money back guarantee. As we all know Boston is one of our oldest cities and has been home to the likes of many shady characters over the years.
On the Ghosts and Gravestones tour of Boston, you will be taken to the burial sites of some of the most notorious murders in our countries history. You will hear stories of grave robbing, murder, and other types of mayhem that has occurred all through the history of Boston. You will walk over Boston's largest unmarked burial grounds and hear the stories of torture, punishment, and executions that were done at that location. Some of the other sites you will enjoy on the tour are the Omni Parker House, which is Boston's most haunted hotel. You will hear the tale of the Boston Strangler and see where his last victim took her last breath. You will get to visit two of three burial grounds, Copp's Hill Burying Ground, The Granary Burying Ground, or King's Chapel Burying Ground.
The Tour last for 1 hour and 30 minutes and will operate rain or shine, you will need reservations for the tour, but the tickets are easy to get. Visit www.trustedtours.com/store to find ticket information for this tour, and tours, attractions, and museums for cities all around the country. Trusted tours is currently offering a discount on the tickets for the Ghosts and Gravestones tour of Boston.