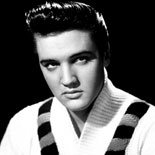 Elvis Presley began his singing career in 1954 and he became a hit around the world within two years. He had hit records in pop, country, blues, and gospel. If you are a true Elvis fan, one way to immerse yourself in his life is to visit Memphis, Tennessee and take the Elvis Presley Graceland Tour.
The Tour 
Graceland was home to Elvis from 1957 to 1977 and his funeral was held there. The tour of Graceland will give you a good idea of how Elvis lived. As you follow his steps you will visit the music room, living room, kitchen, dining room, television room, pool room, jungle room, and his parents' bedroom.
After seeing the mansion, you will have the 14 acres of grounds to explore. The trophy building should not be missed as it houses his records, gold and platinum, and other mementos from his musical career, movies, and life. Elvis had an impressive collection of cars and you can view them in the Automobile Museum. He also had two airplanes and you can them as well. His private jet features leather tables, suede chairs, and even gold-plated seatbelts.
Things to Know 
Tours are approximately two and a half to three hours long. A child's ticket can be purchased for children from 7 to 12 years old and children six and under are free. Also, there is a charge for parking.
You do not need reservations and certain things are not allowed on the tour. You cannot carry any type of bag and any other items will be searched. Lockers are provided for your valuables. You are not permitted to record during the tour except in Graceland Plaza.
Purchase Discount Tickets for the Elvis Presley Graceland Tour
Find additional coupon codes and daily deals for other tours and attractions on Twitter
Comments Off on Graceland Memphis Review