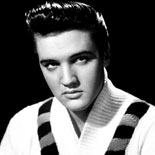 Elvis Presley began his singing career in 1954 and he became a hit around the world within two years. He had hit records in pop, country, blues, and gospel. If you are a true Elvis fan, one way to immerse yourself in his life is to visit Memphis, Tennessee and take the Elvis Presley Graceland Tour; Graceland was home to Elvis from 1957 to 1977 and even his funeral was held there.
History
The property that would become Graceland once belonged to a local entrepreneur who named it honor of his daughter. Her family constructed the large white columned, Colonial Revival style mansion in 1939. Elvis Presley purchased Graceland in 1957 and resided in the 23-room mansion for the next 20 years. Priscilla opened the home to the public as a museum in 1982. His tan limestone estate is a landmark listed on the National Register of Historic Places.
His memory comes alive when you tour the private residence and museum across the street. You can see exhibits that showcase his automobiles, airplanes and thousands of artifacts and keepsakes from his illustrious career. At various locations throughout the tour, you can view short films and interactive displays that document the life of this legendary performer.
The Tour 
The tour of Graceland will give you a good idea of how Elvis lived. As you follow his steps you will visit the music room, living room, kitchen, dining room, television room, pool room, jungle room, and his parents' bedroom.
After seeing the mansion, you will have the 14 acres of grounds to explore. The trophy building should not be missed as it houses his records, gold and platinum, and other mementos from his musical career, movies, and life. Elvis had an impressive collection of cars and you can view them in the Automobile Museum. He also had two airplanes and you can them as well. His private jet features leather tables, suede chairs, and even gold-plated seatbelts.
Tours begin at the famous wrought iron music gates, which were designed by Abe Saucer. Once inside, guests will see various rooms as they were at the time of Elvis' death. The living contains a 15-foot-long white couch, and the adjacent music room has a black baby grand piano. The media room is equipped with three television sets. The legendary Jungle Room is decorated with dark wooden carvings, green carpet and furnishings to evoke images of Hawaii. Guests can see his trophy room, father's office and the meditation garden where the King and his parents are buried.
The Car Museum displays some of Elvis' favorite vehicles, such as his famous pink Cadillac and the red MG from the movie Blue Hawaii. Other vehicles on display include his Eldorado convertible, Harley-Davidson motorcycles and a 1975 Dino Ferrari as well as a pedal car and motorized toys, such as go-carts and dune buggies. Visitors can also tour his custom-designed jets, a Convair 880, which was named in honor of Lisa Marie, and a Lockheed Jet Star. Both aircraft have customized interiors that include gold-plated seatbelt buckles, suede chairs and gold-flecked sinks.
The Vegas, Hawaii and 1968 Special Exhibits highlight the energy and excitement of his Las Vegas Shows, his love for Hawaii and the impact of the famous television show. Visitors will see displays that include several of Elvis' iconic jumpsuits, keepsakes related to his Hawaiian movies, concerts and vacations as well as the scripts and costumes associated with the historic television broadcast.
Elvis' boyhood home is the focus of the interactive Tupelo exhibit. This portion of the museum collection includes rare artifacts and memorabilia related to his childhood. A special premium tour enables guests to see Elvis as a father from his daughter Lisa Marie's perspective. It features photos, home movies and memorabilia that show Elvis as a father watching his daughter grow up. Added to the National Register of Historic Places 1991, Graceland welcomes hundreds of thousands of visitors each year. The mansion is located at 3717 Elvis Presley Boulevard.
Know Before You Go
Tours are approximately two and a half to three hours long. A child's ticket can be purchased for children from 7 to 12 years old and children six and under are free. Also, there is a charge for parking.
You do not need reservations and certain things are not allowed on the tour. You cannot carry any type of bag and any other items will be searched. Lockers are provided for your valuables. You are not permitted to record during the tour except in Graceland Plaza.