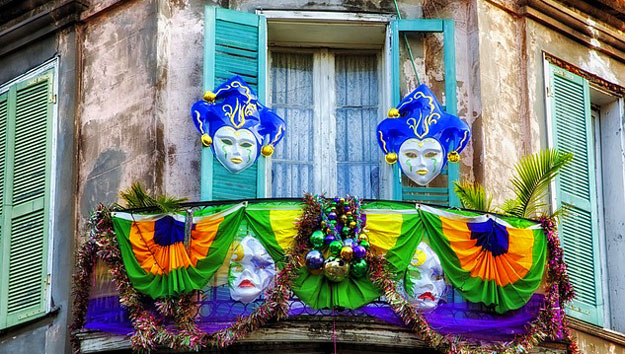 New Orleans is always rated as one of the most haunted cities in America. It has all the elements for paranormal activity to thrive.  An ancient, below-sea-level port city segmented by the mighty Mississippi, it has a history of seamen, privateers and pirates passing through it.  It's where a cultural mix of people came in exile or to escape, putting down roots in fragile land surrounded by shadowy, primeval bayous of the Mississippi delta.  It's a place where people are buried in above-ground Cities of the Dead, of voodoo rituals, decaying buildings, dark alleyways, hidden courtyards, heavy humid air.  Spirits of the dead roam in this unusual place where everything is shrouded in mystery and intrigue, veiled by glittering, feathered masks.
On a nightly basis, legendary Bourbon Street has it's share of spooky characters but Halloween in New Orleans is so much more. Throughout the city everyone gets into the spirit.  There's something going on day and night, for adults and kids.
THE VOODOO MUSIC EXPERIENCE
In a city whose collective soul lies in its music, this 3-day festival over Halloween weekend fills City Park with wonderful continuous music.  There are three sections with multiple stages: world-renowned artist perform in Le Ritual; acclaimed local and international artists celebrate New Orleans music in Flambeau; music of New Orleans underground culture takes place in Le Carnival. There's plenty of great New Orleans food choices and unique finds in the craft market. The music doesn't end there. After the festival, Experience takes over the city as artists move their gigs to other venues, bars and clubs. Check out Frenchmen Street, where locals go for the bar, club and music scene. (New Orleans Official Guide online has comprehensive up-to-date info on who's playing where throughout the city.)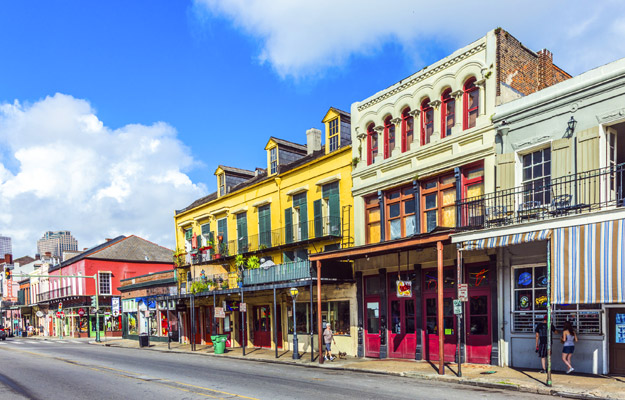 MOLLY'S AT THE MARKET HALLOWEEN PARADE
Walk in a Halloween parade through the French Quarter! Molly's has been organizing this parade for ordinary people for years. Open to the public with a few minimal, not-so-fancy floats, it's all about having a good time. Get in costume and queue up at Molly's at the Market for the 7 pm departure on Oct 31st.
HAUNTED TOURS
While they take on a special aura during Halloween, haunted happenings are not once a year occurrences. Evidence of year-round paranormal activity is in the many haunted walking tours which weave their way throughout the French Quarter, the Cities of the Dead and the Garden District. Each tour offers a unique way to see the city's sights while looking for ghostly and ghastly sightings on journeys where fact and fiction blur.
DAYTIME HAUNTED WALKING TOURS:
Catch a glimpse into the spirit world without fear of running into something that goes bump in the night!
Garden District Ghosts & Legends of New Orleans: Elegant mansions hold secrets too. Hear the lore and see the house where spirits lurk behind  manicured lawns. (2 hrs. 2:30 pm daily)
New Orleans Cemetery Tour: Venture into St. Louis Cemetery #1, New Orleans' oldest and most historic City of the Dead. Leave an offering at the tomb of Voodoo Queen Marie Laveau.  If you dare! Theatrical, historical, entertaining and haunting, it's a great way to explore the cemetery and French Quarter. (2 hrs. 10 am & 1:15 pm)
Cemetery & Voodoo Tour: Walk through St. Louis Cemetery #1, gather around Marie Laveau's tomb to hear her story and learn about voodoo rituals. (2 hrs. 9 am daily + 1:30 pm, March-Oct.)
Ghostly Galavant: Living History Courtyard Tours. Special tours on Oct 22 and 23rd, led by Louisiana State Museum Friends of the Cabildo, venture through 5 historic courtyards in the French Quarter where historical spirits have been known to roam. (Every ½ hour from 10 am – 3 pm)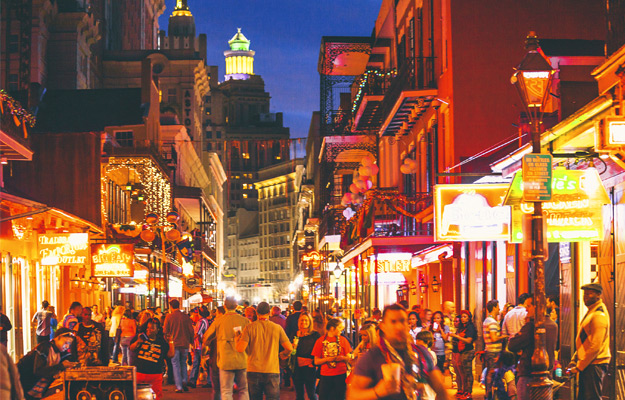 NIGHTIME HAUNTED WALKING TOURS:
New Orleans Ghost Tour: Delve into the grim and ghastly goings-on in French Quarter residences where unbelievable events took place and documented hauntings happened. (2 hrs. 6 & 8 pm. Also 3 pm, Jan-May & Oct-Nov)
New Orleans Voodoo Tour: Venture into exotic world of Voodoo, its history and folklore – past and present.  Shrouded in mystery, myth and superstition, this synthesis of Catholicism and the religious traditions and myths of West Africa has been entrenched in New Orleans culture since the late 1700s. Hear stories of hidden Voodoo spots and famous priestesses; see offerings at a Voodoo altar; browse through mysterious potions and symbols of Voodoo practices in a Voodoo shop. (1.5 hrs. only 7:30 pm)
Ghosts & Spirits Nighttime Walking Tour: Hear the bizarre and the scary, visit haunted sites, including Bourbon Orleans Hotel where paranormal activity still occurs.
New Orleans Vampire Tour: Vampires, the "undead," are legendary in New Orleans.  Hear their stories and see sites associated with these creatures of the night on an eerie, chilling and fun tour.  (Nightly, 8:30 pm)
Bloody Mary's Ghost Town Tour offers a different twist on the haunted by mixing ghostly places with actual ghost hunts. (M-F, 7:30 pm)
HAUNTED BARS:  
Everyone knows bars are big in New Orleans; few know many are haunted.
It comes as no surprise that many bars located in crumbling buildings and down dark alleys throughout the French Quarter are filled with layers of legends and lore of paranormal encounters. The list is long. Some bars are ones which have been open for generations; others are newer, housed in old buildings where stubborn spirits refuse to leave despite trendy renovations. What these bars have in common: strange footsteps coming from attics, haunted mirrors, cold spots, pool balls moving on their own, knives flying, glasses moving down the bar, eerie sounds, pianos playing although no one is playing, mysterious hovering orbs and floating diaphanous figures.
Some of the best known: Pat O'Brien's, Lafitte's Blacksmith Shop, The Old Absinthe House, Café Lafitte in Exile, Alibi Bar, The Bourbon Pub, O'Flattery's Irish Channel Pub, Kerry's Irish Pub, Ye Olde Original Dungeon, Yo Mama's Bar & Grill, Bourbon O in haunted Bourbon Orleans Hotel.
Venture out barhopping to these on your own or toast the ghosts with others on a guided Bloody Mary's Haunted Pub Crawl, an entertaining mix of strange but true tales of the paranormal underworld. (Fri, Sat, Sun. 4:30 pm)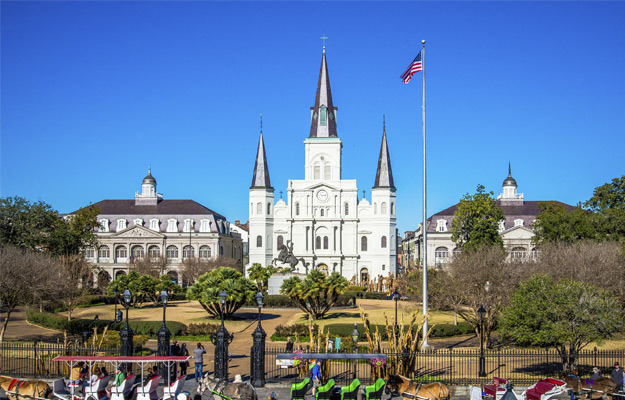 HALLOWEEN IN NEW ORLEANS FOR FAMILIES
Halloween in New Orleans is not just for adults – it's for families and kids too.
Boo at the Zoo in the Audubon Zoo of New Orleans is all about Halloween for kids during the last two Fridays and Saturdays in October. Dress them up in their favorite costume to join the fun of treat houses, a haunted house, ghost train, games and entertainment. (Oct. 21, 22 & 28, 29: 5-9 pm)
Crawloween at the Insectarium in the Audubon Butterfly Garden & Insectarium is a fave of kids who love creepy crawlies, especially at Halloween! A lot of six-legged hijinks go on and trick or treat goodies are all bug- themed!  Super cool. (Oct 29, 30, 31 – 10am-5pm)
Gallier Historic House Museum Mourning Tour. In October only, the historic house on Royal Street does Halloween the New Orleans way by offering an unusual, room by room look at the elaborate mourning customs of the city's Victorian-era Creole families. (M,T,Th & Fri. 10 am-2 pm; Sat. 12-3 pm)
Jean Lafitte Swamp Tour. While not billed as a haunted tour, an airboat ride deep into dark, mysterious bayous 25 miles from New Orleans, can feel like one! Ancient-looking cypress trees draped in ghostly moss, odd-looking cypress "knees" protruding from murky waters, occasional glowing alligator eyes peering from just above the water surface can feel really eerie. Cajun guides, whose families have lived deep in the swamp for generations, make it an interesting, fun adventure for everyone.   (1 hr. 45 min tours: 10 am & 2 pm) Don't want to drive? Op for the tour with hotel pick up with Jean Lafitte Swamp Tour with Transportation.