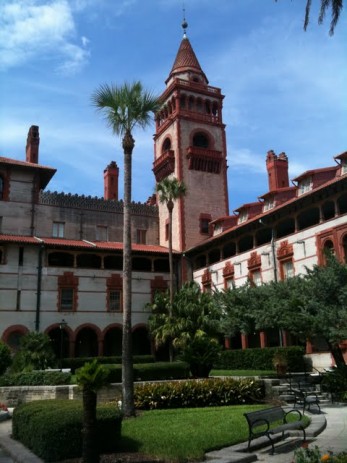 The most pleasant, informative, and convenient way to tour the historic city of St. Augustine is to take a trolley tour with the Old Town Trolley. Not only were we able to get on and off at all the important sites, we were also given informative information about the charming city of St. Augustine during on tour.  One of our favorite stops by far was the magnificent grace we experienced while touring Flagler College.
Flagler College was formerly the hotel Ponce de Leon and is listed as a National Historic Landmark. The former exclusive hotel is an exquisite example of Spanish Renaissance architecture.  The hotel was built by developer Henry M. Flagler in 1887. Surely there is not a liberal  arts college anywhere, that can boast the elegance of Louis Comfort Tiffany's stained glass windows. What was originally the hotel's grand Parlor, is now known as the Flagler room, here visitors admire Tiffany Austrian crystal chandeliers, and an impressive onyx Thomas Edison clock.  The grounds of the now four year liberal arts school are meticulously maintained.  I can hardly imagine having a college experience as royal as the students at Flagler College experience.
I highly recommend boarding a trolley and marking the stops that most appeal to you. You may get off and on as often as you like.  Each time you choose to tour a new attraction, you do not have to worry about the inconvenience of parking.  Your only concern, is how much of beautiful historic St. Augustine you would like to pack into your day. Though I strongly advise you, to make  touring Flagler college one of your stops.  You were surely get a great deal of bang for your buck. To tour tickets are  $7 for adults, $5 for St. Augustine residents with a valid ID, and $1 for children under the age of 12. The grandeur of Henry Flagler's architecture should not be missed as a stop on your trolley tour of St. Augustine.
Comments Off on Historical Tours of Flagler College not to be missed