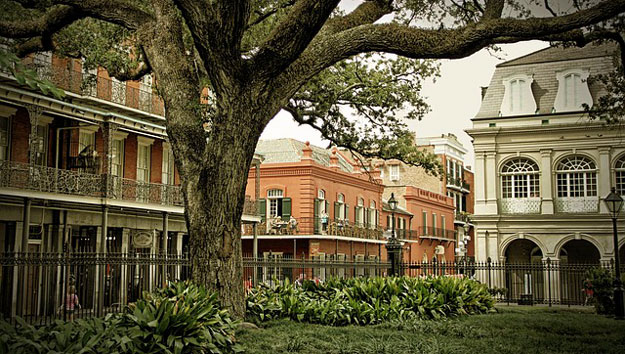 Once Spanish and French before it was American, New Orleans is one of the continent's oldest ports and surrounded by shadowy Mississippi delta bayous.  It's a city different from the rest of America in feeling, tempo, food and speech.  It's a place of unique cultural diversity, everything about it hints of exotic lands, places and people blended together in a marvelously complex way. Read on for the best ways to experience the history of New Orleans on vacation.
Tour the Neighborhoods
It is in the neighborhoods that New Orleans' complex culture is evident.  Each was shaped by those who governed Louisiana, including the Spanish, French and Americans, and by the ethnic groups who settled in New Orleans, such as the Native Americans, primarily Choctaw, Africans, Cajuns, Italians, Germans, Irish, Jews, Latinos, Greeks, Haitians, Filipinos and Vietnamese.
The most visited district, the French Quarter, is the oldest of them all and shows its Creole heritage, a blend of the descendants of French, Spanish and African descent.  The architecture includes distinctive wrought-iron railed balconies draped in hanging flowers which overhang narrow streets bearing French names. There are eclectic store fronts and melodious jazz wafting from all night bars located in Vieux Carré.  Walking down famous Bourbon Street to check out the bar and music scene is on everyone's bucket list, but one of the oldest and most beautiful streets to walk down is Royal Street.  It's a great place for antiques, vintage clothing, great jewelry, art and cafes and restaurants with outside seating.  Be sure to walk around Jackson Square with St. Louis Cathedral watching over it.  Café du Monde is the best place to stop for café au lait and a beignet.  Nearby French Market has tons of souvenir and food stalls offering all things New Orleans.  While it's easy to wander through the French Quarter, walking tours are a great way to see it. Choices are many from French Quarter Walking Tour, Nola Tour Guide and more.  Don't want to walk? Glide through the Quarter on a guided Segway tour or aboard a carriage tour.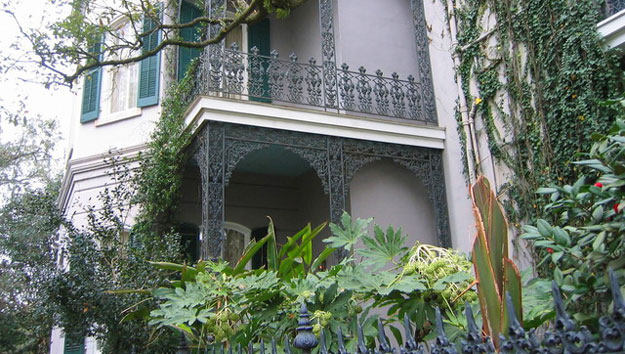 Another popular neighborhood to visit is the picturesque Garden District, where the Americans settled and created their own city in 1803.  While just across Canal Street from the Creole district of Vieux Carré, it's a world apart.  Today, the Garden District's restored Greek Revival and Italianate homes along live-oak lined streets are home to the rich and famous. Haunted History Tours' Garden District Ghosts and and Legends of New Orleans Tour is a walking tour past all the significant houses and travels through into St. Louis Cemetery #1.  Free Tours by Foot's Garden District/Lafayette Cemetery walking tour includes passing by all the famous homes and important sites, and in an engaging way explains how the newly arrived Americans created their own city.  It also goes into Lafayette Cemetery #1, a real gem, often overshadowed by the other St. Louis cemeteries.  Gray Line has a combination walking tour too, the New Orleans Garden District & Mansion Tour, which includes a tour of the interior of the Opera Guild Home as well as Lafayette Cemetery #1.   Magic Walking Tours is another choice, as is New Orleans Original Garden District Walking Tour and many more.
Travel to the River Road Plantations
Louisiana's Great Mississippi River Road is a corridor approximately 70 miles long located on each side of the river between New Orleans and Baton Rouge. Along this road through cypress swamps and wetlands is a remarkable collection of Greek Revival plantation houses, most built by wealthy sugar planers beginning as early as 1827.  Old River Road Plantation Adventure has several narrated antebellum adventure tours led by professional historians.  It's a way to go back into another time, learn about the self-contained plantation life and view these beautiful properties along the tour.  Some of the tour choices include several plantation house tours.  Or, take a Gray Line Oak Alley Plantation Tour.  An on-board guide narrates on the way to Oak Alley Plantation, an 1837 masterpiece and one of the finest remaining of River Road's plantations.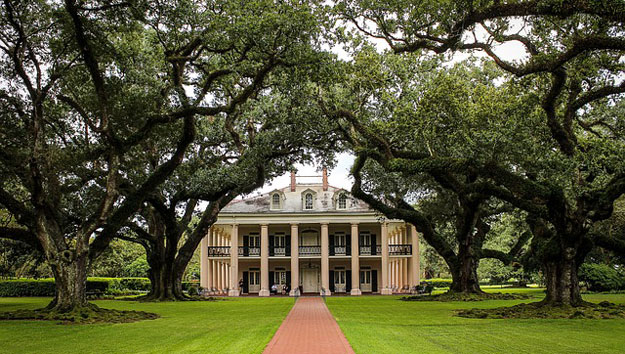 Dance to the Music
The collective soul of New Orleans lies in its distinctive jazz sound, a fusion of all its ethnic groups.  Today, music can be found everywhere around the city, from jazz, blues, roots, funk and Zydeco to gospel, R&B, rock, Latin salsa and more.  Music artists don't just come here to play, they were born here, they live here, they play here.  Besides bars and live music venues along Bourbon Street, there are lists of clubs in this birthplace of jazz in which to experience the music scene.  Not comfortable club hopping? Here are some ideas:  Cradle of Jazz Tour on Saturdays is for music lovers.  On the bus tour led by a well-known jazz expert, you'll learn interesting information and pass former homes and hangouts of jazz legends, all while listening to recorded vintage jazz music along the way.  Gray Line's Crescent City Nights Walking Tour is an evening tour of dining and music in the French Quarter, which includes a stroll along Bourbon Street to a nightclub to enjoy jazz music.  Visit Backstreet Cultural Museum in Tremé, a historic African-American neighborhood just beyond the French Quarter, where New Orleans music has deep roots.  The museum has an amazing collection related to New Orleans' African-American community-based masking and processional traditions. Or, check out the New Orleans Jazz National Historical Park schedule of live educational performances most days of the week at either the Old US Mint or at French Market.
Savor the Food
New Orleans history can be experienced with every bite of its spicy, rich and robust food.  Flavorful Creole and Cajun cuisine begins with the rich harvest from the coastal waters. Shrimp, oysters, crab, and crawfish spiced with Spanish, French, and African influences, all blended in a remarkable way into gumbo, jambalaya, and bouillabaisse is just the beginning.  You can find the full flavor of New Orleans anywhere throughout the city, in high-end restaurants, antique-filled dining rooms, old warehouses, quaint cottages, plant-draped courtyards, small storefront places, on a steamboat lunch of dinner cruise and vendor carts.  The best-known are located downtown, in the French Quarter, along Magazine Street in Uptown and around Audubon Park.  However, the culinary tradition runs so deep that good eats can be found anywhere.  Some great Cajun eateries are even tucked away deep in the bayou swamp.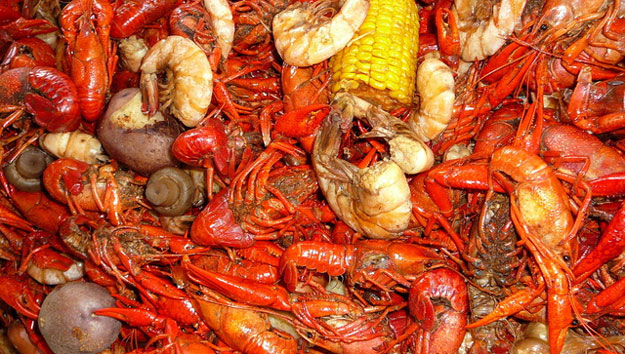 Explore the Practice of Voodoo
Venture into the world of Voodoo, integral to New Orleans' history and culture. Practiced underground until recently, Voodoo has long been shrouded in mystery, myth and superstition.  A synthesis of Catholicism and the religious traditions and beliefs from West Africa, it became entrenched in New Orleans culture with the arrival of French-speaking Haitians of West African heritage who arrived after the Haitian Revolution. These closely related cultures together retained the distinct New Orleans Creole culture, including the practice of Voodoo. Haunted History Tours' New Orleans Voodoo Tour is a great nighttime walk through Voodoo history and folklore.  It passes hidden French Quarter Voodoo spots, homes of famous priestesses and visits an authentic Voodoo shop filled with mysterious potions and symbols of Voodoo practices.  Voodoo Bone Lady Walking Tour is all about engaging stories of Voodoo traditions with a spooky vibe, and visits to all the important Voodoo spots.  Free Tours by Foot, whose guide is a Voodoo priest and great storyteller, is fascinating.  Besides going to all the special places and learning about Voodoo dolls, gris-gris and Marie Laveau, the culture, history and beliefs of Voodoo are explored.
Visit the Sites of the Dead
By some supernatural force, New Orleans cemeteries draw people in. Shrouded with mystery, the city's three St. Louis cemeteries, dating to the 1700s, are above-ground burial grounds. They are eerie places, where heavy swamp air has given the elaborately carved crypts a feeling of decay.  The multicultural mélange of names and diversity of birthplaces carved into the above-ground crypts are testaments to the range of people who made New Orleans unique.  Many walking tours navigate visitors through the cemetery maze.  Many cemetery tours also combine the element of Voodoo.  Haunted History Tours' New Orleans Voodoo Tour is one way to experience this. In addition to St. Louis Cemetery #1, which includes the tomb of Voodoo Queen Marie Laveau, the tour passes her home, goes through Congo Square and on to Our Lady of Guadaloupe Church.  Bloody Mary's Voodoo Cemetery Tour sounds spooky enough!  The tour goes to Cemetery #1, stopping at grave sites along the way to hear stories of love, tragedy and death of its residents.  New Orleans Cemetery and Voodoo Tour visits St. Louis Cemetery #1 for tragic stories of the dead, goes to an authentic Voodoo temple where rituals and worship continue today and a ghost story-filled walk through the French Quarter.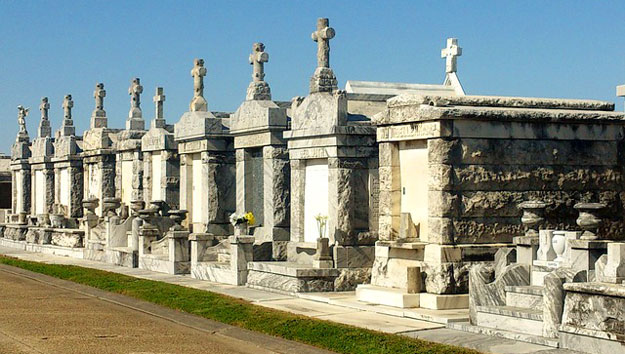 See Art Up-close
New Orleans has many interesting museums to visit for adults and children alike.  Kids enjoy discovering all the fun activities at the interactive Louisiana Children's Museum in the Central Business District.  Everyone enjoys the Audubon Aquarium of the Americas by the river on Canal Street or the Audubon Zoo of New Orleans.  Also in the Central Business District are numerous other  museums like the World War II Museum, Contemporary Arts Museum, Confederate Memorial Museum and Oden Museum of Southern Art.  Located in beautiful City Park, one of the largest urban parks in America, the New Orleans Museum of Art, Besthoff Sculpture Gardens, the Botanical Garden and Longue Vue House & Gardens, a magnificent city estate completed in 1939 not far from City Park, are all well worth a visit.
Take a River Cruise
Take to the famed Mississippi River on a real steamboat for great views, along with brunch, lunch or dinner.  Just relax, kick back and soak in the view with live music too and great company.  Do it in style on a New Orleans Steamboat Natchez Creole Lunch and Dinner Cruise, or dine, dance and listen to great jazz on Creole Queen Dinner Jazz Cruise.
Tour the Bayous
Swampy, dark and mysterious with huge cypress trees rising from brackish water filled with crawfish, catfish, frogs, turtles and alligators; these are the primeval bayous surrounding New Orleans.  A natural habitat for Great Blue Herons, white egrets, possums, snakes, raccoons and an abundance of other wildlife, bayous are America's fast-disappearing wilderness.  People have lived deep in the bayous for generations and retained the culture which makes coastal Louisiana so unique.  Jean Lafitte State Park, just 30 minutes outside of the city, is a popular destinations for multiple swamp tours operating in and around the city.  Some tours go through the bayous in swamp boats, others in airboats.  Summer in the bayous is hot and humid, but well worth the temporary discomfort.  Want to see this primeval land, but without the hot and humid part? Gray Line offers a bayou tour in air-conditioned comfort.
Celebrate Mardi Gras
If you're planning your New Orleans trip outside of the Mardi Gras celebration timeframe, there is a fun alternative. Go behind the scenes at Blain Kern's Mardi Gras World located on the River in the lower Garden District.  This is not a fancy place or a museum, but instead a warehouse and workshop where new Mardi Gras parade floats are made and old ones are stored. It's all about sequins and sparkle, beads and feathers, outrageous floats and fabulous costumes. See it all on a guided tour and try on a real Mardi Gras costume, if you dare!