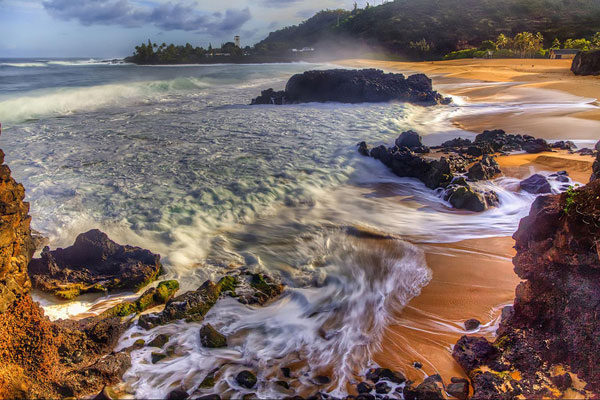 The dramatic beauty of the Hawaiian Islands landscape is epic. Through the islands that make up the unique archipelago, scenic views are spectacular.
Along the coastline of Oahu, the most popular island and the location of Honolulu, jagged cliffs punching down into the sea, expansive crescent-curved beaches and crystal clear water are awesome.  In addition to magnificent coastal panoramas, the color and beauty of dense tropical forests, plunging waterfalls, verdant valleys, and gigantic waves rolling in like glassy curls in to surfers' favorite breaks, are spellbinding.
From the cosmopolitan glam of Waikiki's over 150 hotels and 1,000 restaurants lining a 2-mile stretch of gorgeous crescent beach, to the wild beauty of North Shore, the opportunities to experience the diversity of Oahu's natural beauty are endless.
GETTING THERE
Some visitors like to drive to scenic sites.  Parking can be a challenge as many viewing spots are accessed through residential areas.  Others prefer to have someone else do the driving.  For them, guided tours are a good option and Honolulu offers a long list of choices for large, small or private guided group tours and specialty tours.
For visitors who like to ride in comfort and cover a lot of ground, the Oahu Grand Circle Island Tour is a good way to spend the day viewing scenic highlights.  The 120-mile narrated tour around the island circles the base of iconic Diamond Head, takes in dramatic views of Makupu'u Lighthouse Point and to Pali Lookout.  It travels to peaceful, picturesque Byodo-In Temple, stops a at Kualoa Ranch for the Legends and Legacy Tour, then travels on to rugged North Shore to experience spellbinding  scenic views at Waimea Falls Park and famous surfing spots.  Along the entire route – gorgeous scenery!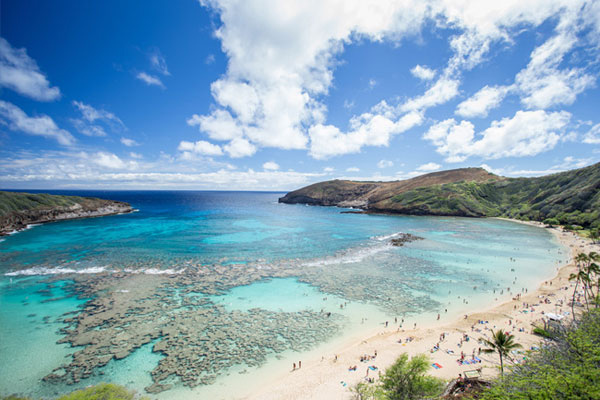 Another way to see magnificent scenery is to create your own itinerary at a substantial savings using Go Hawaii Card. The card includes a 1 day tour, plus admission many attractions, activities and entrance to scenic sites – waterfalls, rainforests, and movie sites.  Some great options include snorkeling in Hanauma Bay, hiking Manoa Falls Trail, hiking to Makapuu Lighthouse, hiking up Diamond Head, visiting Waimea Falls Park, snorkeling along North Shore Snorkel and touring Oahu Film Sites.
SOME OF THE BEST SCENIC VIEWS
Waikiki. The biggest draw in Waikiki is its famous beach.  Known world-wide, Waikiki Beach encompasses eight sections along a 2-mile stretch of shoreline from Duke Kahanamoku Beach almost to Diamond Head. In Oahu, all beaches are free to the public and walking Waikiki Beach is the way to experience it. Most sections run into one another; some have solid barriers to get around.  Each has a different ambiance.  Along the way, hang out in a beach chair and take in the beauty.  Head out through the surf on an outrigger canoe or catamaran along action-packed Royal Hawaiian Section. Snorkel off quiet San Souci Beach. Catch stunning sunset views at Colony Beach.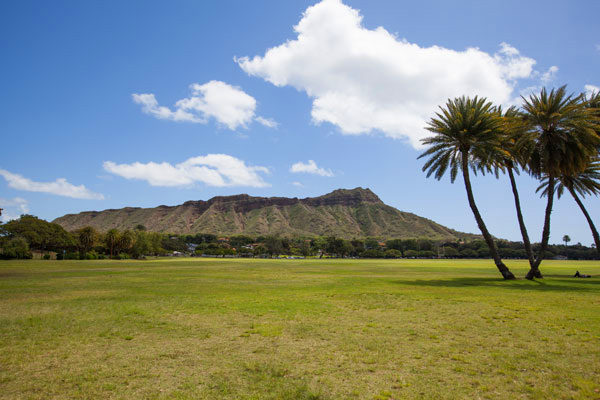 Diamond Head. The iconic extinct volcano, just beyond Waikiki Beach, is one of Honolulu's most scenic sites. Accessible and easy, the 1.6 mile hike up to the ridge-top of the enormous crater can be done by anyone comfortable walking that distance over the combination of a paved sidewalk, dirt path and a series of multiple concrete steps and a staircase which lead to a viewing platform. From there, panoramic views of the curving coastline stretching out as far as the eye can see, are breathtaking.
Manoa Falls Trails. Lush Manoa Valley, the wettest place in Oahu, is a quick drive from Waikiki hotels.  The mystic quality of the misty, scenic, 1.6 mile round-trip walking trail leaves no doubt as to why it was chosen as a filming location for the movie, Jurassic Park.  It's a mostly flat walk up a gentle slope through a tropical forest surrounded by spectacular views of green Manoa Valley.  Wear appropriate shoes for muddy conditions.  It's wet up there!  At the end of the trail is Manoa Falls, one of the tallest and most stunning waterfalls in Oahu.
Hanauma Bay Park. Known as the best beach in America, the massive crescent beach has fabulous views and great snorkeling.
Makapi'u Point. Another awesome scenic shoreline view is from Makapu'u Point in the South Easternmost point of Oahu. The 1-mile hike to the 500 foot peak is for more seasoned hikers. The views of the Makapuu Lighthouse, the beach, and islands in the distance are stunning.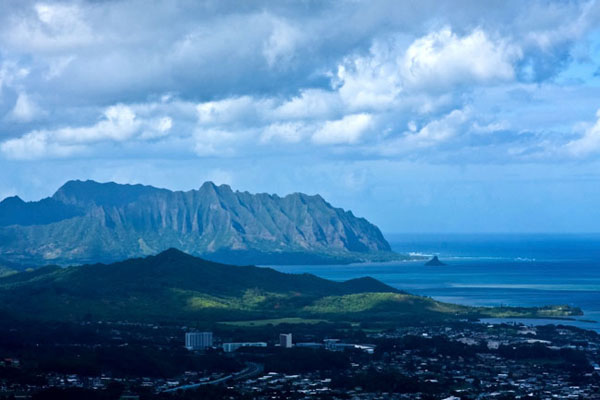 Nu'uanu Pali. This lookout, perched over 1,000 feet above Oahu's coastline is just a 5-mile drive northeast of downtown Honolulu along scenic Pali Highway. Be prepared for strong winds whipping around the stone terrace lookout as you take in stunning, sweeping panoramic views of sheer cliffs, Nuuanu Valley, Koolau Mountain Range and the lush Windward Coast.
Kualoa Ranch has it all! Four-thousand acres of dense Hawaiian rainforest, broad valleys, towering mountains and sweeping ocean views are all in one place. Beyond beautiful, it's a wonderful way to spend a day participating in some of the many outdoor recreation activities and guided tours offered at the ranch. Go on a fun ATV ride, fly over spectacular views by Zip-line, take a relaxing horseback ride.  Get around by bus, boat, kayak, jeep, trolley, electric mountain bike!  The varied ranch topography is so spectacular, it has been a favored movie and TV filming location since the 1950s.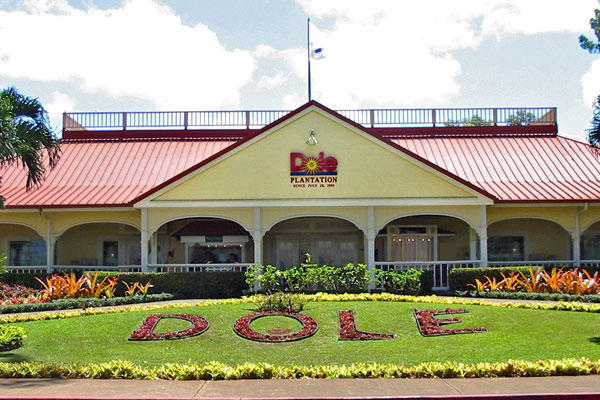 Dole Plantation. There's something about the distinctive, delicious fruit and how it grows that attracts visitors to the "Pineapple Experience." The Plantation Garden Tour is lovely.  Families with kids enjoy the Pineapple Express Train Tour and the Pineapple Garden Maze, the largest in the world.  Admission to the grounds is free, however, there is a fee for tours and the maze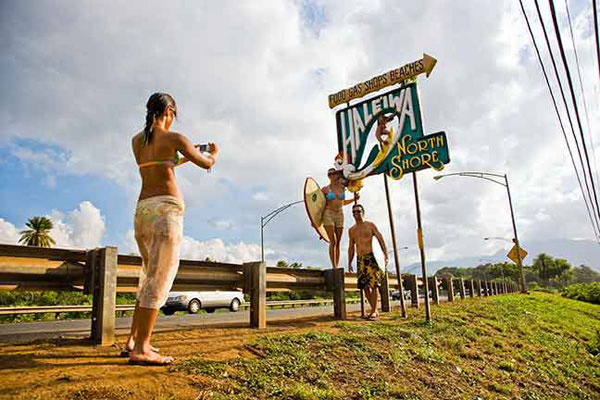 Oahu's Wild North Shore. A one-hour drive from bustling Waikiki, life slows down in the wild beauty of Oahu's rural North Shore.  Spend a day to fully enjoy the unique Hawaiian vibe in this surfing mecca. Beaches stretching out for more than 7 miles and rugged countryside views are spectacular.
Surfer Viewing spots
Take advantage of the best viewing spots at Banzai Pipleline, Waimea Bay and Sunset Beach to marvel at the skills of the best surfers as they take on giant waves.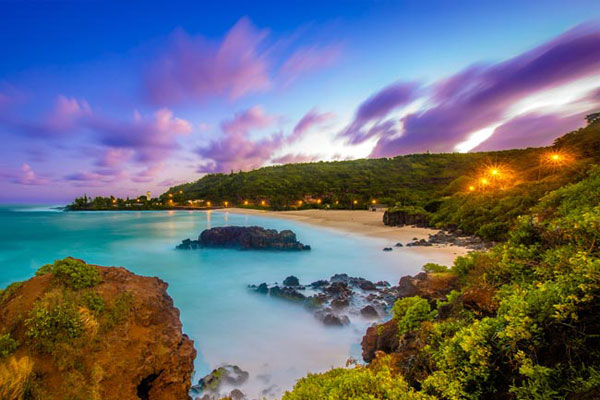 Waimea Falls Park (Waimea Valley Audubon Cener).  Stroll through colorful tropical plants in a unique Hawaiian botanical garden and cultural center to reach one of the most accessible falls in Oahu. The sight of the 30-foot high cascading falls pouring endlessly into a pool is picturesque. Be sure to go after a rain as the water fall slows down to a trickle during periods of limited rain.
Sunset Beach Park. In the winter, this is the place to watch skilled surfers riding gigantic glassy waves. In the summer, when the waves flatten out, it's a great place to snorkel. Anytime, it's a fabulous place to watch gorgeous sunsets.
Haleiwa Town. Spend time in the charming surf town which has local art, nostalgic surf shops and tasty food truck fare.