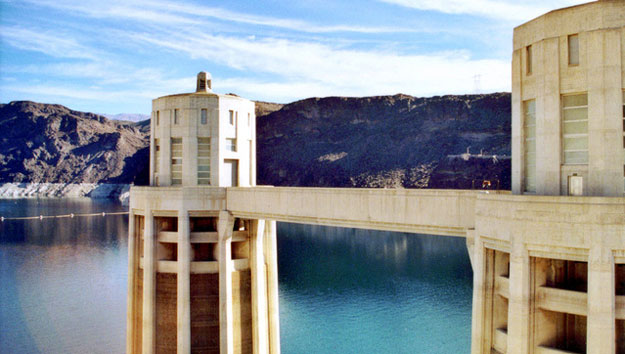 The colossal, concrete arched gravity dam harnessing the Colorado River looms large. Experiencing the iconic 60-story Hoover Dam up close from multiple viewing points, whether walking the bridge over it or seeing it inside and out on a guided tour, you are dwarfed by its size.
Rising 736 feet above the canyon floor, Hoover Dam was the tallest dam in the world when completed in 1935 to provide water and power to parched Southwest states. Considered to be a remarkable engineering feat, the men who worked on its construction during the Depression toiled in oppressive heat and in treacherous conditions to complete it.
Getting There & Seeing It
There are several ways to get to this Art Deco engineering marvel, and several ways to see it. You could drive on your own, get there on a guided jeep adventure, by tour bus, or see it on a helicopter fly-over. If you drive, it's an easy 35-mile ride from Las Vegas. Expect traffic around the dam and parking challenges. Plan to get there before 10 am because it gets too crowded and hot. Several bus tours departing from Las Vegas offer Hoover Dam experiences, each with a pre-set touring agenda. Helicopter Tours taking off from Las Vegas are thrilling fly-bys.
A super fun way to getting there and seeing it is on Pink Jeep's Hoover Dam Discovery Tour, which is available at discounted prices through Trusted Tours & Attractions. This narrated 4-hour tour is great for families traveling with kids of all ages. They'll have a blast riding through the desert in roomy, cool, comfortable jeeps with fun and interesting guides. Pink Jeep offers 8 am and 1 pm tours. Once at the dam, you'll have plenty of time for exploring, watching a great short film on the dam's construction and history, seeing exhibits, and photographing awesome dam views. You'll venture down the 537 feet down into the wall of Black Canyon to the observation room to see the massive generators. Back in the jeep, the tour drops down from the top of the dam to travel along Lake Meade and the Colorado River.
Touring Hoover Dam
For visitors not on a pre-arranged tour, there are three options. A choice of two tours narrated by Bureau of Reclamation guides explore the dam inside and out. Tours begin at the Visitor Center, where there is an admission fee and security screening similar to airport screening, is required to enter. The 30-minute Power plant Tour includes a short construction and history film, the 537-foot elevator ride down Black Canyon wall to a tunnel which leads to two points of interest: the Penstock Viewing Platform, massive 30-foot pipes transporting water from Lake Mead to the generators, and a massive room housing the power generators. The longer 1-hour Hoover Dam Tour limits the number of people per tour, includes everything on the Power Plant Tour, with more time to see how electricity is generated and to peep through huge air vents. Once back above-ground, the tour travels along observation areas for great Lake Mead and Colorado River views and photo ops.
Many visitors opt for a self-guided tour. While you will not be able to venture underground to see the power plant without signing up for a tour, there is much to see above ground. Views and photo ops are spectacular. It's perfect for visitors who want to experience the visual grandeur, have no interest in seeing the inside of a power plant, are claustrophobic or have a pacemaker or defibrillator. Walking around is easy, with some stairs to climb. See interesting murals, maps, and photos in the Visitor Center. Walk the bridge over the dam for great views of picturesque Lake Mead and the Colorado River rushing by way below. See grand vistas from paths lined with informative markers. Go to the Overlook accessed from the Visitor Center for stunning panoramic views of Lake Mead and the Colorado River.
Things to Do Nearby
Once you've seen the Hoover Dam, there are more spectacular sights nearby.
Lake Mead
Get out on the water in the middle of the desert! A huge lake created by damming of the Colorado River by the Hoover Dam, Lake Mead is one of the largest man-made bodies of water in the western hemisphere. Walk around, have lunch at floating Harbor House Café; take a spin around the lake on a paddle-wheeler.
Mike O'Callaghan-Pat Tillman Bridge
Built as a Hoover Dam bypass, this spectacular bridge is the longest single-span concrete arch bridge in the Western Hemisphere. It's a thrill to walk along the pedestrian walkway of the 1905 foot-long bridge towering nearly 900 feet above the Colorado River and 280 feet above Hoover Dam!
Grand Canyon West Rim
If you want to make a day of it, get out on the desert and head to the Grand Canyon's gorgeous West Rim and spectacular Skywalk on Pink Jeep's Grand Canyon West Rim Tour. It's a fabulous outing for families or travelers who just have one day to see the dam, the desert, and the Grand Canyon. The ride with a professional tour guide in a comfortable 4×4 vehicle stops briefly for photo ops at Hoover Dam, Lake Mead, in scenic spots along the Colorado River and in unusually beautiful Joshua Tree Forest. Then it's off on a desert ride to Grand Canyon's West Rim and Skywalk. Be ready to be picked up for an early morning, around 8 am, at your Las Vegas hotel for an awesome 8-9 hour adventure!
Visiting Tips
Be prepared for over 100-degree temperature
Dress in light, loose clothing
Wear sunblock, hat, and comfortable shoes
Carry a water bottle
Arrive early
Be prepared for traffic and crowds
If you have claustrophobia or feel uncomfortable underground confined in narrow places, avoid the Power Plant Tours. If you have a pacemaker or defibrillator, do not go on Power plant tours as the generators emit electromagnetic frequencies. Keep in mind, even without seeing the power plant, there is no end to spectacular sights.