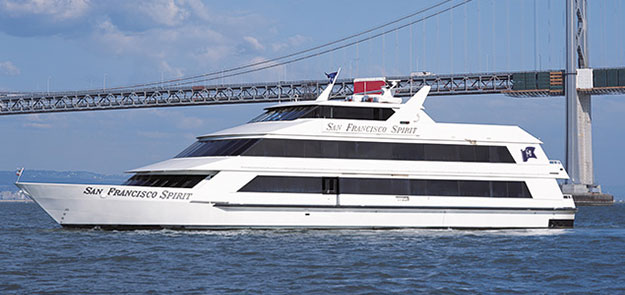 Don't leave San Francisco without cruising majestic San Francisco Bay.  It will be an experience to remember on a Hornblower Champagne Brunch or Dining Cruise where panoramic views of legendary San Francisco landmarks are spectacular, the gourmet cuisine is delicious, and the luxurious ambiance is delightful.
San Francisco Bay Weekend Dinner Cruise (Friday and Saturday)
A special 3-hour evening aboard a luxury yacht begins as you are escorted to your elegantly set table upon boarding.  As the yacht leaves the famous Embarcadero and glides comfortably around the bay, sip a cocktail on one of the covered decks and watch the distinctive San Francisco cityscape drift by.  Skyscrapers, hills cascading with buildings, grand bridges, a shoreline lined with piers and vessels of all kinds come into view from the panoramic windows surrounding your table.  Attentive stewards serve a delicious 4-course gourmet dinner prepared with fresh seasonal ingredients by creative on-board chefs.  The light changes from the golden glow of sunset to the silver cast of moonlight. The magnificent Golden Gate Bridge looms overhead as the yacht passes under it.  Music spun by the on board DJ leads you to the dance floor.  The silver moon overhead competes with brilliant city lights sparkling along the distant shoreline.  You make a wish that the magical night never ends.
The Weekend Dinner Cruise boards at 7:00pm on Fridays and Saturdays and cruises from 7:30pm until 10:30pm.
Save $10 with Coupon Code: sfed10 
Purchase Tickets for the San Francisco Weekend Dinner Cruise
San Francisco Bay Midweek Dinner Cruise (Sunday through Thursdays)
The Midweek Dinner Cruise offers the same special 3-hour cruising and dining experience as the Weekend Dinner Cruise.  The only difference is an earlier boarding and cruising time.  The luxury surroundings, impeccable service, wonderful menu selections, magnificent views,  music, dancing, sunset and moonlight strolls along the deck are all there.
The Midweek Dinner Cruise boards at 6:30pm and cruises from 7:00pm until 10:00pm, Sundays through Thursdays on a different sequences of days which change by the month.  Follow the link below to find out more.
Save $10 with Coupon Code:  sfgm10
Purchase Tickets for the San Francisco Midweek Dinner Cruise
San Francisco Bay Brunch Cruise
What a wonderful, effortless way to enjoy a San Francisco morning!  Free-flowing sparkling wine and never-ending Mimosas are just one of the many highlights of the elegant, relaxing Champagne Brunch experience.  Throughout the 2-hour cruise, a sumptuous buffet spills over with classic American breakfast favorites, delicious seasonal freshly prepared lunch entrees and decadent desserts.  Live music plays softly in the background.  As the luxury yacht glides through the bay, San Francisco's dramatic sights pass into view through never-ending banks of windows: Twin Peaks, Coit Tower, the piers along the Embarcadero, Fisherman's Wharf, TransAmerica Pyramid, infamous Alcatraz Island, and  iconic Golden Gate Bridge, anchored by Fort Point on one end and the hills of Marin County on the other.
Getting out on the grand bay on a luxury yacht and seeing San Francisco from another perspective while enjoying a wonderful lunch is a treat for all ages.  It's a delightful, no pressure way to spend a midmorning weekend with ample room to explore and an endless stream of man-made and natural sights to see without moving a step.
The Champagne Brunch Cruise boards at 10:30am and cruises from 11:00am until 1:00pm Sundays year-round and on Saturdays and Sundays in the months of  April, October and December.
Save $10 with Coupon Code:  sfun10
Purchase Tickets for the San Francisco Brunch Cruise
San Francisco Bay Supper Club Cruise
The Supper Club Cruise is a sophisticated, upbeat, and fun club experience.  A glass of champagne or sparkling apple cider as you board sets the tone for a fabulous night out on a luxury yacht.  Up-tempo lounge music and Top 40 tunes spun by an entertaining DJ play throughout the evening.  Small plate stations placed throughout the dining salon display tasty selections of internationally inspired cuisine created by on-board chefs.  Sampling and savoring is a culinary treat.  Beer, wine and cocktails can be purchased from bartenders behind long, mahogany bars.  Spectacular, constantly evolving views of one of America's most picturesque cities are framed by large panoramic windows.  In the early evening , the city, surrounding hills, and familiar landmarks glow sunset gold.  As night falls, the cityscape dazzles with lights.  The moon rises, sending a streak of silver across the bay.  Stroll the expansive decks, enjoy fabulous food, dance the night away.  Mingle, celebrate, enjoy the company of friends.
The Supper Club Cruise departs at 7:00pm and cruises from 7:30pm until 10:30pm on Fridays and Saturdays, except in December when the cruise is on Thursdays only.
Save $10 with Coupon Code:  sfsp10
Purchase Tickets for the San Francisco Supper Club Cruise