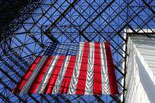 Approximately one month before his assassination, John F. Kennedy toured the grounds of Harvard University. The president was considering potential locations for his presidential library and museum. He chose a site near the Charles River and the Winthrop House, which was the dormitory where he lived during his last two years at the university. After his ill-fated trip to Dallas, his family began planning his memorial. President Kennedy's widow Jacqueline chose I. M. Pei, a relatively unknown architect, to design the museum and library. Due to lengthy delays and opposition to the project, the search committee chose a new location near the University of Massachusetts Boston campus. Dedicated nearly 16 years after the president's death, the museum overlooks the sea from its ten-acre park complex.
The John F. Kennedy Presidential Library and Museum is the repository for official documents and correspondence associated with his presidency. The museum hosts numerous rotating exhibits and lectures. Museum galleries feature the 1960 presidential campaign, the Oval Office and NASA's quest to fulfill Kennedy's promise to put a man on the moon by 1969. The collection includes personal and official memorabilia related to the president's administration. Personal artifacts include gifts from heads of state and artwork, such as sculptures and paintings. Visitors can see the coconut on which Kennedy inscribed his request for help after the PT-109 was sunk near the Solomon Islands. The museum also houses the Ernest Hemingway Collection, which includes manuscripts and thousands of pictures, newspaper clippings and letters.
Is your group planning a visit to the JFK Presidential Library and Museum in Boston? Trusted Tours and Attractions provides deeper discounts to groups of 10 or more. Learn more about Boston Group Discount Tickets.