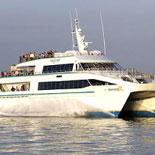 Key West, the southernmost tip of the continental United States, is a lush, tropical haven of free spirits and island charm. In Key West there is always a party going on somewhere, and it does not take too long to find it. The vibrant atmosphere and rich literary history make Key West an American original. Spend your day in Key West shopping or bar hopping on Duval Street. Visit the Ernest Hemingway house, or simply find a chair on Smathers Beach and soak up those tropical rays. However, before you set foot on the beach or belly-up to the bar at Sloppy Joes, you have to get to the Keys. The Fort Myers to Key West Ferry is a one-way service that will have you starting the party long before you get to Duval Street.
The Key West Express sails daily from the port of Fort Myers. It is a luxurious, state-of-the-art boat that comes equipped with all the necessary Floridian amenities. Relax and enjoy the scenic view from the sundeck. Enjoy a Pina Colada at the fully stocked bar. If the blazing Florida heat and humidity is too much for you, then you can relax in one of the climate-controlled cabins, flip on the satellite TV and marvel at the unprecedented speed in which you arrive your destination. The one-way service from Fort Myers to Key West ensures that your voyage through the beautiful waters of the Gulf of Mexico will be a pleasurable one.
In Key West, culture and charm exist on every corner. It is a taste of the Caribbean without leaving the United States. If you are planning on going to Florida and find yourself in the Fort Myers area, then do not miss the chance to visit Key West.
Purchase Discount Tickets for the Key West Express