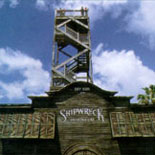 In May of 1822, Key West was established as a Port of Entry, requiring the salvage of all shipwrecks in surrounding waters to pass through its harbor. Wrecking became the primary business of the island city and by the middle of the 1800's, it had made Key West the richest city per capita in the United States. Almost two hundred years later, guests at the Key West Shipwreck Treasures Museum can explore four centuries of shipwreck history, beginning with the first Native American salvagers and continuing through Key West's rich wrecking era to present day. Two floors of shipwreck artifacts ranging from Spanish treasure to exotic cargos from faraway lands are exhibited throughout a re-creation of the 19th Century warehouse once owned by wrecker tycoon Asa Tift.
Purchase Tickets to the Key West Shipwreck Treasures Museum. 
History comes to life as knowledgeable guides in period costume and a variety of audio-visual displays recount the stories of tragic wrecks and daring rescues.  Every visit is an adventure, fascinating and fun for the entire family. The Key West Shipwreck Treasures Museum is proud to announce the recent addition of treasure from the wreck of Nuestra Senora de las Maravillas. Spanish galleons began making their way through the treacherous Florida Straits as early as 1530, carrying all manner of riches from the New World to Spain. The treasure of the Maravillas was lost in 1656 and eluded discovery for over 300 years! Visitors are invited to lift the silver bar that sank on two different ships before it was recovered in 1972 and made its way into our museum. Hear the chilling tale of what some have come to call the "Cursed Treasure"…if you dare!