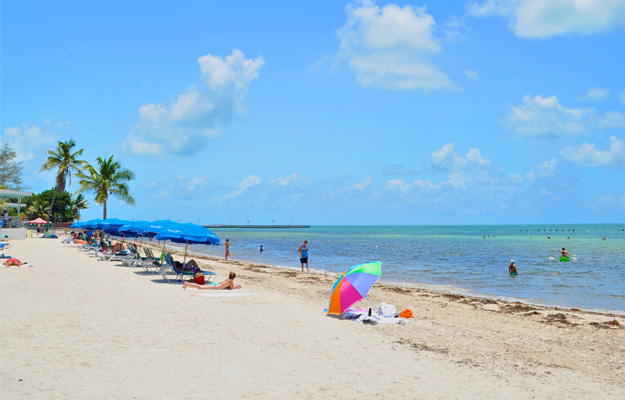 Spend Spring Break on a Caribbean island without leaving the U.S. – Key West is the place! Pack up the family and come on down to bask in the warmth of the tropical sun, hang out in shorts and flip-flops, dive into a myriad of watersport activities and visit fun and interesting places beyond the bars along Duval Street.
WATER ACTIVITIES:
Glass Bottom Boat 
On Fury Water Adventures' Glass Bottom Boat Day Cruise, coral, sponges and darting fish can be seen through glass viewing panels lining the bottom of the catamaran's two hulls. One thing to keep in mind: where you go is totally wind dependent. Not too windy, it's out to a reef in the Atlantic, where fish are more plentiful and colorful. And when it's windy, you will go out to the patch reefs in the Gulf of Mexico, where sea life is spread out.
Private Charter Boat Fishing
This option is great for families with teenagers and young adults. Catching fish under the guidance of one of Key West's many experienced charter boat captains is a blast! Whether it's on a sports fishing boat, open fisherman or flats boat, these seasoned guides are really good at putting their clients on the fish. Hotel Concierges can recommend charter boats or check them out docked behind the Westin at Key West Bight, City Marina at Garrison Bight and Galleon Resort docks.
Party Boat Fishing
Deep-sea bottom fishing in the company of others is a lot of fun as there's always action going on. Gulfstream IV is but one of several party boats that go where the fish are, increasing the odds of catching one. Check the fleet out at City Marina at Garrison Bight. They offer half day trips and even night trips with bait, tackle and fishing licenses provided.
Snorkeling
Several watersports companies offer snorkeling adventures. Fury Water Adventures goes out into the Gulf backcountry for 3 hour Dolphin Watch and Snorkeling combo adventures. Sebago's Snorkeling and Snorkeling adventure heads 5-miles out into the Atlantic, so you can snorkel around an off-shore reef. Both provide snorkeling gear, basic snorkeling instruction and fun, helpful crews that make it a great time. For a breathtaking snorkel or tank dive, drive 29 miles up the Keys for a charter out to Looe Key, the most spectacular reef along the 120 mile Florida Reef Tract.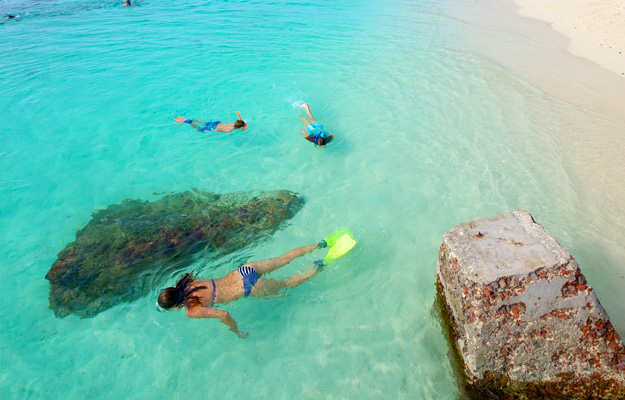 Kayak and Paddleboard EcoTours
Kayaking around Key West's serene and scenic backcountry is wonderful! Paddle through mangrove "tunnels," slip silently across turtle-grass, come upon an egret or heron standing motionless on a sandy flat. Key West Eco Tours heads to more remote locations and provides shuttle service and the Lazy Dog Adventures out of Hurricane Hole Marina, which offers both kayak and paddleboard tours, with shuttle service to great locations. You'll need a car to go on Blue Planet Kayak Eco Tours because everyone on the tour meets at East Martello Fort by Key West airport, then follows Blue Planet guides to their dock about 2 miles away. Danger Charters gets you out in the backcountry on a shallow-draft sailboat. Once there, it's time for a guide led kayak tour through the mangroves and snorkeling on great patch reef spots.
WaveRunner Tours
Great for families with teenagers and young adults who seek out go-fast excitement! Tours go all the way around the island, about 25 miles from the Atlantic around to the Gulf of Mexico. These trips are super fun with so much to see. Barefoot Billy's Watersports and Sunset Watersports both offer great island tours lasting about 2 hours.
All-Day Water Adventure Packages
These watersport packages are a must-do, all-day Key West experience for entire families, especially those with teens and young adults. It's a fun, active, full day of playing on the water with "water toys" like jet skis, paddleboards, banana boats, kayaks, parasail trips, water trampolines, snorkels and more! Fury Water Adventures' Ultimate Water Adventure package, Sebago's Power Adventure Tour and Sunset's Do-It-All Watersports Adventure have enthusiastic, engaging and helpful crews who get you going and ensure everyone has a fun time. Most water adventure packages last 6 hours and serve continental breakfast, buffet lunch, snacks and drinks.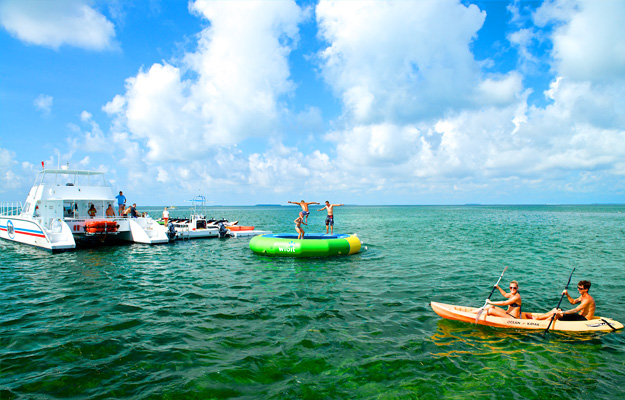 Swim with the Dolphins
Plan a day trip to Grassy Key, a 45-minute drive up the Keys, to experience swimming with the dolphins at Dolphin Research Center. Young kids will love Dolphin Dip; older ones and adults will get a thrill out of Dolphin Encounter.
Dry Tortugas & Fort Jefferson Day Trip
Venture to Fort Jefferson in the Dry Tortugas, a 75-mile boat ride away, on the big, roomy, comfortable, fast Yankee Freedom III ferry. Continental breakfast is served on the way out as you hang out inside in AC comfort or enjoy the breeze and beautiful blue water flying by on outside decks and top deck seating. On-board naturalists provide interesting information along the way. After miles of cutting through the open sea, to suddenly see the huge massive red brick fort rise up on the horizon is the experience of a lifetime. Once at the fort, take a guided ranger tour; walk through it on your own. Hang out on the white sandy beaches, swim and snorkel around the island in crystal clear water. After a full day of sun, exploring and swimming, totally relax on the ride back with a beverage in hand.
LAND ADVENTURES:
Beaches
A word about beaches in the Keys: they are almost non-existent. Unlike coastal mainland Florida, the Keys do not have miles of beaches. There are a few small ones here and there. Why? The Florida Reef Tract a few miles off-shore all the way down the Keys, prevents the buildup of sand. Hang out at the beach at Fort Zachary Taylor, the island's most "beachy" beach and check out the pre-Civil War fort while you're there.  Fort Zach has restrooms, food and drink kiosks, picnic tables. Man-made Smathers Beach, a popular place for spring breakers who sunbathe in droves, play beach volley ball and take advantage of watersport fun: jet skiing, parasailing, windsurfing and paddleboarding. Small, sandy, shallow South Beach is tucked away at the very end of Duval Street. There are no restrooms or food kiosks, but plenty of great eateries, beginning with Southernmost Café right on the beach, are a short walk away. Higgs Beach, next to White Street Pier, has restroom facilities and watersport rentals. Check out the African Slave Cemetery on the beach and the ruins of West Martello Fort. Lunch on really fresh yellowtail snapper salad at Salute on the Beach, a local favorite.
Maritime Museums
Key West museums offer varied interesting choices. Two museums approach shipwrecks along the treacherous off-shore Florida Reef Tract in different ways. The primary focus of the Mel Fisher Maritime Museum is the discovery of Spanish galleons which wrecked on the reef on their return journey to Spain up the Gulf Stream. Some of the treasures discovered are on exhibit.  The Key West Shipwreck Treasure Museum is all about the "wrecking" era of the mid-1850s, during which cargo ships, all under sail, met their demise on the reef. An entire industry developed out of rescuing the crew and passengers and salvaging the cargo from those vessels. Be sure to climb up the 80′ tall tower on top of the museum. The 360 views of the island are fabulous.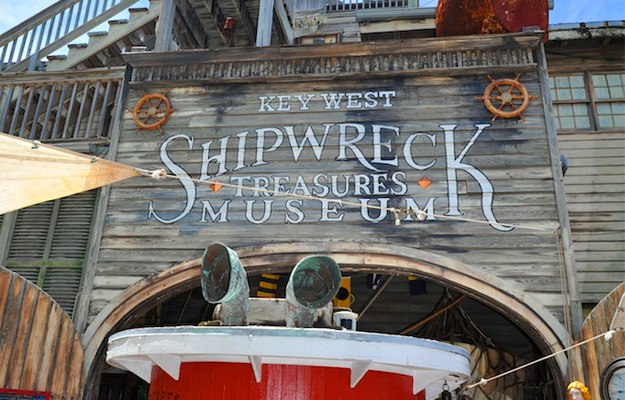 Key West Butterfly & Nature Conservatory
The Key West Butterfly & Nature Conservatory is a walk-through, open-air environment that explores the colorful, beautiful world of butterflies. Butterflies of every color imaginable fly freely throughout the lush tropical, flowering plants around the glass-covered conservatory. Walk slowly along the path and maybe a butterfly will land on you!
KEY WEST EVENINGS:  
Sunset Celebration
This nightly celebration of the beautiful Key West sunset takes place in Mallory Square. It's fun to stroll through the street performers doing their acts as the sun dips into the sea, lighting up the sky in glorious colors.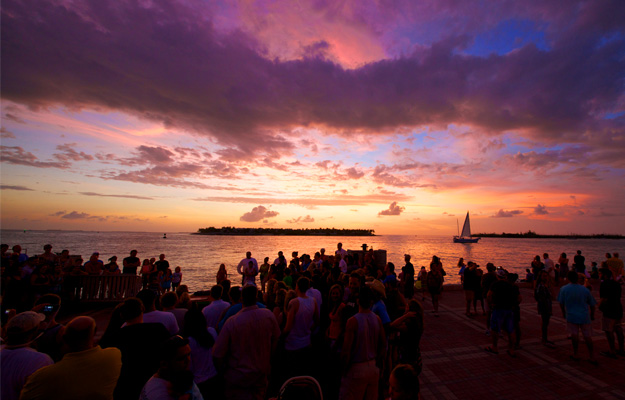 Sunset Sail
Another Key West must-do is a sunset sail. Pick the experience you want based on the type of boat; glide through the water on sleek America 2.0, or on the romantic tall ship, Schooner Appledore. Head out under the painted sky on Fury Water Adventures' or Sebago' s sailing catamarans; take in sunset in air-conditioned comfort on Sunset Watersports' Party Boat. Danger Charters's Wind & Wine is a delightful, more intimate experience. While each has a different approach, champagne, wine, beer and soft drinks are included. Some have cash bars serving cocktails.
Key West's Ghosts & Gravestones Tour
Board the black and eerie "Trolley of the Doomed" for a night ride into the paranormal. This is not about blood and guts and things that jump out at you in the night. The stories told by your Ghost Host really happened – or so they say. Tour highlight includes a visit to the East Martello Musuem, a place where paranormal activity has been detected and recorded. Inside the fort casements, safely contained in a glass exhibit case is a large doll. Not any doll – Robert the Doll. Innocent-looking at first glance, Robert is certifiably paranormal. Beware, Robert, who once belonged to a young Key West boy, is no ordinary doll.
Live Entertainment & Nightlife
There's professional theater in Key West! Productions inside two small, quaint Old Town theaters make a memorable Key West evening. Waterfront Playhouse is right in Mallory Square, next to El Meson de Pepe, an authentic Cuban restaurant with great mojitos and live Latin music. Red Barn Theater is on Duval Street, behind the Woman's Club, across from the Oldest House Museum. Check out what's playing, buy a ticket and go! Tropic Cinema is another local favorite.  On Eaton St, just off Duval, the Tropic has 3 small theaters which screen interesting Indy films and the best of the mainstream ones. Wine and beer is available to sip inside the theater. Of course, there's popcorn too!
Key West is alive at night, especially on Duval Street. Get into the bar scene or, on a balmy night, it's fun to walk down the famous street, enjoying the night air, people watching, listening to live music coming from the many bars along the way. Day or night, Key West is a comfortable, easy, friendly place. It's an island thing!
GETTING AROUND IS FUN TOO:
Key West is walkable, especially around Old Town. To really learn about the island, both Old Town and New Town , take the hop on/ hop off tour on the Old Town Trolley. Kids may like a tour on the iconic Conch Tour Train, which rumbles around Old Town as entertaining "engineers" point out interesting and fun things alone the way. Families often get around in small electric cars available for rent. Bike and scooter rentals are popular too. A note of caution: island streets are narrow, busy, and bike lanes are few and far between. Keep this in mind if considering biking with kids. Mopeds can be rented, however, for inexperienced visitors, riding them along busy Key West streets can be dicey!