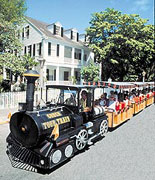 The Conch Tour Train at Key West, Florida is a wonderful way to tour Key West. This tour offers a 90 minute ride that allows visitors to see the highlights of scenic Key West. Arrangements for the train tour are easily made. Simply visit the site https://www.trustedtours.com/store/conch-tour-train-key-west.aspx to make the convenient arrangements and purchase tickets. Also, for a limited time children can go on this interesting tour free.
Enjoy views of the sandy white beaches and crystal blue water of the ocean while riding the Conch Tour Train. See Fort Jefferson Dry Tortugas. Look at the tropical home of Ernest Hemingway. Enjoy the historical Flagler Station and Customs House while riding in comfort on the Conch Tour train. Other sights of interest are the Key West Aquarium and the Key West Historical Lighthouse. The Key West Shipwreck Treasures Museum is a place of interest for both young and old. Gardening buffs will enjoy Mac's Sea Garden.
Restaurants and shopping opportunities include the famous Conch Fritters at Mallory Square, Sloppy Joe's Bar, and shopping at Mallory Square. History lovers will enjoy the historical gravestones and Harry Truman's Little White House as well as seeing other interesting historical sites in Key West.
The Conch Tour Train at Key West is a convenient, comfortable way for visitors to the historical city to get a 90 minute overview of the history and culture of beautiful, tropical Key West, Florida.
Comments Off on Kids Go Free on the Conch Tour Train in Key West