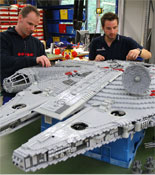 Legoland California is located in the beautiful seaside community of Carlsbad just north of San Diego. Opened in 1999, the resort was the first Legoland theme park in the United States. Visitors can enjoy over 60 rides and attractions dispersed throughout the 128-acre park. Legoland California hosts numerous fun-filled activities for the entire family.
Is your group planning a visit to Legoland California? Trusted Tours and Attractions provides deeper discounts to groups of 10 or more. For more information, please visit our page: San Diego Group Discount Tickets
Dino Island features the dips and curves of the Coastersaurus, a mini steel roller coaster. Aspiring paleontologists will discover that the large sandbox offers the perfect opportunity to hone their skills as they uncover an intact dinosaur. Fun Town has several exciting role-playing rides. There is a driving school where you operate an electric car and test your knowledge of the traffic rules. Fighter Squadron and Sky Patrol enable riders to pilot bi-planes and helicopters respectively. Passengers can steer self-propelled boats around The Skipper School's watercourse.
At the Fire Academy, teams compete to extinguish a simulated fire using a hand-pumped fire truck. Castle Hill transports guests back to the bygone era of kings and queens when gallant knights fulfilled their quest of rescuing damsels in distress. You can imagine yourself as an archeologist exploring ancient Egypt and finding lost treasures while enjoying the rides at the Land of Adventure. At Pirate Shores, guests can climb aboard a pirate ship and battle other buccaneers with water cannons. The water park has animal themed slides, jet sprays, flume rides and interactive gadgets. Visitors can personalize their inner tubes for a whitewater rafting experience. The Imagination Zone invites thrill seekers to experience the speed, power and maneuverability of rides like Bionicle Blaster, the Aquazone Wave Racer and the Lego Technic Coaster.
Miniland re-creates seven areas of the United States including Southern California, San Francisco, New York and the District of Columbia. Authentic audio recordings enable guests to fully experience the miniature communities and landmarks at Legoland California. The family friendly park has a baby care center that is equipped with high chairs, rocking chairs and changing areas. Microwaves are available to help parents prepare meals for their babies.
Comments Off on Legoland California Group Tickets & Packages