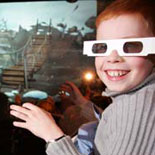 Legoland Chicago is an indoor Discovery Center located in Schaumburg, Illinois. This family friendly attraction was the first Legoland Discovery Center in the United States. Like the larger outdoor Legoland theme parks, the center has a variety of activities featuring the world-famous interlocking bricks and accessories, such as gears and miniature figurines. When you visit Legoland Chicago, it is as if you are inside an enormous box of Lego pieces.
Is your group planning a visit to the Legoland Discovery Center in Chicago? Trusted Tours and Attractions provides deeper discounts to groups of 10 or more. For more information, please visit our page: Chicago Group Discount Tickets
Once inside the 30,000-square-foot attraction, Professor Brick-a-Brack leads a "factory" tour where brightly colored plastic is transformed into commemorative bricks with the press of a button. Children can trek through a tropical forest filled with Lego snakes, monkeys, tigers and hippos on a Jungle Expedition. In Kingdom Quest, you can mount a mighty chariot and conquer dragons, skeletons and trolls to complete your noble quest of rescuing the princess. At the Master Builder Academy, children can design racecars and soaring skyscrapers while receiving instruction and guidance from a Lego master artisan. The Lego racecar test track has a stopwatch calibrated to the hundredths of a second. Aspiring architects can see whether their building designs can withstand seismic forces at the Earthquake Table. Climb aboard a technicycle and power your way to the sky followed by an action adventure story in the 4-D cinema. Miniature displays constructed with Lego bricks depict scenes from Star Wars and iconic Chicago area landmarks. You may be surprised to see the meticulous detail of buildings. The Construction Zone and DUPLO Village are creative play areas featuring slides as well as a variety of large and soft Lego blocks.
Legoland sponsors homeschool days and workshops as well as gatherings for special events, such as birthday parties. Like your child's energy and imagination, adventure and fun at Legoland Chicago is boundless.
Comments Off on Legoland Chicago Group Tickets & Packages