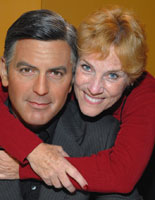 Madame Tussauds wax museum in Washington DC is one of the city's must see attractions. Where else can you have your picture taken with historical icons and famous celebrities such as George Washington, Julia Roberts, and Brad Pitt… or at least the wax versions of them? The museum features hands-on, interactive displays that allow visitors to feel as though they are standing alongside, or even shaking hands with, some of the most important figures in history, pop culture, and sports. A family-friendly environment, Madame Tussauds is not only a place where you can experience modern culture, but it is a great way to teach children about history as well.
A highlight of Madame Tussauds in Washington D.C. is the new Presidents Gallery which will be the only place in the world that allows visitors to interact will all 44 of the U.S. presidents. This astounding exhibit will provide visitors with an elaborate display of our U.S. presidents. Guests of all ages will love the interactive aspects of the gallery and will leave with a wealth of history and knowledge.
Visitors should remember to bring a camera to capture photographs with these realistic wax figures. Every member of your family or party is sure to be pleased. These life-sized replicas range from actors, to sports figures, musicians, and historical figures. From a detailed replica of the Oval Office, to taking a quick photo with actor, Denzel Washington, and pop-sensation Selena Gomez. There is bound to be at least a few photo opportunities to please guests of varying interests and ages.
Guests will also enjoy interactive interviews with media personalities like Oprah, Joan Rivers, and Katie Couric. Then take a "behind the scenes" tour of the creation and intricate detail that goes into making these sensational wax figures.
Visit Madame Tussauds in Washington D.C. and get up close and personal with well-known icons. Visitors will leave being both awed with child-like entertainment and enlightened with rich historical representations through this interactive museum.
Madame Tussauds is open 365 days a year and is accessible by car, subway, or bus. Although the hours of operation vary almost monthly, and the attractions sometimes open earlier or close later depending on the number of customers, it is important to note that the closing hours displayed indicate when the ticket sales will stop for that day and not necessarily when the museum closes.
Purchase your tickets online and save! Use coupon code DCMT5 to receive a 5% discount.
Or add on to the fun by purchasing the Old Town Trolley – Madame Tussauds Package. You'll save $12 with this exclusive deal!