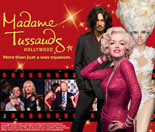 The newest and biggest attraction in Los Angeles is Madame Tussauds Hollywood. Take advantage of the opportunity to mingle with your favorite celebrities with no barriers or velvet ropes to interfere. At Madame Tussauds you can step right into the fully interactive sets. The only question is: Whom would you like to meet?
Literally millions of people have made their way through Madame Tussauds famed doors around the world since this fascinating attraction first opened more than two centuries ago. Nothing has changed. It is still as popular as ever and there are plenty of reasons for such continued success, including simple curiosity.

Visitors today are treated to a unique journey into the world of the rich and famous. Guests are able to truly gain an up close and personal view of sporting legends, historical icons, A-list celebrities, and political heavyweights. This is the only place where you can relive the times, moments, and events that made world history.
Creating wax figures is truly a work of art and a labor of love. More than 800 hours of measuring, molding, painting, and sculpting go into the creation of each figure. A legion of highly-trained and experienced sculptors are able to replicate any world leader or celebrity so precisely you will be certain you are truly face to face with the real individual. You may even find yourself apologizing when you bump into someone you have previously only seen on television. Are you wondering how they do it? You can find out when you step into the fascinating world of Madame Tussauds Hollywood.
This is the original Madame Tussauds, dating back 200 years and now housed in a massive 40,000 square foot modern building that spans three floors. Madame Tussauds is located next to Grauman's Chinese Theatre. You will not want to miss the opportunity to bump elbows with the powerful and famous!
Purchase Discount Tickets for Madame Tussauds Hollywood
Find additional coupon codes and daily deals for other tours and attractions on Twitter