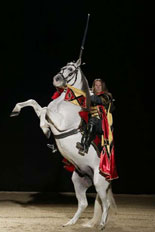 Medieval Times Baltimore is a unique experience for your dinner festivities. Enter the castle and you will be transformed into the past when knights jousted and kings ruled.
After you cross the drawbridge and come into the castle you will have the opportunity to have your picture taken as a souvenir. You will then be taken into the large lobby area for a "pre" show of sorts. Here you will get an insight about the history of the knights, watch some people be "knighted", and be separated into groups which coordinate with your knights color. There are six knights that will be entertaining you at your dinner feast.
You will then enter the grand arena where you will take your seats, and prepare for the magnificent feast that awaits you while you watch an amazing tournament. See some beautiful stallions prance around and show you their tricks. Witness the royal falconer and his amazing birds, including a free flight around the arena.
The king and his princess will signal the jousting to begin and announce the feast. Cheer your loudest as you support your knight through his tasks. If he is the best of the group in each feat, he will come to your section and throw flowers to the lucky ones who catch them.
Your feast will begin to arrive as you marvel in the display of courage and determination unwinding before you. Savor garlic bread and soup, a giant portion of roasted chicken and a spare rib, a baked potato and delicious pastry for dessert. Vegetarian meals are also available.
Bring the whole family for a fun-filled, exciting evening. Here is one place where you can encourage your kids to yell as loud as they wish.
Save an extra $1 with Coupon Code DCMD1
Comments Off on Medieval Times Baltimore Coupons and Review