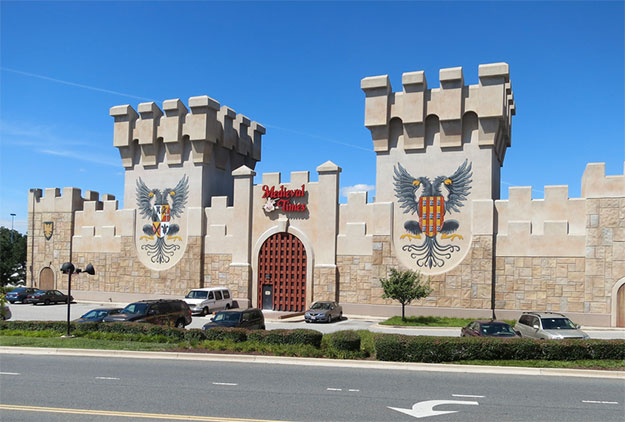 Not far from Anaheim, and close to Disneyland is a castle in Buena Park – a Medieval Spanish castle.  Inside, King Don Carlos and his daughter, the fair Princess Catalina, hold court, inviting the people of the realm to a dinner and tournament in the Great Hall. Thus begins a wonderful evening of family entertainment at Medieval Times. You can save time and money by purchasing your tickets online with Trusted Tours and using the exclusive coupon at the end of this article.
While the dinner and tournament are the main events, there is a lot to see on the way in: medieval armament and torture devices on display, encounters with knights, and close up looks at magnificent horses. Once inside the Hall, it's a theater production rivaling any coming out of Hollywood, one in which the audience becomes part of the show. They are the people of the realm!
Before entering, guests are assigned the colors of one of six knights: Black & White Knight, the warrior priest; Blue Knight, young champion of the defenseless; Red & Yellow Knight, the ultimate swordsman;  Yellow Knight, chivalrous and amazing in attack; or Green Knight, master of all weaponry.
Proudly wearing their knight's colors and crowns, guests enter to the full sound of heraldic music to be seated at long feast tables lined in tiers around the long oval sand arena. Everywhere, brilliantly colored banners and flags hang and flutter. Pages playing medieval trumpets announce the King and his entourage. Lavishly dressed in rich velvet, silk and gold, they take their place on the dais.
Sewers (the medieval term for servers) serve the feast on metal plates and cup-bearers pour drinks in tankards (mugs). It's simple fare: bone-in half chicken, potato (no butter or sour cream…not available in medieval times), soup, and bread. No greens with this meal! Although totally out of theme, as a concession to millennial tastes, there is a vegetarian meal. No one gets utensils! It's an eat-with-your-fingers event!  Kids love it, and adults get into it!
Special lighting focuses on the arena. Excitement builds. The knights are announced and enter astride magnificent Andalusian stallions. Both rider and horse wear the knight's colors. As each knight is presented, guests wearing his colors let out a roar! The pageantry is astounding. Let the Joust begin!
What happens next has the audience mesmerized. Dramatic lighting, special effects, synchronized movement of man and horse is spellbinding. Acting, choreography, training, precision, horsemanship skills result in an amazing event. Feats of skill at arms – flag tossing, lance throwing at targets, spear ring grabs – all while riding a horse at fast speed  are a prelude of things to come.
It's time for the epic battles! As their mounts kick up the dust with manes and tails streaming, a pair of knights at a time engage in combat using real medieval weaponry – one and two handed swords, lances, daggers. Dulled, maybe, but real.  As the realistically choreographed battles take place, the entire audience is captivated by the skill level of man and horse. It's dramatic and realistic; beautiful and graceful. It's fun too. To a person, the audience is committed, collectively cheering on their knight or groaning when he falls. Good vs evil comes in to play, with the good guy winning. And, to the delight of the young ladies of the realm, the princess gets her favorite knight.
Save An Additional $1 with Coupon Code: LAMD1

Purchase Discount Tickets For Medieval Times Buena Park