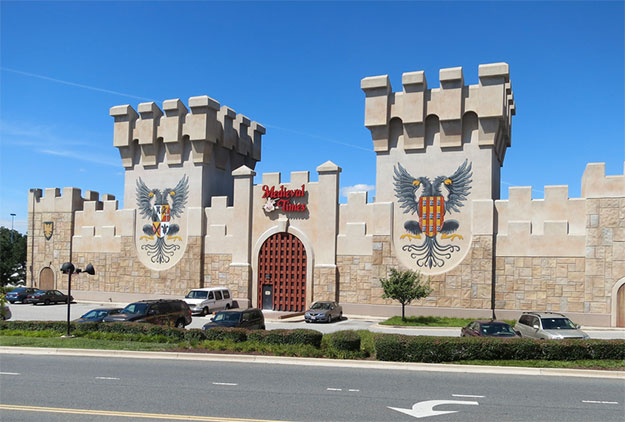 There is more than one kingdom in Orlando.  This one is in a medieval castle, and what takes place inside is exciting, fun and magical.   It's wonderful family entertainment with all the right medieval characters and elements: dashing knights, a lovely princess, a powerful king, a bit of wizardry, a touch of intrigue, a villain or two, beautiful horses, a soaring falcon, and authentic weaponry.
While the dinner show in the Great Hall is the main event, there is plenty to see on the way in:  a medieval village, torture chamber, armament displays, encounter with knights, and close up looks at the magnificent horses.  Once inside the hall, it's a theater production with all the bells and whistles, one in which the audience, as guests of the King, is part of the show. On this night they are the people of the realm!
Wearing assigned colors and crowns, guests enter the dimly lit hall throbbing with heraldic music. They take their places at long tables lining the long oval sandy arena in tiers.  Brilliantly colored banners and flags hang and flutter everywhere.  A buzz of excitement fills the air. Pages playing medieval trumpets announce the King and his entourage.  Lavishly dressed in gorgeous velvet, silk and gold, they are seated on the dais with much fanfare.
Sewers (the medieval word for servers) serve the feast on metal plates and bowls, and cup-bearers bring the drink in tankards (mugs).  It's a simple fare: bone-in chicken half, potato (no butter or sour cream…not available in medieval times), soup, and bread.  No greens with this meal!  Although totally out of theme, but made available as a nod to modern diets, there is a vegetarian meal which does have veggies.  But, no one gets utensils! It's an eat-with-your-fingers event!  Kids love it, and adults get into it! Throughout the meal and the show, vendors move around the arena.  Worth noting, all kids, regardless of age, will want to leave with a plastic sword, glittery necklace, flowers hat or a photo with a favorite knight or lady.
The crescendo rises.  Special lighting focuses on the arena. Excitement builds.  The knights are announced, entering the arena astride magnificent Andalusian stallions.  Rider and horse wear the knight's colors. The pageantry is astounding.  The regal attitude of the horses, many of them white, adds a mystique of the event.  As each knight is called out by name, guests wearing his color roar with approval.  Everyone is waiting: which knight will reign victorious?  Let the Joust begin!
What happens next is truly amazing.  Dramatic lighting, special effects, synchronized movement of man and horse is something to watch.  It's acting, choreography, training, precision, horsemanship skills, each at its best.  There are feats of skill at arms: flag tossing, lance throwing at targets, spear ring grabs – all while riding a horse at fast speed.   It's dramatic and realistic; beautiful and graceful.
That's just the warm-up.  It's time for the epic battles!  As their mounts kick up the dust, mane and tail flying, one pair of knights at a time engage in combat, using real medieval weaponry – one and two handed swords, lances, daggers.  Dulled, but real.  Good vs evil comes in to play, with the good guys winning. And, the lovely princess gets her favorite knight, but not without plenty of court intrigue.
There is a lot going on at this venue and year after year it's always rated as one of the top things to do in Orlando outside of Disney.  It's such fun to cheer on your knight and let out a collective groan when he falls.  In the end, it's all about chivalry: loyalty, generosity, and courtesy.  The kids get it and love it!  Adults do too.  Who wouldn't.
Save An Additional $1 with Coupon: ORME1
Save An Additional $3 with Coupon: ORME3
Purchase Medieval Times Orlando Discount Tickets