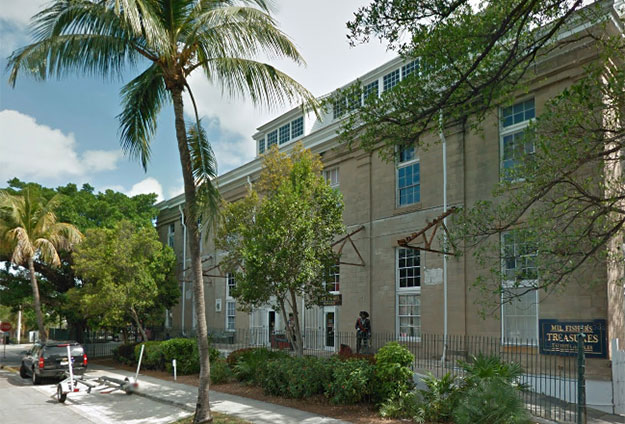 Every summer a multi-day celebration is held in honor of Mel Fisher, a man who pursued his dreams and discovered a fortune in treasure in the seas off Key West, inspiring millions to follow their own dreams and earning him the title of The World's Greatest Treasure Hunter. The 2015 Mel Fisher Days are set for July 9-12 and will celebrate the 30th Anniversary of the historic Atocha Mother Lode find with treasure-trove of events ranging from the educational to the adventurous.
Trusted Tours is an official ticket vendor for Mel Fisher Museum. If you're interested in visiting the museum, save an additional 5% off the already discounted ticket price by visiting our blog post about Mel Fisher Museum Coupons.
Along with annual favorites like the Rockin' Block Party on Duval with a free concert featuring Suenalo of the famous Green Parrot Bar (very limited # of VIP backstage passes available), 2015 adventures include a land-based Treasure Hunt with $5,000 cash prize, a Pirate Pub Crawl and Ball, and a dock party with Atocha dive team members and Mel's Golden Crew. While the boat is docked at Schooner Wharf Bar, Mel Fisher's Treasures is offering tours of their famous 100' treasure hunting boat JB Magruder.
The Fisher family private conservation lab will be open for a limited number of tours and Mel's Matinee at the Tropic Cinema will feature a brand new movie with never before seen archive footage from the Fisher family's collection and interviews with the people who were there- The Golden Crew- on what it felt like to be there as history was made.  At the Tropic Cinema, Judy Gracer will be honored with the 2015 Mel Fisher Lifetime Achievement Award. Events also include Booty Bingo and BBQ Brunch and Trivia.
During the 16 year search for the Nuestra Senora de Atocha, Key West embraced Mel, his family and crew, and supported them when others did not. Now his namesake company, Mel Fisher's Treasures, is committed to giving back to the island community he called home. 100% of Mel Fisher Days net proceeds benefit Wesley House Family Services, a not for profit organization whose mission is to promote and enhance the safety, well-being and development of children by educating, supporting and meeting the needs of families.
Buy Discount Tickets For Mel Fisher Museum with Trusted Tours
Thursday July 9th, beginning at 10am
VIP Tours of the Fisher Family's Private
Conservation Lab
Go behind the scenes and see millions in authentic treasure. Learn how each artifact is carefully conserved using the highest standards of archaeology and conservation. Space is limited to 8 people per tour. Each tour is 45 minutes. Register now, tours sold out completely last year.
Thursday July 9th, 11am -2pm
Dock Party and Treasure Hunting Boat Tours
For the 30th Anniversary Celebration of the Atocha Mother Lode discovery, Mel Fisher's famous 100' treasure salvage vessel JB Magruder will be on display at the dock behind Schooner Wharf Bar at the Historic Seaport.  See the equipment they use to uncover treasure up close. Meet and get autographs from the Golden Crew of the Atocha Mother Lode discovery along with the current treasure-hunting crew! Enjoy great lunch specials and have your picture taken with Mel Fisher's hand prints which are in concrete at Schooner Wharf Bar, one of his favorite haunts!
Thursday July 9th, 4:30 pm
Check-in Pirate Pub Crawl and Ball
Ahoy there matey! Join us for a guided Pirate Pub Crawl starting at Turtle Kraals, leading up to the Pirate Ball at the Rum Barrel with treasure prizes for best costumes. Pub Crawl leaves promptly at 6 pm and includes 5 drinks – one at each pub crawl stop- and an exclusive Mel Fisher Days 30thAnniversary Celebration t-shirt. Key West Promotions is organizing the Pub Crawl and will be generously donating half of the entry price back to charity. Come early for great dinner specials at Turtle Kraals to fill yer belly before a night of grog!
Thursday July 9th, 8- 10pm
Pirate Ball at The Rum Barrel, 528 Front Street is the Pub Crawl finale. Join all the other pirates for a Sunset Party on the rooftop. Prizes for the best costumes, The Lucky Cupcake Game with a treasure prize and 50/50 cash raffle.
Friday July 10th, 1:30 pm
Mel's Matinee, New Archive Video and Lifetime Achievement Award Presentation
In celebration of the 30th Anniversary of the discovery of Atocha's Mother Lode this year the Fishers will show a brand new movie. It features never before seen archive footage from their private collection and interviews with the people who were there- The Golden Crew- on what it felt like to be there making history. Judy Gracer will also be honor with the 2015 Mel Fisher Lifetime Achievement Award.
Friday July 10th, 5:30pm check-in, 7-9:30pm hunt
Amazing Mel Fisher Treasure Hunt
Back by popular demand, organize your team of 2-4 people and register online to win the grand prize of $5,000! This hunt is on land and check-in begins at 5:30pm outside between The Half Shell Raw Bar and Turtle Kraals. Come early for food and drink specials. The hunt ends at 9:30 pm sharp at The Green Parrot Bar. Winners will be announced and presented with their $5,000 cash prize on stage at the Rockin' Block Party Fair the next day at 5:30pm. You must be present to win so plan accordingly!
Saturday July 11th, 11am-9pm
Mel Fisher's Treasures presents the Sizzlin' Street Fair on the 200 & 300 blocks of Duval Street between Sloppy Joe's and The Bull.  Suenalo of the world- famous Green Parrot Bar will headline a free concert. There are a limited number of exclusive VIP backstage passes available which grants you entry to an exclusive party with the Fisher family, Mel's Golden Crew from 1985 and the headlining bands from Mel Fisher Days 2015 including Suenalo, did we mention the open bar?  Attendees can expect a classic car show, over $20,000 in silent auction items, food and drinks from Pat Croce's Restaurant Group, a dunk tank and games for the kids so bring the whole family!
Sunday July 12th, 11am – 2pm
Booty Bingo and BBQ Brunch at Charlie Mac's
404 Southard Street. Booty Bingo is back by popular demand with Cowboy Marky and his Cousin-brother Shawny Boy hosting a hilarious rendition of everyone's favorite game. Great prizes, including treasure. Recharge with the Bloody Mary Bar and delicious all you can eat brunch buffet featuring a menu created by renowned Chefs Michael Shultz and Patrick Dunn. Have your picture taken with millions of dollars in authentic shipwreck treasure while you hang out with the Fisher family, current crew and alumni crew!
Sunday July 12th, 3-5pm
Trivia at Island Dogs Bar
After filling up at brunch, walk it off and head down to Island Dogs for their famous FREE TRIVIA with fun prizes and ½ price drinks. Join us to end Mel Fisher Days 2015 with a bang!
Keep one of your Bingo cards and turn it in with your First Name, Last Name and Phone number on the back. You'll be entered in a drawing for a bar tab.
Buy Discount Tickets For Mel Fisher Museum with Trusted Tours
Comments Off on Mel Fisher Days 2015