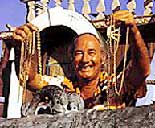 A Winter vacation to Key West, Florida is the ideal time to experience this vibrant, offbeat area. While there, a tour to the Mel Fisher Maritime Museum is an awesome way to increase your knowledge of history, archaeology, slavery and the sea. Included in these exciting exhibits are the 1622 ship Atocha; the St. Johns/Bahamas Wreck from 1564; the Henrietta Marie, one of the earliest known slave ships, and more. Located in downtown Key West, the Museum is open every day of the year.
Purchase tickets for Mel Fisher Museum. Receive an additional 5% discount with this code:
Coupon Code: KWMF5
Explore even more of historic Key West by purchasing the Hemingway Home & Mel Fisher Museum Package.
The Atocha was bound for Spain from Havana in 1622. Carrying precious cargo that included silver from Mexico and Peru, gold, emeralds, and pearls, it encountered a severe hurricane and sank. Having sunk in 55 feet of water, the Atocha remained lost until a quest for the ship was begun by Mel Fisher in 1969. Today, one can see magnificent finds from the recovery at the museum.
The St. Johns/Bahama wreck is thought to be that of the Santa Clara, from 1564. A source of archaeological significance, the finds reflect the way the Europeans lived and colonized the Americas. Discovered in 1991, the artifacts include weapons, tableware, drug and food containers, Italian and Spanish ceramics of Majolica, olive jars, burnished ceramics of the Aztec, and much more. Part of the discovery is on display at the museum; some artifacts are still under study. One of the earliest slave ships, the Henrietta Marie, provides a wealth of education regarding a journey of slaves from Africa. With a abundance of history and archaeology, the Mel Fisher Maritime Museum is a must see.