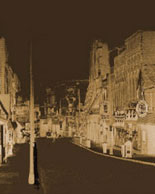 Take a stroll through the historical streets of Memphis and discover what really lurks in the shadows on the Memphis Ghost Tour. Narrated by tour guides and professional storytellers, history will come alive as you learn chilling but true tales of Memphis and her haunted heritage.

Your guides will lead you through some of the oldest landmarks in Memphis while introducing you to the city's supernatural experiences. You will journey through Handy Park, Cotton Row, the Orpheum Theater, and more as you discover the city's dark mysteries.
Originally established in the 1920s as a vaudeville and movie palace, the Orpheum Theatre has been completely restored. It is also home to the ghost of a little girl. "Mary" is known to play tricks on the actors and stagehands and loves playing the organ and letting her presence be known. If your ticket is for seat C5, watch out because she likes to claim it! One of the city's better known spirits; she was killed in the 1920s in an accident on Beale Street.
Situated on Beale Street, W.C. Handy Park was dedicated in 1931 to W.C. Handy. The park has a long-standing tradition of hosting not only blues acts, but spirits as well. Since the park was established, it has become well known as a meeting place for both musicians and ghosts.
The tour also includes admission into the infamous Ernestine & Hazels, once a brothel and now known as one of the most haunted buildings in Memphis.
Save $1 with Coupon Code: MEGT1
Purchase Discount Tickets for the Memphis Ghost Tour
Find additional coupon codes and daily deals for other tours and attractions on Twitter