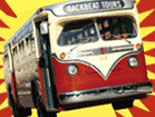 Memphis Tennessee is famous for its various types of music including blues, rock, gospel and soul. The tour lasts 90 minutes and is hosted by professional musicians who show the city through the eyes of a musician. Trusted Tours is an excellent place to purchase group tickets at discount prices the Memphis Mojo tour.
The tour is conducted on a vintage 1959 GM transit bus known as Miss Clawdy and her little sister bus Miss Molly. While riding on the bus, tour guides not only perform live music for guests they also encourage guests to participate in the performances. Guests have the option to play instruments, such as tambourines, shakers and bongos while riding the tour bus.
While rocking out on the bus, the tour makes stops at sights including the famous Beale Street which is filled with clubs, restaurants, shops and live music. Additional stops include the Stax Museum of American Soul Music, the Civil Rights Museum, Overton Park Shell and the Elvis Presley Plaza. The sights of the city are full of history and filled with the sounds of live music.
The tour also makes a stop at the birthplace of Rock and Roll Sun Studios where Elvis Presley and others recorded some of their famous hits. The Sun Studios building is the original location where the Sun Records Label and Memphis Recording Service operated until both businesses outgrew the building in 1959.
In 1969, the founder of Sun Records sold the building to Shelby Singleton and no music was produced until 1985 until the album class of 55' was recorded. Artists on the album included the likes of Roy Orbison, Carl Perkins, Johnny Cash and Jerry Lee Lewis.
Group tours and discounted tickets for the Memphis Mojo Tour are available from Trusted Tours located at store.trustedtours.com/memphis-mojo-tour