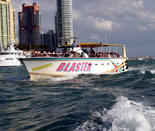 A ride aboard the Miami Bayside Blaster boat ride is one of the most thrilling and exciting ways to see Miami. No other tour or attraction can come close to the adrenaline boost you will get racing through the water with the wind in your hair! The boat is large enough to be really comfortable and hold your whole group, but small enough that you still get the adventurous feeling as you speed up and navigate the waters. Aside from being tons of fun, this tours is a unique way to familiarize yourself with the city before you explore it on your own later, either by foot or by car. The perspective from the water is truly amazing.
The boat tour begins in the heart of downtown Miami, at the Bayside Marketplace. From there, the boat will head past the port of Miami, and then pick up speed and it races to Fisher Island just a short distance away. The thrill pat of the tour is mostly in that section, and them starting at Fisher Island the speed slows and the narration begins. The guide points out the best sightseeing spots in Miami, including Miami Beach, Millionaire's Row, and the Miami skyline. You can purchase a snack or a drink onboard, but the cruise is short enough–90 minutes–that you probably won't need it. The tour operates a few times each Saturday and Sunday, but the ideal tour is the 5:30 slot, as the sun isn't direct and the sunset can be quite amazing at the end of the day.
Save 5% with Coupon Code: MIBB5
Purchase Discount Tickets for Miami Bayside Blaster boat ride.
Find additional coupon codes and daily deals for other tours and attractions on Twitter.