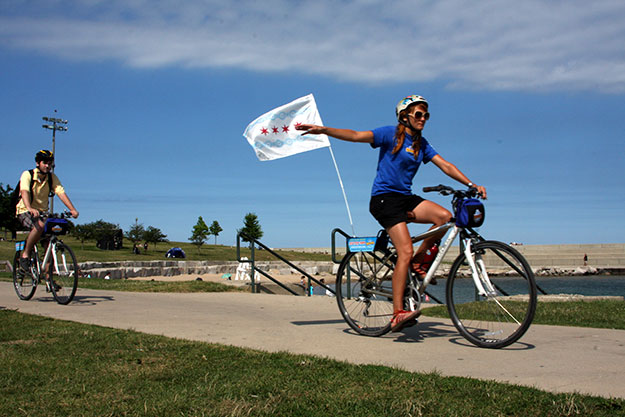 It's a great ride!  It's fun and is, hands down, the best way to see the southern end of Miami Beach, including glamorous South Beach, in a 2 hour span.
I lived in Miami at one time, and returned recently for a short visit.  I decided on a guided bike tour. I chose it over walking around on my own or riding around in a car and dealing with the parking hassles. I just wanted to get out in the soft tropical air and bike around the neighborhood to see it up close once again. And, I wanted someone to show me around.  The Miami Beach Bike Tour was terrific – fun, interesting, and filled with accurate information!  From beginning to end, it was a pleasant experience.
It helped that the day was gorgeous and sunny, with just enough breeze.  The staff at the booth was accommodating, and our lively guide knew her stuff!  She showed us the area known as the Miami Beach Art Deco District and South Beach (SoBe).  As we rode, she talked us through what we were seeing with just the right balance of history, architecture and the inside scoop on the here and now.
We covered a lot of territory along our 6+ mile, easy paced ride. We stopped along the way to get a closer look.  We took photos.  All in all, we rode through an area stretching from South Pointe Park at the southern tip of Miami Beach, where we went to Monte's at the Miami Beach Marina on the west side, and hot spot Nikki Beach on the east side, to as far north as the compellingly moving Holocaust Museum and Miami Beach Botanical Garden, a lush miniature urban green space, and all the highlights in between.  We saw Lincoln Road Mall, lined with stores, cafes, and restaurants, where I was delighted to see that my favorite independent bookstore, Books & Books, is still there! We passed trendy hot spots and cycled down the Ocean Drive Promenade, with the sparkling ocean on one side and the lovely Art Deco "painted ladies," the crown jewels of this astoundingly beautiful area of Miami, on the other.  If you want to enjoy the bike tour like I did, book your tour online and save with this exclusive promo code.
Save $2 with Coupon Code: MIBI2
Purchase Discount Tickets For Miami Beach Bike Tours