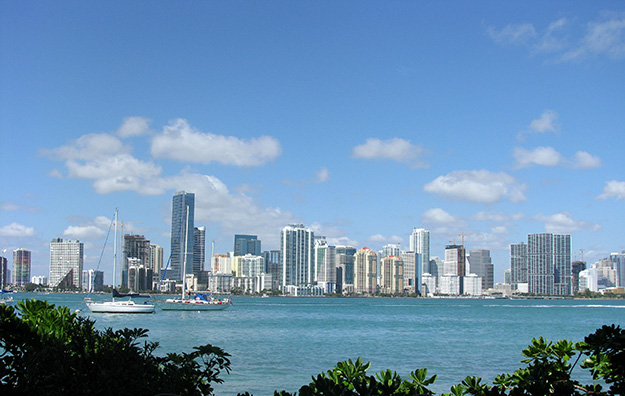 Miami: the young, vibrant, multicultural, tropical city where the sun glints off everything from trees, water, glass buildings. It explodes with color. It's a place of the senses. It's a sprawling city made of a patchwork of diverse neighborhoods, stretching from Biscayne Bay on the east to the Everglades on the west.
Although a relatively new city, it has a colorful past and a dynamic present, reflected in the character and ambiance of some of its must-see neighborhoods: South Beach, Downtown, Brickell, Little Havana, Key Biscayne, Coconut Grove, Coral Gables and the up and coming Wynwood. Make sure these top attractions and beautiful points of interest are on your travel itinerary!
See the Neighborhoods on a Narrated Bus Tour
Big Bus, an open-top double-decker sightseeing bus, offers various narrated loop tours of Miami neighborhoods with hop-off and hop-on privileges at multiple stops within each loop. It's a great way to see, learn, get off at stops near important places to visit, explore, shop, grab a bite to eat and get back on the next arriving bus to continue along the loop. Both Big Bus 24-hour All Loops Tour and Big Bus 48-hour All Loops Tour travel the Beach Loop (South Beach/Miami Beach) and the City Loop (Downtown, Little Havana, Coconut Grove, Coral Gables). Historic Miami City Tour is a 4-hour GPS audio tour in 8 languages in the comfort of a state-of-the-art bus. It tours through all the important neighborhoods, stopping occasionally along the way. One of the stops is in Little Havana for a taste of Cuban cuisine.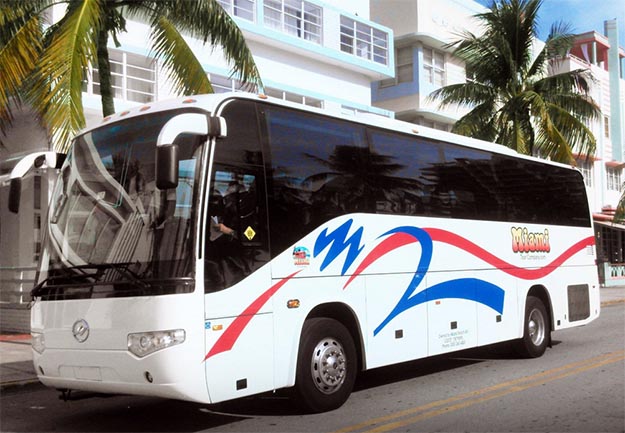 South Beach
Known world-wide, South Beach is an event onto itself – the place to see and be seen. A-list of celebs and fashion models engaged in fashion shoots, gorgeous people frolicking on the beach or hanging out in lounge bars and all-night clubs, make it a glamorous place in a casual way. With the sparkling blue Atlantic, a wide sandy beach, an astounding collection of pastel-drenched Art Deco buildings – it's visually beautiful.
Encompassing the 23-southernmost blocks of the larger Miami Beach, between 1st and Lincoln Road, from the Biscayne Bay to the Atlantic, South Beach has plenty of flashy highlights to see. Ocean Drive, where all the action takes place, is lined with the charming, architecturally significant painted ladies, the Art Deco buildings which now house trendy clubs, lounge bars and restaurants. Versace Mansion, at the north end of Ocean Drive is a favorite photo op. Once home to designer Gianni Versace, the 1930s Mediterranean Revival home, stands out architecturally in a sea of Art Deco buildings around it. While on Ocean Drive, be sure to check out the colorful geometric lifeguard huts along the beach. A couple of blocks away, Espanola Way, a bohemian enclave of artists, has its own vibe; Lincoln Road Mall is a pedestrian shopping and dining place; and just beyond are thought-provoking Holocaust Memorial, contemporary art at Bass Museum of Art, and lovely Miami Beach Botanical Gardens.
Getting around SoBe:
A self-guided walk.
South Beach Local stops at popular destinations throughout SoBe, from Lincoln Road to South Pointe Park for 25 cents per trip.
Guided Architectural Walking Tour. See some of the over 800 Art Deco structures in South Beach on a guided walking tour from Art Deco Welcome Center located on Ocean Drive.
Bike and Roll's Miami Art Deco Segway Tour is super-fun! Become part of the SoBe action gliding effortlessly past all the must-see places on a Segway. Entertaining guides ensure you see a lot during the 2-hour narrated tour.
Bike and Roll's Miami Beach Bicycle Tour is another great way to see trendy South Beach up close. The 2-3 hour narrated tour is an easy and interesting 6-mile ride past all the highlights, from the Oceanfront Pathway along Ocean Drive all the way up to Lincoln Road Mall, the Holocaust Museum, and Bass Museum.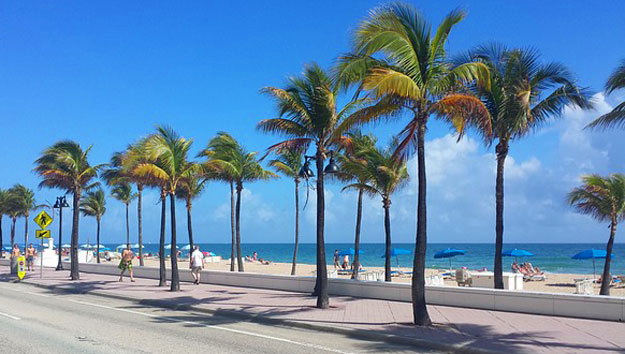 Bayside/Biscayne Bay Sightseeing Cruise
Bayside, Miami's Downtown waterfront Festival Marketplace is a great spot from which to check out downtown, stroll along picturesque Biscayne Bay, and enjoy the 2-level open-air marked is alive with energy, food choices, from snacks to full service, over 150 shops and live music performances. It's also the place to get out on the beautiful bay to see the city from the water. Do it on Biscayne Bay Sightseeing Cruise, departing from Bayside every hour. The 90-minute narrated tour has fabulous views of Miami's skyline, Venetian Causeway,Miami Beach, cruise ships lined up at the port, Key Biscayne and Fisher Island.
Little Havana
Calle Ocho (Southwest 8th Street), the main street in Little Havana is very Cuban – the color, the language, the flavor, the food. The warm, woody scent of cigars permeates the air; dominoes click distinctively in tiny Domino Park; lightning fast Spanish is heard exclusively; Latin music comes from everywhere; delicious aromas come from neighborhood restaurants big and small. Definitely stop for lunch for croquettes, yucca fries, roast pork, white rice and black beans, picadillo, ropa vieja or a Cuban sandwich. If you opted for Big Bus, check out their Little Havana Walking Tour, departing from Stop #26 on the City Loop.
Key Biscayne
The neon, glitz and glam of nouveau Miami, melts away just across the Rickenbacker Causeway. Key Biscayne is technically the first island of the long chain of islands of the Florida Keys, is quieter, less frenetic, more serene, has gorgeous views, ample beachfronts, cycling paths, waterfront parks, including Bill Baggs Cape Florida State Park and Cape Florida Lighthouse. Take a few hours to visit Miami Seaquarium for marine presentations and shows, marine habitats and exhibits, and a huge Marine Reef Aquarium – all with gorgeous views. Experienced bike riders may want to try Bike and Roll's Key Biscayne Island Adventure, a 32 mile comprehensive narrated bike tour departing from South Beach, traveling extensively through and around Key Biscayne, and on to Vizcaya and Coconut Grove.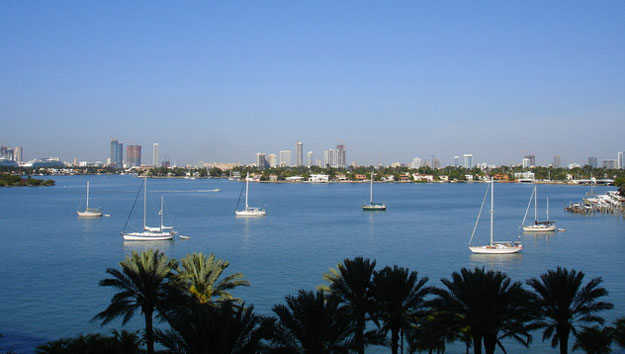 Brickell and Vizcaya Museum & Gardens
Along the shores of Biscayne Bay, between the Miami River, just across from Downtown, and the Rickenbacker Causeway is Brickell, where contemporary high rise condos of glass and steel compete for stature, sky and views along Biscayne Bay. A favorite place of young professionals to live and play, it has a uniquely Miami tropical urban vibe, complete with trendy bars and a selection of international restaurants catering to the upward mobile.
Just beyond Rickenbacker Causeway, the mood changes dramatically. High rise condos give way to the tree-canopied grandeur of Miami of the 1920s in the form of extravagantly ornate, Italian Renaissance Vizcaya Museum & Gardens. The former home of John Deering (of the tractor fame) is not to be missed. One step onto the grounds shaded by massive banyan trees, and you are transported to another era. A tour of the house, full of antiques, art and decorative arts from the 16th to the 19th century, is a journey through the incredible age of the Gilded Age in America. The opulent home, manicured grounds and formal gardens, punctuated with statuary and a gorgeous Biscayne Bay waterfront setting provide a glimpse into Miami of the early 20th century, where the uber- wealthy vacationed.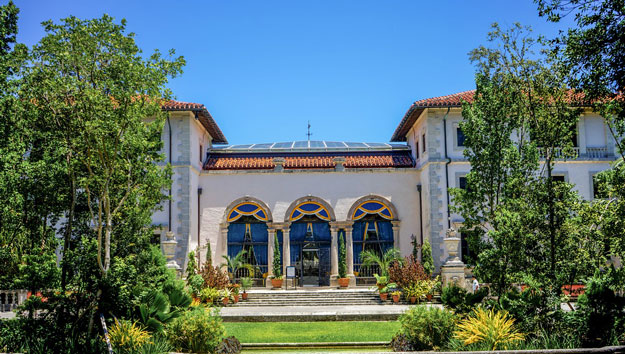 Coconut Grove
A short drive up South Bayshore Drive into Coconut Grove, Miami changes once again. Tree-canopied, narrower streets, lower-scaled buildings, Coconut Grove has a unique charm. Once the gathering place of artists and writers, it still retains the essence of its early bohemian vibe but with a trendy twist. Browse the shops along the pleasant streets, take time for lunch, coffee or a drink at one of the outdoor cafes and restaurants.
While in the Grove, visit Barnacle Historical Site, a gorgeous bayfront property hidden behind a coral rock wall, tropical foliage and huge banyan trees on Coconut Grove's Main Street to see Miami as it was during its pioneer era. On the lovely bayfront property is the Barnacle, which is the oldest house in its original location in Miami. A polar opposite of Vizcaya, and just 30 years older, the wood home of pioneer Ralph Middleton Monroe was built to catch the prevailing trade winds. Sitting on the large, shaded front porch, breathing in the tropical air, enjoying expansive bay views or walking down winding paths through shady hammocks is time traveling back in time to Miami in 1891.
Coral Gables
Appropriately named the City Beautiful, Coral Gables has an understated, sophisticated international feel. One of Miami's first "planned" community, dating to the 1920s, Miami's gilded-age boom era, it has tree-canopied boulevards, lovely plantings, flowers and foliage, Mediterranean Revival homes and grand mansions, coral rock walls, fountains and statuary. Experience the grand, gilded age firsthand over lunch at the historic Biltmore Hotel. Check out free-form coral rock Venetian Pools, arguably, one of the most beautiful, if not unusual, pools in the world. "The Gables" has a global array of wonderful small restaurants, many of them featuring fabulous cuisine of Latin America, especially Columbia and Peru. On the main shopping streets, Miracle Mile and Ponce de Leon, boutiques and shops abound.
Fairchild Tropical Gardens
To truly get the natural, tropical feel of Miami, visit beautiful 83-acre Fairchild Tropical Gardens. Located along Biscayne Bay, off tree-shaded Old Cutler Road on the eastern edge of Coral Gables, the spectacular meandering garden is many things – a rainforest, vine-covered pergolas, streams, sunken gardens, waterfalls, a museum of plant exploration, a rare plant conservatory, and a few times a year the backdrop for outdoor art and host to fabulous festivals. Featured throughout the gardens are palms, cycads, bromeliads, ferns, orchids, and a multitude of other tropical plants. Take a self-guided walk through the gardens or, for a close-up view, take a narrated tram ride, offered on the hour between 10am and 3pm.
Wynwood Arts District/Miami Design District
In up and coming Wynwood, an area just north of Downtown, between NE 2nd Ave. to the east, I-95 to the west, I-395 to the south and NE 36th to the north, the arts movement began when Miami street artists began painting murals on abandoned warehouses and run-down buildings. The best of these can be seen at Wynwood Walls, an outdoor gallery featuring works of many artists from all over the world. Now a place of galleries, artist's studios, artsy pedestrian spaces, museums, restaurants and boutiques, Wynwood is a natural neighbor of Miami Design District just to the north.
Miami Design District is a small 5-block area between NE 36th and NE 41st streets and NE 2nd Ave. and N. Miami Ave, is a neighborhood of edgy, innovative fashion, art, architecture and dining. An eye-catching, 24-foot prototype of Buckminster Fuller's Fly's Eye Dome and super-modern Palm Court, an event space, set the avant garden tone of the area filled with artist studios, art galleries, high-end interior design showrooms, public art and food and drink options.