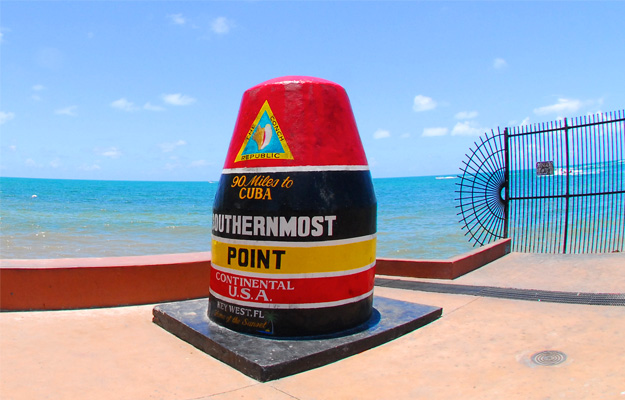 For a real taste of the tropics, a day trip from Miami to Key West is the ticket. Key West is the ultimate destination, and getting there is only half the fun. It's a long way down the Keys island chain, 100+ miles to Key West at the very end, with a lot to see along the way. In the cool comfort of a state of the art motorcoach, it's easy to sit back and let someone else do the driving. Once out of fast-track Miami, mile marker by mile marker, the ride is a wonderful change of pace. Visually, the Florida Keys looks and feels different. The day is brighter as the water sparkles in shades of turquoise and views from the bridges (42 of them) are spectacular. Island by island the architectural style changes from Miami trendy to colorful island funk. There's a sense of ease in the slim slivers of land, water on each side. Along the way, a knowledgeable on-board guide talks about points of interest with stories and snippets of history for a real sense of Keys life as it was and is. Beginning in Key Largo, and for several islands past it, only glimpses of water can be seen from the road. Where the island chain curves westward at Long Key Bridge, and all the way down to Key West, views of the water appear on both sides. And at the very end: Key West!
What to expect in Key West? 
Rightfully called the Southernmost Point in the United States, it's a place of bright tropical foliage, quaint historic cottages, narrow streets and lanes, chickens roaming freely and an eccentric mix of people. Key West is a relaxed, friendly, lively and, more often than not, outrageous.  Here, the air is softer and the scent of exotic flowers sweeter. On a typical, tropical Key West morning, the island wakes up slowly. What's the rush? Roosters crow, scooters transporting locals to work zip down narrow streets, Conch Tour Train drivers on their way to line up for their first tours, toot their train whistles and wave at passersby. Little by little, people are out and about. For locals and tourists alike, the day begins with a café con leche and some cheese toast. Shop doors open, bar shutters swing wide and mellow sounds of Caribbean music blending with rock, jazz and country begin to drift out to the street. Softly at first, cranking up as the day shifts into evening.
Once in Key West, what you do with your 4 to 5 hours there is up to you. There are so much great island stuff to experience packed into this tiny, 2 mile by 4 mile island. Old Town is walkable, which is where you'll want to spend your time. Here are some ideas that could fit into a 4 hour time-frame, categorized by areas of interest.
History and Architecture Tour on the Conch Tour Train
A great way to see and learn a lot about the island's history and architecture in 90 entertaining minutes. The open-air little "train" winds through Old Town's streets and off-the-beaten path lanes, giving you an up-close look at all the Key West unique and unusual. The conductors know a lot: history, tales, facts, the bizarre and scandalous too, making their narration interesting and fun. Through them, you'll see everything you came to see and, at the end of the tour you still have about 3 hours to explore on your own.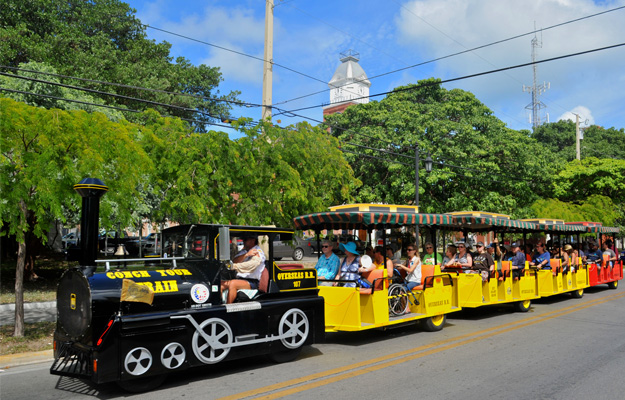 Explore around Mallory Square
Knowing time is limited, many "day trippers" choose to stay in the area around Mallory Square, the oldest part of town stretching along the Key West Harbor and up streets a few blocks inward where there's plenty to see and do. Island history is told in museums clustered together. Shops, bars and restaurants, most local enterprises, are eclectic and diverse.
Take a self-guided tour of the Audubon House and Gardens
To catch a glimpse of the island life in the mid-1800s, browse through galleries in the Customs House. Marvel at the gold and jewels gathered from the wrecks of the Spanish galleons on a self-guided tour of Mel Fisher Museum. Get a bird's eye view of the island from the top of the "wrecking" tower at the Shipwreck Treasure Museum. Check out sea life from the surrounding waters at the Aquarium. Walk into shady Truman Annex to the Truman Little White House for an interesting 45 minute house tour of the presidential retreat where Harry Truman spent 11 working vacations (allow 1 hour).
Walk through Mallory Square
Head back towards Mallory Square along the waterfront behind the Westin Resort (use the walkway between the Westin and the Customs House). The view is great, especially if a cruise ship is not in. Pop into some of the shops, cross over the small pedestrian bridge behind the Aquarium, walk across the square to the Sponge Market and Shell Warehouse. Walk across Tift's Alley to El Meson de Pepe for the real taste of Key West and make sure to try their black bean soup and Cuban sandwich or just perch at their outdoor, shady bar for a mojito.
Walk out to Sunset Pier by the Ocean Key House – the waterfront views are great. Or, continue walking until you reach the Bight boardwalk, and follow the boardwalk around. Lots of activity and lots to see. A true working waterfront lined with docks with all manner of watercraft are moored – yachts, dinghies, charter boats, tall-mast schooners and sleek catamarans. There's a lot of real Key West here. Super-casual open-air restaurants along the boardwalk have water views, a breeze and serve local fish and cool drinks. There are some shops too. If you make it all the way around past the Schooner Wharf Bar, check out the interesting interpretive center for historic Fort Jefferson, 75 miles out to sea. There's a replica fort inside. Shop for cool, colorful women's clothing and jewelry in nearby Local Color; stop at Mac's Sea garden for nautical souvenirs. Stroll back along the boardwalk the way you came, except when you get to Greene Street, follow it to Duval. Don't miss Kermit's Key Lime Shoppe on the corner for Key lime pie on a stick! Pop into the eclectic shops and galleries along Greene until you reach famous Sloppy Joe's Bar, Hemingway's hang-out on the corner of Duval. If you've had enough, head back down Duval to Front or, if you have time, venture up Duval Street for a few blocks for a sense of this famous street. T-shirt and souvenir shops line the "lower" end the island's renown street. However, as you walk block by block towards the Atlantic end, the selection of shops becomes more diverse and interesting.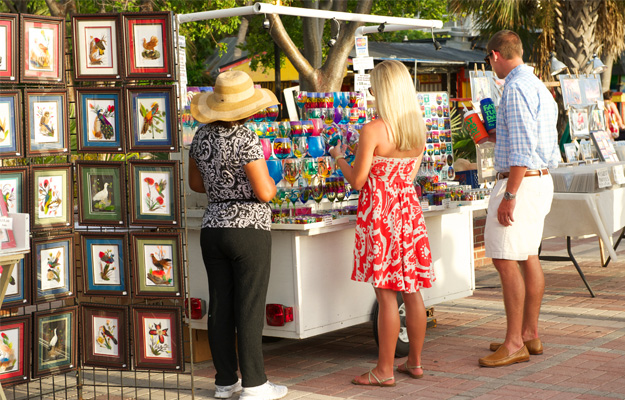 Walk along Duval Street
Fourteen blocks from the Gulf to the Atlantic. That's all there is! There's a lot to see and do. Start your trek on "lower" Duval. Tip: Each block is numbered by 100s. The first block is the 100 block. It goes up from there. For its entire length, Duval Street is lined with a mix of shops, restaurants and bars, with a historic house here and there. Meander down side streets if you see something interesting. The first couple of blocks have a lot of "touristy" souvenirs and T-shirts shops, well-known bars, such as Hog's Breath Saloon, Sloppy Joe's and Captain Tony's. Hungry? Sit on the patio at Caroline's or on the porch at Bagatelle's. Check out the memorabilia over a hamburger at Hard Rock Cafe, located inside a historic house. Catch a glimpse of Key West life in the mid-1880s on a self-guided tour of the Oldest House. People watch over lunch on the porch of The Grand. For a change of pace, go inside St. Paul's Church. The stained glass windows are beautiful. Cool off over a drink at Jack Flats in the historic La Concha Hotel.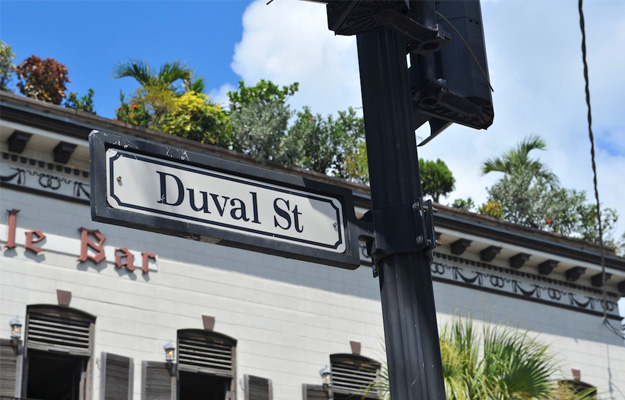 A great eclectic mix of shops, galleries, bars and restaurants line the streets beginning at Eaton. Pick up some unique souvenirs or art; stop for a gelato; sample a pastry at Croissants de France. Cross Truman Avenue, past more shops and you are in Upper Duval and the gallery district. It's less congested here and interesting. Before checking out gallery row, a must stop is Flamingo Crossing, a tiny "shotgun" house converted into ice cream shop. Ice-cream is made on site, and flavor choices are fabulous. Don't just ask for vanilla! Try tropical fruit flavors – mango, guanabana, coconut, banana. Pleasantly refreshed, keep waking towards the Atlantic. Almost there! Go through the Butterfly & Nature Conservatory. It's delightful, calming and memorable. Take photos of the gingerbread Queen Anne Victorian Southernmost Mansion. The Atlantic is right there! The Southernmost Beach Café is a nice place to stop, wiggle bare toes in the sand as you sip on a refreshing drink before heading back to the other end.
For the ultimate photo-op, get to Whitehead via South St. where a red, black and yellow marks the spot: the Southernmost Point in the U.S! Head back to Front St. along shady, quiet Whitehead Street along which tropical foliage cascades and chickens scratch. What's here – the Key West Lighthouse Museum and Hemingway Home & Museum for starters. At Petronia Street, take short detour to the left for Caribbean in Bahama Village. The first block has nice shops. Two restaurants, quirky Blue Heaven and Creperie face off on each corner. Don't miss taking your photo at the Mile Marker 0 sign at the corner of Fleming. Check out the huge banyan tree just after Eaton. Pass by Kelly's Caribbean, the Presidential Gates, the Audubon House. You're back on Front St., the end of a tiring, yet full Key West experience.