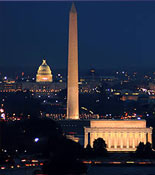 The amazing museums and monuments in the nation's capital take on a different persona after the sun goes down. When the urgent pace of the District fades with the light of day, you can explore the nation's treasures beneath the moon and stars of the iridescent sky.
Planning on taking the Washington DC night tour – Monuments by Moonlight? Use the following coupon code:
Coupon Code: DCNT1
Purchase Tickets Here.
The Monuments by Moonlight Tour will give you a fresh perspective that enables you to experience the unique nocturnal sights and sounds of Washington, DC.. Step aboard the Old Town Trolley and allow expert guides to amuse you with historical information and stories. They may even tell you some harrowing tales about the spirits that haunt the nation's capital. You will view some of the District's most popular attractions, such as the White House, the Capitol Building and the Washington Monument. You will observe the fountains and arches of the World War II Memorial illuminated in decorative lighting. The trolley stops include the Lincoln Memorial, the FDR/MLK, Jr. Memorials and the Iwo Jima Memorial. Guests who are visiting the Vietnam and Korean War Veterans Memorials can join the tour at the Lincoln Memorial stop. During the tour, you can step off the trolley to view some of the country's most well-known and beloved memorials and monuments in a completely different light. The Monuments by Moonlight Tour stop at the Iwo Jima Memorial provides passengers with a breathtaking view of the Washington, DC skyline, the Memorial Bridge and the Potomac River.
To see the best of DC at day and night, consider checking out the Old Town Trolley Tour and Monuments by Moonlight Package, discounted prices below:
Save up to $12 per ticket – Purchase Tickets Here.