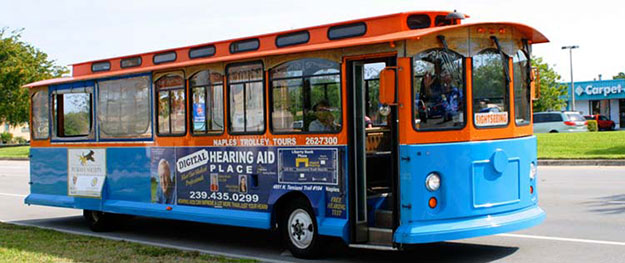 If there is a narrated hop off/hop on trolley tour in any city I visit, I always take it. It orients me, giving me a sense of new surroundings without wandering around aimlessly, and lets me plan out the places I really want to see.  I enjoy getting an overview of the sights and learning a lot. And, depending on the driver, it can be a lot of fun.
My recent visit to Naples was no exception.  I always knew it was a upscale resort town, popular with tourists and seasonal residents as well as an immensely popular destination for corporate retreats and incentive travel.  Wanting to make the best of a short stay, I booked a tour on the Naples Trolley and saved a few bucks by using an online coupon.
I could have gotten off at any the 20+ stops of interest along the way, and hopped back on again, but I decided to ride the entire 2 hour loop.  My driver was entertaining and gave a nice overview of Naples, a town created by wealthy visionaries out of the beautiful Florida waterfront wilderness in the late 1800s just to attract tourists. It's a story similar to that of many Florida coastal towns.  The trolley tour is a good mix of remnants of the old Naples wilderness town and present-day upscale, seasonal resort town located on a beautiful stretch of white sandy beach nudging up to the edge of the Florida Everglades wilderness.
The stops along the way offered something for everyone:  museums, shopping, dining, beaches, and plenty of things to do.  I found shops along aptly named  5th Avenue  and 3rd Street I wanted to browse.  I spotted some restaurants with sidewalk seating I wanted to try.  The Naples Zoo did not appeal to me, but kids would like it.  I opted instead for the Naples Botanical Garden.  Knowing I could enjoy the expansive white sand beach in front of my hotel at my leisure, I put an Everglades kayak tour on my to do list.
I got off the Naples Trolley Tour with a real sense of this resort town, and had fun along the way.  Millionaire visionaries Walter N. Haldeman, in 1887, and Barron C. Collier in 1911, got it right: Naples fits perfectly into everyone's image of Florida.  It has everything a dream vacation should be.
Save $2 with Coupon Code: NATT2

Purchase Discount Tickets for the Naples Trolley Tour