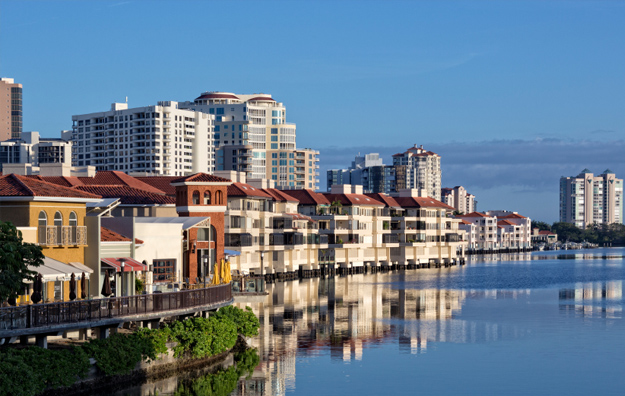 Naples, with subdued elegance and beautiful beaches is but one of Florida's diverse vacation destinations.  And, from Naples, it's easy to experience the diversity of Miami, Orlando, Tampa and Key West on weekend getaways
MIAMI SOUTH BEACH
A world apart and only 125 miles away, popular, trendy South Beach (SoBe) is your Miami destination.  There are two ways to get there:  via I-75 (Alligator Alley) and US 41. I-75 takes just over 2 hours, depending on traffic on the Miami side, is the quickest route.  It's interstate travel and loops around from one artery to another through Ft. Lauderdale and Miami.
US 41 is a 2-lane scenic route through Big Cypress Swamp and the Everglades.  Without stopping, it will take at least 2 ½ hours and the trip into Miami is stop and go until reaching often congested major highways leading to Miami Beach.  If all day Friday is part of your weekend getaway plan, crossing the state on US 41 is a pleasant natural experience with places to stop –Everglades lookouts, famed nature photographer Clyde Butcher's Big Cypress Gallery. If you have time, you can even take and airboat ride.  Allow several hours to do it all.
Note:  Whichever way you cross the state, when you get to Miami, be prepared for lots of traffic.  If you possibly can, time your trip to avoid rush hour – it starts building at 4 and does not end until around 7.
Known world-wide, South Beach, is an event onto itself – the place to see and be seen.  Technically encompassing the 23 southernmost blocks of the larger Miami Beach, between 1st and Lincoln Road, from the Biscayne Bay to the Atlantic, there are plenty of hotels from which to choose, especially along walk-able Collins Avenue.  If you don't want to walk everywhere, South Beach Local stops at popular destinations throughout SoBe, from Lincoln Road to South Pointe Park for 25 cents per trip. That's probably the cheapest thing in SoBe.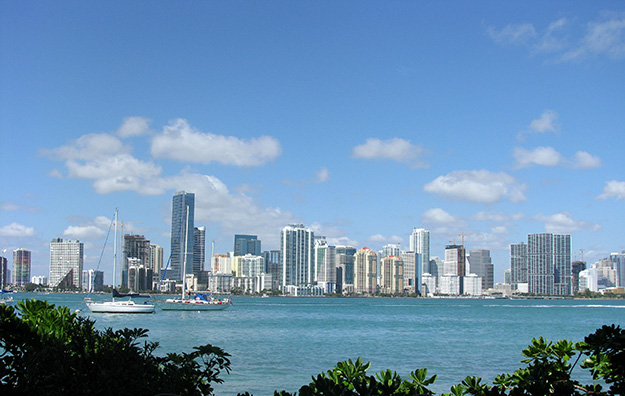 Start the day off with breakfast at one of many restaurants in SoBe.  Try one for brunch on Sunday. Front Porch Café (1418) and Pelican Café (826) are faves on Ocean Drive for food and views.  News Cafe on Ocean Dr. is quaint sidewalk café and newsstand, a fixture before South Beach became SoBe!  Locals prefer off Ocean Drive places –Eleventh St. Diner on Washington or Big Pink on Collins.
Ocean Drive is where all the A-list action takes place.  Lined on one side with the charming, architecturally significant "painted ladies, the Art Deco buildings which now house trendy clubs, lounge bars and restaurants, and the beach on the other, Ocean Drive is visually beautiful.  While on Ocean Drive, be sure to check out the colorful geometric lifeguard huts along the beach and 1930s Mediterranean Revival Versace Mansion at the north end of Ocean Drive. Get insight into the fanciful Art Deco architecture on a guided Architectural Walking Tour offered through Art Deco Welcome Center on Ocean Drive.
Become part of the SoBe action by gliding effortlessly past all the must-see places on a Segway.  Check out Bike and Roll's Miami Art Deco Segway Tour.  Entertaining guides ensure you see a lot during the 2-hour narrated tour.  Or, bike it on a 2.5 hour, 6 mile Bike and Roll's Miami Beach Bicycle Tour, where you'll ride past all the highlights, from the Oceanfront Pathway along Ocean Drive all the way up to Lincoln Road Mall, the Holocaust Museum, and Bass Museum.
Wander off Ocean Drive to Espanola Way, a bohemian enclave of artists, has its own vibe. Get up to Lincoln Road Mall for shopping and lunch.  Check out thought-provoking Holocaust Memorial, Bass Museum of Art, whose collection focuses on contemporary art, and Miami Beach Botanical Gardens.
Spend time on the SoBe's public beach, beginning at Ocean Drive and 5th St. and stretching up to 21st St. and Collins. Be prepared, it's always crowded, has a party vibe, beach chairs are not free, but it's a fun experience.  South Beach, off Ocean Drive has many dining choices.  One, Joe's Stone Crab, a storied Miami family-run fixture since 1913, serves the best stone crab and lots of other great food too!
ORLANDO
Totally different from Florida's beachfront destinations, inland Orlando is Disney-made.  Visitors from all over the world flock here to be transported to the world of fun and make-believe.  Getting there from Naples is easy.  The 194 mile trip, all I-75 and I-4 interstate travel, takes about 3 ½ hours depending on traffic on I-4 around Orlando. While it all started with Disney World, Orlando has many options – venues, attractions, dining and shopping experiences. Consider one of these two Orlando weekend getaways:
Disney World.  Escape totally for the entire weekend at Disney World's expansive, multi-experiential theme parks by picking one that is appealing to you, including  Magic Kingdom and Animal Kingdom Park. All are total Disney immersions – the ultimate getaway – with attractions, dining, shopping and lodging without having to leave the Disney cocoon.  Look for resort and park entry package deals and free shuttles to and from the various parks.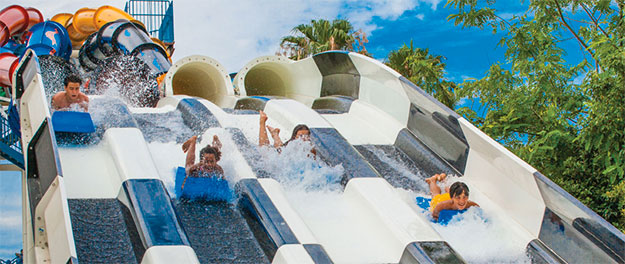 I-Drive Experience.  Just over 11 miles long, I-Drive is a giant street party of block by block attractions, shopping, dining, dinner shows, night life and countless lodging choices.  The diversity of over-the-top attractions is nothing short of astounding – waterparks, miniature golf, themed golfing, glow in the dark putting, roller coasters, thrill rides, kart racing, helicopter tours, comedy clubs and some big time favorites – Universal Studios Orlando, SeaWorld Orlando, Wet 'n Wild, Wonder Works, Gatorland. Orlando Explorer Pass is a great way to save money.  Choose 4 attractions from over 15, including faves such as Madame Tussauds,  Orlando Eye, the 400 foot tall observation wheel in which you view the expanse below from enclosed capsules, and Sealife Aquarium.  For your I-Drive weekend getaway, pick out favorite attractions, divide them up over 2 days and have a blast!  Fit in at least one of the "big" ones. Universal Studios is a favorite.
Along I-Drive, there is no lack of dining options – about 150 of them!  Most are big, busy, themed places. And shopping?  On I-Drive, big complexes rule – Artegon Marketplace, Pointe Orlando and Universal CityWalk.  Getting around is easy.  Take the I-Ride Trolley which cruises up and down I-Drive, stopping along the way.  Purchase tickets ahead for one ride or unlimited rides.  So park your car at your hotel and enjoy your escape into a make-believe world weekend!
TAMPA
Tampa is a quick, 167 mile, 2 ½ hour ride north up I-75 from Naples, where a good weekend getaway is downtown Tampa, with ample hotel choices near the city's Waterfront Arts District, within steps of Tampa Riverwalk connecting many of downtown's museums, parks and restaurants, and a streetcar ride away from Channel District venues and historic Ybor City.
It's hard to miss the 6 story, eye-catching glass Cube, Florida Museum of Photographic Arts.  Spend an hour a thought-provoking hour viewing exhibitions of contemporary life and cultures as seen through the camera lens.  Spend a couple of hours viewing world-class traveling exhibitions, a growing collection of contemporary and classical art at Tampa Museum of Art along Riverwalk.  Enjoy an early lunch in the Museum's Sono Café at tables set up on the expansive covered terrace overlooking the banks of the Hillsborough River and great skyline views.
A short walk just over the bridge on the other side of the river, the unusual Moorish minaret-topped former Tampa Bay Hotel, now home to The University of Tampa, is a great photo op.  Plan to spend an hour on a docent led or audio tour of the Henry B. Plant Museum, located the south wing, for an insight into Florida's Gilded Age.  The lavish hotel, built in 1891 by railroad and steamship magnate, Henry Bradley Plant, and its opulent furnishings and artifacts is palatial in over-the-top ornateness of that era.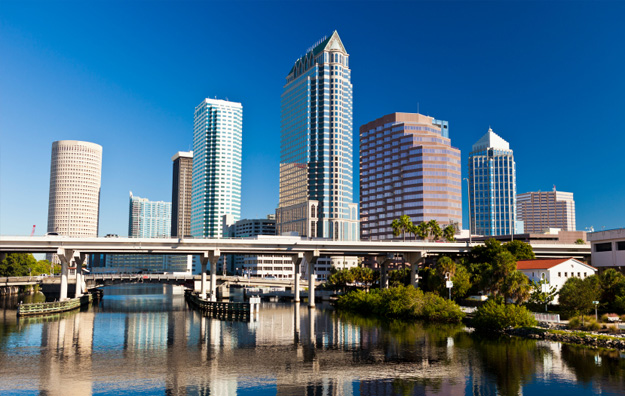 Hop on the TECO Streetcar for a ride to Tampa's Channel District, location of two primarily regional experiences.  Tampa Bay History Center is the place for visitors interested in Florida history – over 12,000 years of it! Spend an hour going through interactive exhibits telling Florida's story – indigenous Tocobaga and Calusa people, Spanish explorers, Seminole an Miccosukee tribes, pioneers and cattlemen, Gilded Age tycoons, and the cigar industry. The museum's waterfront restaurant, the Columbia Café, serving delicious Spanish and Cuban dishes 11am to-9pm daily is a good choice for lunch or dinner. Or, aquarium lovers will enjoy the diversity of aquatic animals and plants from Florida's ecosystems as well as those from all over the world in Florida Aquarium. Relatively small, it's easy to experience in about an hour.
The TECO Streetcar also travels to historic Ybor City. Spend the rest of the afternoon strolling through edgy boutiques, art shops, galleries and an eclectic mix of restaurants housed in old brick buildings once occupied by businesses related to Tampa's cigar industry.  The TECO Streetcar runs well into the night so take time for a cool martini, a glass of Spanish wine and tapas, or dinner before heading back.
On Sunday, have a leisurely buffet brunch with a skyline view at upscale Jackson's Bistro on nearby Harbor Island. Or, if you did not lunch at Sono's in the Tampa Museum of Art, go there for a delightful Sunday brunch. If you just want a really good Sunday breakfast with a twist, take a short drive from downtown to Daily Eats on Howard, in Tampa's SoHo (south of Howard) neighborhood, lined with good restaurants. Afterwards, spend time leisurely walking through neighboring shady and quaint Hyde Park Village.  It's a pretty, upscale  neighborhood of bungalows and big homes centered by a pleasant, easy to walk, commercial area of upscale shops and numerous restaurants and bars.
KEY WEST
The 5+ hour drive from Naples to Key West is too long and too stressful to fully kick back on a relaxed getaway weekend on the quaint, funky island.  There is a way!  Get there on fast and fun Key West Express Ferry. Departing from Ft. Myers Beach at 8:30am, it arrives in Key West in a stress-less 3 ½ hours. Skimming through beautiful Gulf waters in AC comfort or enjoying the morning breeze on the open sun deck kicks off the weekend getaway just right. Docking at the Ferry Terminal in Old Town, where you want to spend time, is conveniently within walking distance of Gulf side hotels and a long list of delightful B&Bs.
Walk up and down Duval Street –all 14 blocks, from the Gulf to the Atlantic, if you can. It's funky, fun, lined with small shops, restaurants, and bars with music coming from them. Stop in. Find trinkets. Have a drink. Feel the vibe. Grab lunch on the porch of Grand Café in the 300 block or a burger at Margaritaville in the 500 block.  Check out Upper Duval galleries; enjoy a great salad and crepes at Banana Café; taste wonderful homemade ice-cream at Flamingo Crossing.
For those who want to check it all out first to figure out what to do next, a 90 minute Conch Train Tour is the ticket.  The iconic train meanders through narrow Old Town streets and lanes, past quaint cottages surrounded by tropical foliage.  Entertaining train engineers who really know their island point out interesting sights along the way.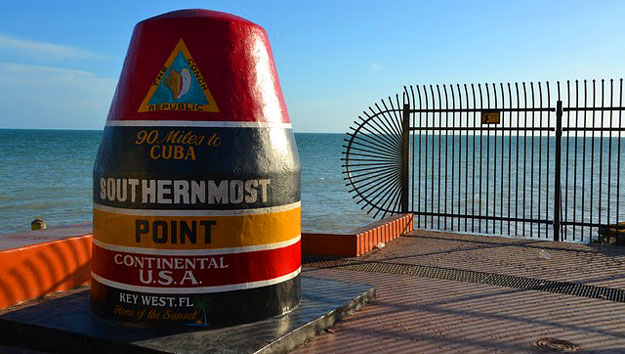 Spend time walking around the Mallory Square area.  Check out the Shell Warehouse and Sponge Market.  Have lunch at Roof Top Café.  Visit the Key West Aquarium for an up-close encounter with aquatic animals from the surrounding waters.  Take a tour the Truman Little White House, where President Truman spent 11 working vacations.
Experiencing a Key West sunset is a must. Do it in one of two ways: Sunset Celebration or Sunset Sail.  If you're in town for a long 2-night weekend, do both!  Sunset Celebration is a communal ritual beginning about an hour before sunset when crowds begin their migration over to Mallory Square Dock to watch street performers, browse handmade jewelry and local art, and stay, drink in hand, until the sun dips into the water on the horizon, trailing a painted sky. When the spectacle is over, walk over to El Meson de Pepe on Mallory Square.  Drink a mojito, dance to salsa music, savor tasty Cuban Conch food.
Or, head out towards the setting sun on a 2-hour sunset sail aboard a sailing catamaran or schooner.  Get totally mellow enjoying the sounds of lapping water against the hulls and listening to onboard music waiting for the green flash.  Upon disembarking, enjoy dinner at one the restaurants around Historic Seaport or walk for several blocks for tasty tapas at a locals' favorite, Santiago's in Bahama Village; at 915 on Duval; tiny Seven Fish on Olivia.  Hold off on dessert.  For that, decadently delicious Better Than Sex is a must!
After a full Saturday, a leisurely start to Sunday might be in order. Begin the day with breakfast at tiny La Creperie on Petronia or in the company of chickens in Blue Heaven across the street.  While on Petronia, be sure to pop into Besame Mucho, for a delightful shopping experience.  It's a girl thing. Whatever you do, the ride back on the ferry is a pleasant way to end the weekend getaway.